Scotland's newly-appointed chief civil servant has been pressed over whether he believes there is an issue around Scottish Government transparency that "needs to be fixed".
John-Paul Marks appeared in front of MSPs at Holyrood's Finance and Public Administration Committee on Tuesday.
Marks took up the role as permanent secretary on January 1 this year, succeeding Leslie Evans.
Evans stepped down on December 31, 2021, and retired on March 31 after a 'period of leave'.
The committee had asked Evans to appear before them, but their request was rejected due to Evans having left the role.
In a letter, the committee said that it was 'extremely disappointed' by her 'failure to engage', having approached her back in October last year.
They had sought to hear from Evans in reflecting on her time in the role, with the aim of helping to inform future scrutiny.
Evans was criticised over her role in the Government's handling of harassment complaints made against former first minister Alex Salmond.
Salmond won a pay-out of more than £500,000 in 2019 following a court battle with the Government.
Scottish Conservative MSP Douglas Lumsden questioned Marks over Evans' failure to appear.
Marks responded by explaining that Evans was no longer accountable to ministers.
"She left her role on December 31. At that point, she no longer holds the authority, accountabilities or the responsibilities of the role which transferred to me," said Marks.
"She had some contractual agreement with regards to leave that was in lieu, but she finished and retired on December 31."
Lumsden asked: "But she was still paid up until the end of March? That's my understanding, is that correct?
"I'm just trying to think… so, she was still an employee, what was she doing that meant she couldn't come to committee? That's what I'm trying to get my head around."
Marks continued: "I've appeared before two committees now since that date because it is for the office of the permanent secretary and for me in the role to appear.
"Leslie retired and therefore is no longer accountable to ministers and so does not appear as the permanent secretary for the Scottish Government after December 31, and that is why I am here instead."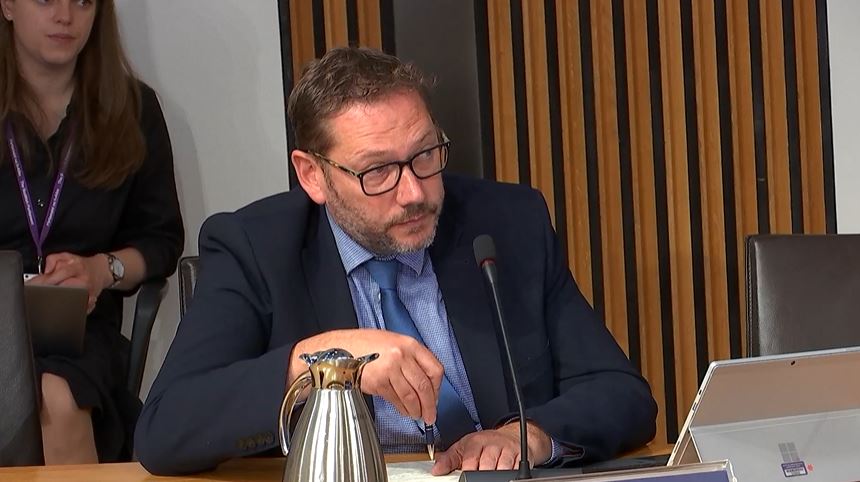 Lumsden suggested that there are problems around openness and transparency that should be "fixed quickly".
"Coming to committee, of course, from our point of view, Leslie Evans was still employed, she still had relevant experience that this committee could have learned from, and she didn't come," said the Scottish Conservative MSP.
"And when we talk about openness and transparency, you know, we have the missing records at Fergusons, we've got Lochaber with question marks over the guarantees and legalities.
"Leslie Evans refusing to come to committee, we've got the Information Commissioner ruling that the Scottish Government is withholding legal information that it can be.
"So do you accept that there is a perception around openness and transparency, that there's something wrong and something needs to be fixed quickly?"
Marks told MSPs that he believes there is a "healthy democracy and good governance" in Scotland.
"I've tried to set out some perspectives today of the things that we're doing to continue to improve in the delivery of the leadership of the Civil Service and in service of our ministers and Parliament in Scotland," he said.
"I'm very committed to the concept of delivery excellence and continuous improvement and rigour in our leadership of the Civil Service.
"But what I observe in Scotland, as I reference with regard to people survey results, is a healthy democracy and good governance."