Ryan McNairn started smoking when he was 17. He managed to quit seven years later, but before long found himself in the grips of a fresh addiction.
"Disposable vapes came out and they looked fun and exciting, so I wanted to try them," he told STV current affairs show Scotland Tonight.
"Basically, that addiction came back, and it came back more powerful than it ever was before.
"I just couldn't stop vaping. I would vape everywhere I went – first thing in the morning, last thing at night."
Health crisis looming?
Scotland has ambitious targets to become a smoke-free society by 2034, but as Holyrood considers further measures in the drive to tackle tobacco, concerns are mounting that there could be another health crisis on the horizon.
Vaping has exploded in the last few years, with recent research suggesting more and more young people are taking it up.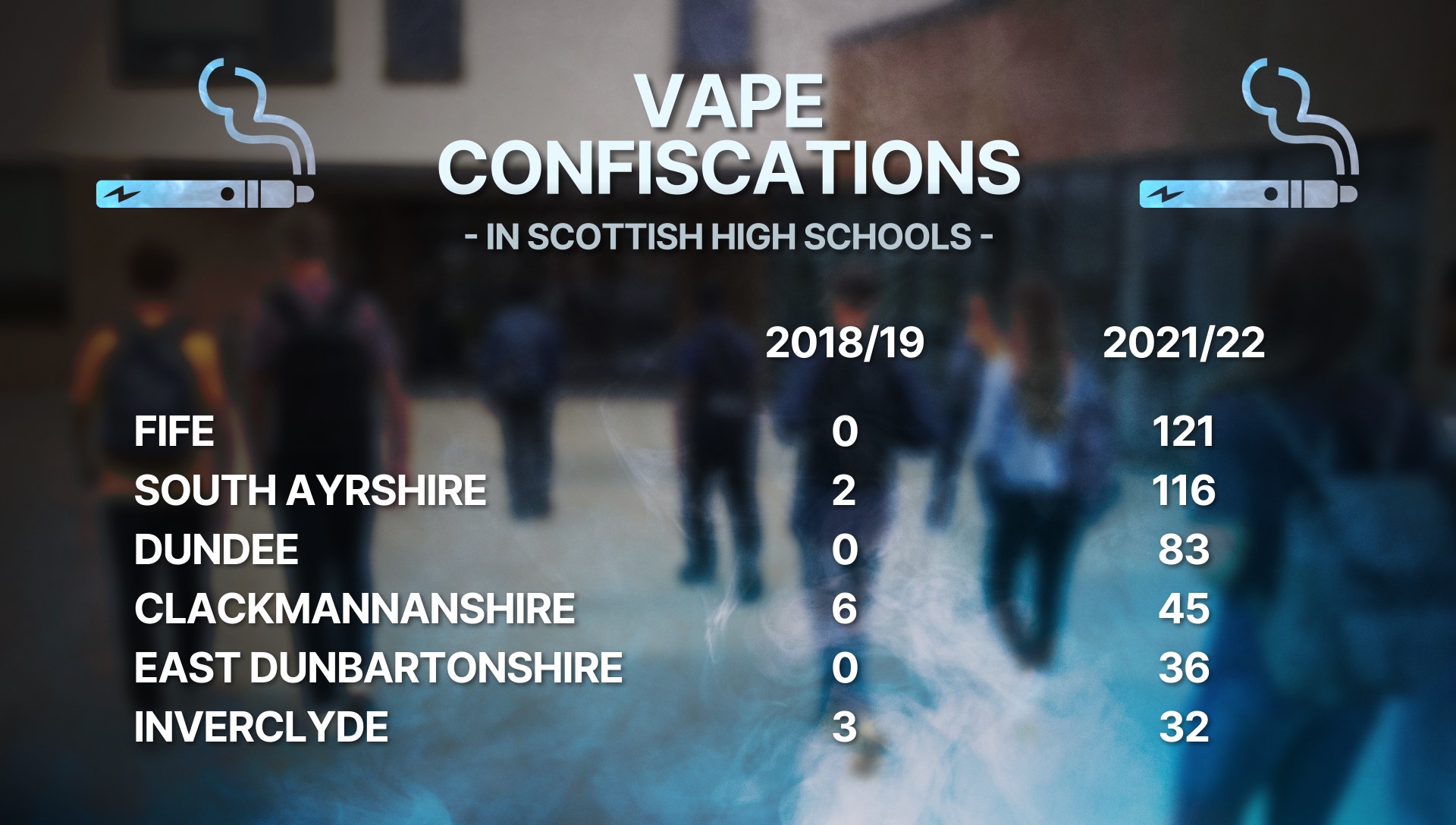 For some, it's seen as an effective way to kick the cigarettes for good. But for others, have e-cigarettes become a route into nicotine addiction?
While the damage cigarettes can do is now widely accepted, the health effects from vaping remain unclear.
This has sparked a widespread, conflicted and ongoing debate about the use, accessibility and attractiveness of the devices.
At the height of his addiction, Ryan was getting through one disposable vape a day, each containing an average of 600 puffs.
"I've never been as addicted to anything in my life," he said. "It's constantly in your hand and you're not really getting the rush you'd get from a cigarette.
"You're never really fully satisfied – you just keep chasing the buzz."
Ryan has now been vape-free for six weeks, after undergoing laser therapy sessions.
"I don't have the anxiety of running out and thinking, 'oh, where am I going to get my next vape?'," he said.
"It's about having more control over your life and not having that addiction."
'We see vapes everywhere'
Figures suggest the number of people vaping in Britain has now reached 4.3 million – a record level.
And there's evidence that an increasing number of young people are taking it up.
Research by Action Against Smoking (ASH) found in 2022 that around 7% of 11-17 year olds in Britain were vaping. That compares with 4% in 2020.
Sixth-year school pupils we spoke to said that, since the pandemic, they had seen a notable increase in the number of young people vaping.
In August, STV News revealed that hundreds of vapes had been confiscated from Scotland's high school pupils in recent years.
"I see it almost everywhere," said pupil Mohammad Miah. "Outside school, on the streets in town – it's casual for everyone to see now."
Aimee Simpson added: "Sometimes I forget that you have to be 18 to vape because no-one seems to care about that."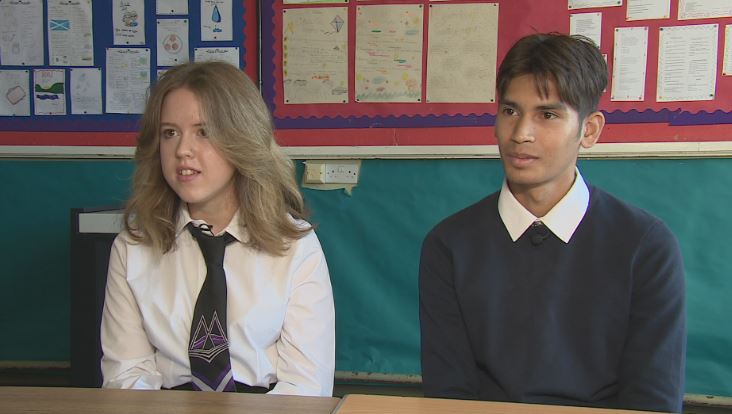 When it comes to buying vapes, there was a commonly held feeling that they are easy to get hold of – despite having to be over 18 to legally purchase them.
"I've never heard of anyone complaining or moaning because they haven't been able to get a vape," said Aimee.
"I think they have older friends that do it for them," added Mohammad. "And I've spoken to a few of my friends – sometimes their parents get it for them, which is really shocking to hear."
Those we interviewed, who are all aged 16 or 17, said vaping appears to be even more of a trend among younger children.
"I have a couple of friends who have younger siblings who are 12 or 13 and I know they just walk into a corner shop and somebody will give it to them," said Kristina Owhonda.
"Even being 13 years old – and they look young as well – they still just get sold them."
The pupils believe social media plays a significant role when it comes to how vaping is portrayed and perceived.
"I think one of the main problems is a lot of influencers and people you see on social media promote them," said Dominika Szerement. "Young people want to be like them.
"You pretty much see people vaping in a video, they blow the smoke out and they're acting cool, like the cool music in the background," added Sahil Panwar.
"Sometimes they show off their collections, the different colours and flavours."
'Tremendously concerned'
Sheila Duffy, the chief executive of Ash Scotland, believes urgent action is needed is to tackle vaping among young people.
"We're tremendously concerned because we've seen a massive rise in children and young people vaping," she said.
"We're expecting figures out from the Scottish Government at the end of the year, but we know already what's happening, we're hearing it from schools, we're hearing it from parents, we're hearing it from local authorities.
"There's a real concern because these devices are reaching places where tobacco was dying out and being stubbed out.
"We're hearing of primary schools confiscating vapes from kids, we're hearing of vapes being given to kids because people think it's ok and it's not a problem – it is a massive problem, because these substances can be very addictive.
"This is something that needs action on the promotion and the advertising and the marketing and the regulation of the products to stop this happening."
The Scottish Government is considering introducing tighter restrictions on vaping advertising and promotion.
The findings of a consultation it commissioned were published this week, which will be used to inform future policy decisions.
The 757 responses brought back "polarising views", with around 50% supporting the proposals, and 50% against them.
Holyrood is also currently refreshing its tobacco action plan, with the aim of Scotland becoming "smoke-free" by 2034 – meaning fewer than 5% of adults would smoke cigarettes.
One of the measures being looked at it is what is being adopted in New Zealand.
In one of the toughest approaches in the world to curbing smoking deaths, the current legal smoking age of 18 will be raised year by year, meaning people aged under 14 in 2027 will be banned from buying cigarettes for life.
Professor Steve Turner has spent decades researching the effects of smoke and second-hand smoke on children and young people. He's also concerned about the increase in vaping among teenagers.
"It's dead straightforward – children shouldn't smoke, they shouldn't vape, they're both bad," he said.
"I think in adults there's some evidence that vaping is less harmful, but it's still harmful. It contains nicotine, which is a harmful drug."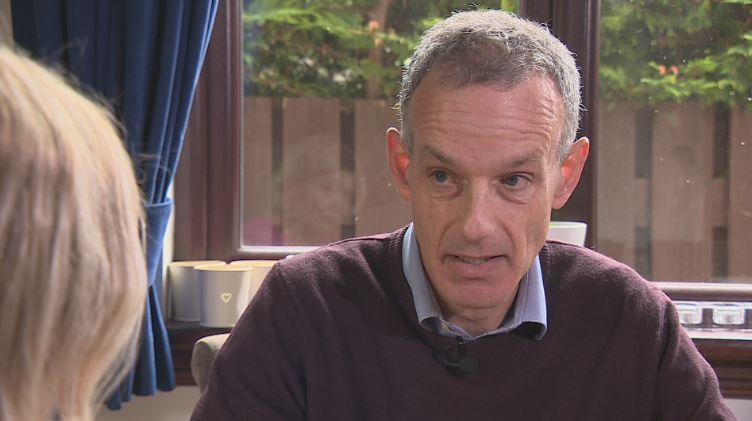 Professor Turner wants the restrictions currently in place for tobacco products to be implemented across the vaping industry.
"There's a considerable difference between how shops are able to demonstrate and display vaping equipment – lots of bright colours, lots of nice, child-attractive tastes," he said.
"That's compared to cigarettes which are behind a screen and almost on the naughty step
"The same marketing and advertising laws and restrictions should apply to all nicotine-containing products."
Not everyone agrees with him. Tony Stuart has owned a vaping shop in Aberdeen for the past three years and is against more stringent advertising rules.
"The law is heavily restrictive on what we can advertise," he said.
"I don't think it could be more restrictive, other than going down the cigarette route, where everything is behind a cabinet.
"People are coming away from cigarette for vaping, why would we restrict advertising? It doesn't make any sense."
Tony says while there's been a small growth in the number of young people smoking, he believes the figures are still "minute".
He says his business operates a strict policy and they will not sell to underage people online or in-store.
"We run online age verification systems, so they can't buy from us unless they're 18," he said. "But the problem we have is that vaping, especially disposables, are being sold everywhere. That's where the problem lies."
Dr Pete Cheema OBE, from the Scottish Grocers Federation, says placing restrictions on advertising could hamper Scotland from achieving its 2034 targets for a smoke-free Scotland.
"In a way, if we don't have those restrictions, it's a way of having an anti-smoking policy," he said.
"We need a mechanism so consumers are aware that the store has vaping. If it's hidden, then people won't have an alternative and, if they smoke, they will just continue to smoke.
"What we have found is that vaping is less harmful and impactful than smoking and it really is a way to ensure that people stop smoking."
Scotland Tonight is on STV and the STV Player at 8.30pm on Thursday, September 29.
STV News is now on WhatsApp
Get all the latest news from around the country
Follow STV News
Follow STV News on WhatsApp
Scan the QR code on your mobile device for all the latest news from around the country