Experts have warned Scottish Government plans to build nine new waste-burning incinerators are "unnecessary" if targets to reduce the amount of refuse heading to landfill sites are to be met.
An independent review into Scotland's "unsustainable" reliance on combustion plants suggested many proposed facilities "should not be built".
Environmental bosses placed limits of just five per cent on the amount of domestic rubbish heading for underground locations from its six combustion plant locations by 2025.
However, three years off that deadline, nine new incinerators are planned across the country while around 20 per cent of the two million tonnes of refuse is still being buried – releasing large amounts of carbon into the atmosphere in the process.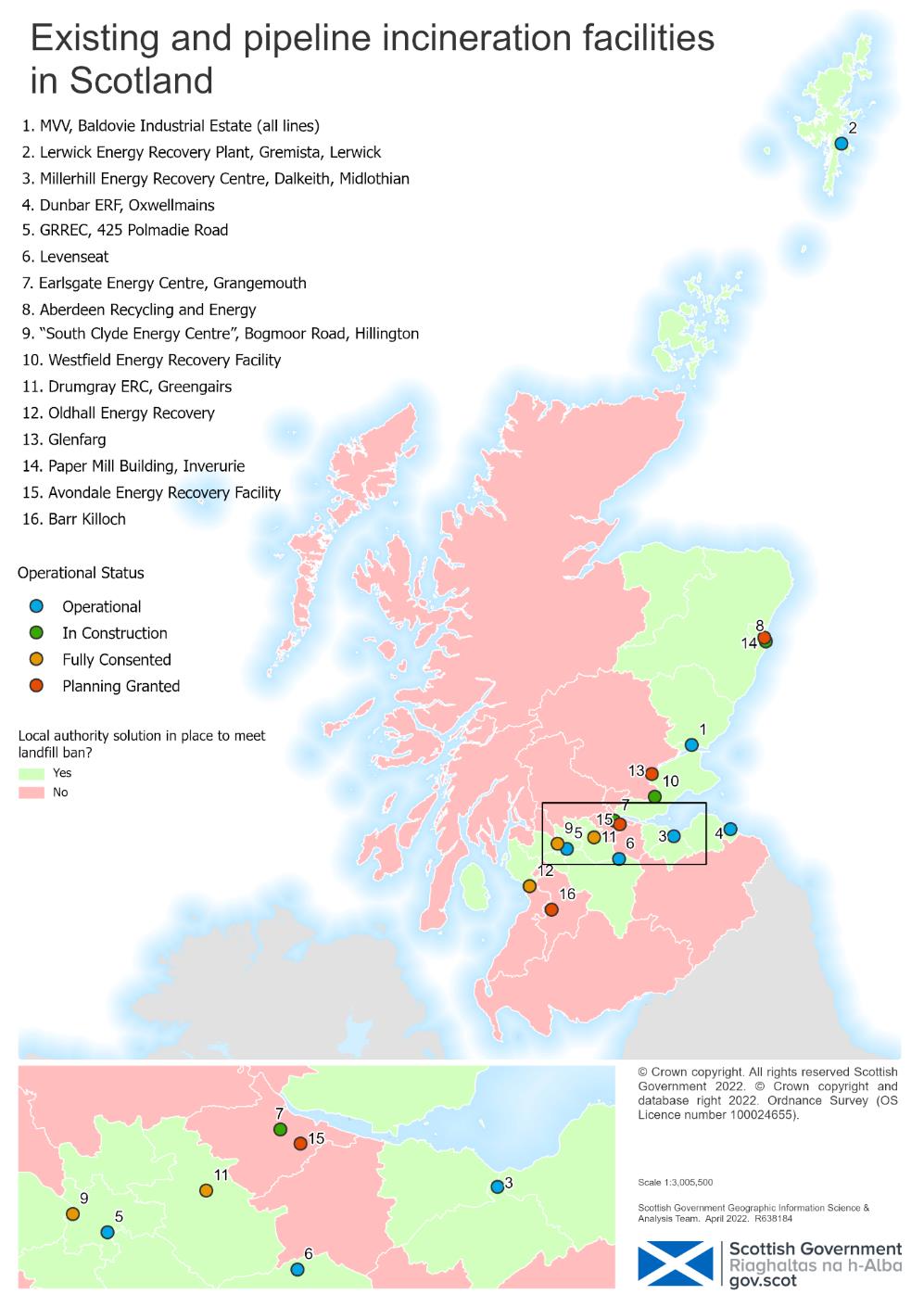 Waste sector expert Dr Colin Church – who authored the report – proposed a cap on planning for any new burning facilities unless also ensuring an "equal or greater closure of capacity" for waste being incinerated.
However, he also suggested the nine planned locations from Aberdeen to Avondale were likely "more than needed," adding reconsideration of capacity was required.
Dr Church said: "The evidence I received shows that, whilst well-regulated incineration does have a role to play in managing unavoidable residual waste in Scotland, the capacity currently being proposed is likely to be more than needed."
"So a lot of it should not be built. For the proportion that is developed, the level and quality of engagement with local communities needs to be excellent, which unfortunately has not always been the case to date.
"There is also more that must be done to reduce the climate impacts of waste incineration, and I look forward to revisiting my provisional recommendations in this area in due course."
Figures from the Scottish Environmental Protection Agency (SEPA) suggest the amount of household waste being burnt has tripled in the last ten years.
A total of 2,429,057 tonnes of household waste was sent to incinerators across Scotland in 2020 – the last year for which figures are available.
A mass-burning facility opened in Dundee last year, while a further two, in Aberdeen and Grangemouth, are due to open within the next 12 months.
Those will increase Scotland's burning capacity by a further 328,000 tonnes, according to the report.
In a series of 12 policy recommendations, Dr Church stated the Scottish Government should "ensure that no further planning permission… is granted to incineration infrastructure."
He added developers with plans for new locations already in place must "consider whether there will in fact be sufficient residual waste available to operate as currently foreseen."
Environmental campaigners have welcomed the report, but say a clear exit strategy from incineration is still required.
Kim Pratt, circular economy campaigner at Friends of the Earth Scotland, added: "A ban on new incinerators is the first step in turning Scotland's waste management system around, but it's only half of the solution.
"The report makes it clear that more must be done to minimise waste and recycle as much as possible.
"Burning plastic releases more carbon than coal and the only way to cut emissions from incineration for good is to stop burning waste.
"We need to value resources properly, rather than taking from nature, using once then burning or burying the waste."
The review will now be studied by Scottish ministers before a decision is taken on whether to follow the lead of Wales – which banned incineration last year.
A response is set to be delivered in June.
Circular economy minister Lorna Slater added: "It is clear from the review that although incineration has a role to play in managing Scotland's unavoidable, unrecyclable residual waste in a safe way, that role is inevitably limited.
"As we transition to a circular economy, Scotland will need significantly less incineration capacity than is currently projected and it is vital that we do not have more capacity than we need."
STV News is now on WhatsApp
Get all the latest news from around the country
Follow STV News
Follow STV News on WhatsApp
Scan the QR code on your mobile device for all the latest news from around the country