Anas Sarwar has pledged that he "will not rest" until there is justice for those who have lost loved ones at the Queen Elizabeth University Hospital.
The Scottish Labour leader made the promise as he urged MSPs to back a motion of no confidence in the leadership of NHS Greater Glasgow and Clyde.
Earlier on Wednesday, Sarwar held a press conference in Edinburgh alongside Louise Slorance and Kimberly Darroch, who called for immediate action to be taken.
Ms Slorance's husband Andrew died aged 49 last year having gone into the hospital for cancer treatment.
However, she believes that the full details of his illness were concealed to protect the reputation of the hospital.
Ms Darroch is the mother of Milly Main, who died aged ten in 2017 after contracting an infection at the hospital.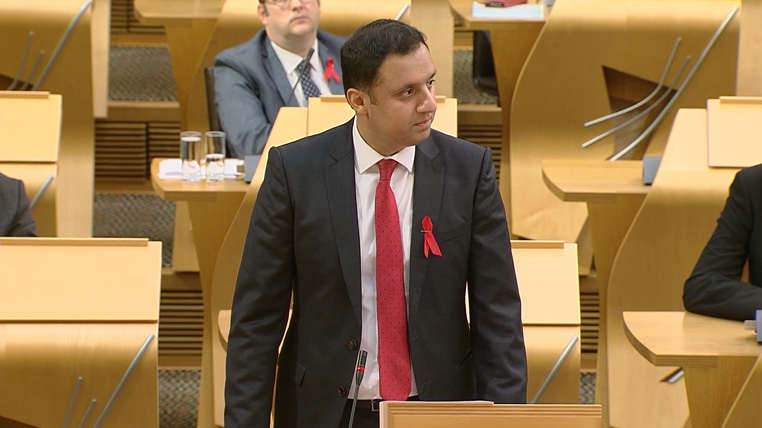 Raising the issue at Holyrood, Sarwar accused the health board leadership of letting down staff and called for the Scottish Government to escalate the board to Stage 5 of the performance escalation framework.
"Two years ago, I stood up in this Parliament and exposed the failures at the Queen Elizabeth University Hospital in Glasgow," he said.
"What has been uncovered in the two years since is a human tragedy on an unimaginable scale. It is beyond doubt the biggest scandal in the lifetime of this Parliament.
"Where we have reached today is only possible because of the bravery of senior clinicians who were willing to whistleblow.
"The response from the health board then was the same playbook they're attempting to play now – cover up, spin, denial, bullying, silencing, and calling into question the integrity of senior clinicians and families.
"So, let me start with a direct message to the frontline staff at the Queen Elizabeth University Hospital – thank you for everything you're doing.
"I have every confidence in you and know that you and working day and night to do your best for your patients.
"I have no confidence in the leadership of your health board. You deserve a leadership that doesn't try to silence you, that doesn't try to bully you, and perhaps most of all as we have seen this week, you deserve a management that doesn't disgracefully try to spread the blame to staff.
"I know they are letting you down, and this fight is as much for you as it is for the patients and families."
Sarwar said that the staff, patients and families "cannot be silenced" by the health board.
He told MSPs: "I say directly to the health board leadership – listen to the words of Dr Christine Peters; 'do not gaslight the entire staff base at the Queen Elizabeth University Hospital in order to protect your jobs at the top'.
"'Do not underestimate the resolve of the staff, patients and families. They cannot be silenced, they cannot be managed away.
"I have spoken to them and I have made them a promise, as a representative, but more importantly as a father.
"I will not stop, I will not go away, I will not rest, until I get the answers and the justice that you, your families and the staff deserve."
Public health minister Maree Todd told MSPs that concerns will be "investigated and acted upon".
She said: "I want to begin by stating that my thoughts and condolences are with all families who have lost a loved one while in the care of the health service.
"Various claims have been levelled against the health board and throughout we have worked to ensure that these are investigated and where necessary, acted upon.
"Clearly, when we are considering these individual claims, it is vital that specific consent is given on an individual basis before comments can be made.
"It would be totally inappropriate for me, or any other member of this Chamber, to discuss cases where that consent is not explicit from the families involved."
She added: "Where there are concerns, they will be investigated and acted upon."
STV News is now on WhatsApp
Get all the latest news from around the country
Follow STV News
Follow STV News on WhatsApp
Scan the QR code on your mobile device for all the latest news from around the country