Rishi Sunak insisted he was "absolutely shocked" at allegations Conservative peer Michelle Mone profited from a firm awarded a PPE contract.
The Prime Minister refused to comment on the standards watchdog investigation into the Glasgow-born lingerie tycoon's ties to the £200m deal between the UK Government and PPE Medpro.
Mone, 51, has consistently denied any "role or function" in the company and branded accusations she may have personally benefitted from the deal false.
She has since requested a "leave of absence" from the House of Lords while the probe takes place and has had the party whip withdrawn.
However Labour leader Sir Keir Starmer accused Sunak of being "weak" for failing to act sooner after allegations appeared in a national newspaper last month as he quizzed the PM on how Mone "ended up with £30m of taxpayers money in her bank account".
"Let me say, like everyone else I was absolutely shocked to read about the allegations," he responded in the Commons.
"It is absolutely right that she is no longer attending the House of Lords and therefore no longer has the Conservative whip."
He added: "The one thing we know about him [Starmer] is he is a lawyer, he should know there is a process in place. It is right that that process concludes. I hope that it is resolved promptly."
The leave of absence means Mone will not attend sittings of the House, vote on any proceedings and will not be able to claim any allowance.
A statement issued by her lawyers earlier this week read: "With immediate effect, Baroness Mone will be taking a leave of absence from the House of Lords in order to clear her name of the allegations that have been unjustly levelled against her."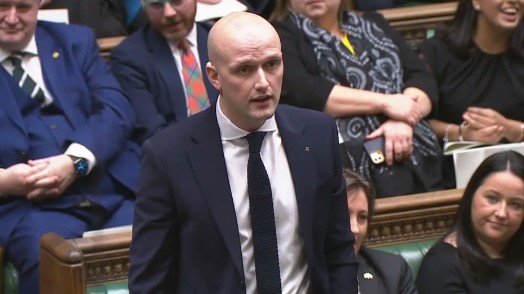 Sunak was also questioned for the first time by new SNP Westminster leader Stephen Flynn after he was named as successor to Ian Blackford on Tuesday.
The Aberdeen South MP took aim at Labour for backing a number of Tory policies including the end of freedom of movement, leaving the single market and customs union and "denying Scotland her democracy".
He also cited an STV poll which showed support for independence had risen to 56% in the wake of the Supreme Court ruling on whether Holyrood could legislate for a second independence referendum.
Ipsos Mori's Scottish Political Monitor found support for leaving the UK increased by six points since the last survey in May.
Flynn asked the PM whether an increase in energy bills by around £500 would likely arrest that rise or boost support for the independence campaign.
Sunak said: "What we're delivering for households across the United Kingdom, including those in Scotland, is £55bn of support with energy bills.
"It will save a typical homeowner about £900 with their bills this winter, with extra support for the most vulnerable, and that is an example of the United Kingdom and the union delivering for people in Scotland."