Rail unions are set to protest outside the residence of First Minister Nicola Sturgeon demanding that planned cuts to services are blocked.
RMT, jointly with Aslef, TSSA and Unite are set to hold the demonstration at Bute House in Edinburgh at 12pm on Wednesday.
It comes after it was announced last month by ScotRail that it plans to introduce a new timetable from May next year, with around 2100 services per weekday.
However, it is a fall on the 2400 operated each day by ScotRail before the coronavirus pandemic.
ScotRail has pledged that the new timetable, which is subject to consultation, will be "better performing".
RMT general secretary Mick Lynch said it "beggars belief" that the Scottish Government is "happy to preside over massive cuts to rail services".
"The Scottish Government is managing the ScotRail franchise under its ongoing Emergency Measures Agreement and it has the power to block the service cuts being proposed," he said.
"It cannot evade responsibility over this issue.

"With COP26 just weeks away, it beggars belief that the Scottish Government is happy to preside over massive cuts to rail services, despite this being a sustainable and low carbon form of transport.
"This will do nothing to make Scotland a 'Net zero nation' and will just push more people into cars.

"RMT will be joining the other rail unions to demonstrate outside the First Minister's official residence today and we are demanding a commitment from her that she will block the proposals to cut ScotRail services."
On Wednesday afternoon, Scottish Labour will hold a debate in the Scottish Parliament on ScotRail.
The party has insisted that no reduction to services should be made in any new timetable and has urged ministers to reject overall service reductions.
In a motion put down at Holyrood, Scottish Labour will also outline the ongoing dispute between ScotRail and unions, with a majority of services on Sundays having been scrapped for several months.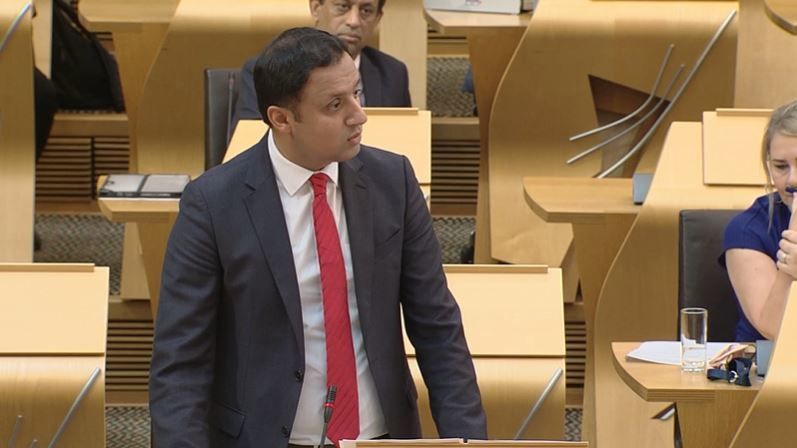 Scottish Labour leader Anas Sarwar blamed franchise operator Abellio and the SNP for the "mess" of the country's railways.
"Every Sunday, Scotland's railways virtually grind to a halt, plunging public transport into chaos and leaving passengers stranded," said Sarwar.
"We won't be able to get people back on trains if the trains aren't running in the first place.
"However much they may try to deflect blame, responsibility for this mess lies squarely with Abellio and the SNP.
"Workers have had their tireless efforts during the pandemic thrown back in their face.
"Abellio are treating their workers with contempt, but it's the SNP government forcing them to negotiate with their hands tied behind their back."
The Glasgow MSP added: "It is bare-faced hypocrisy from the SNP, who have spent the last year and a half paying lip-service to essential workers and a green recovery.
"They must stop blocking a fair pay settlement for our rail workers, and oppose these damaging cuts to services."
A Scottish Government spokesperson said that constructive talks are on-going with trade unions.
They said: "We recognise how hard rail employees worked during the pandemic to keep services moving for key workers.
"Through additional funding via the Emergency Measures Agreements we ensured that every employee received full pay throughout the pandemic – even at times when services and revenue had fallen by up to 95%.
"Constructive talks are on-going with many of the trade unions against a backdrop of significant financial challenges faced by the Government – notwithstanding the unprecedented level of funding already provided for transport operators during the pandemic.
"We would urge all unions to continue talks in this constructive manner."
They added: "Services should rightly operate to reflect current passenger requirements – importantly, with inbuilt capacity for future growth – not on historical travel patterns.
"The proposed timetables are a starting point not an end point. They have been designed to reflect changing travel demand while providing room for growth."