Around 100 pupils gathered in Glasgow's George Square in demonstration against the downgrading of exam results.
Thousands of pupils received grades lower than their teachers' estimates.
Many believe they were penalised for living in less affluent areas of Scotland.
Young people were pictured holding placards with captions such as 'judge my work, not my postcode' at a protest organised by 17-year-old student Erin Bleakley on Friday morning.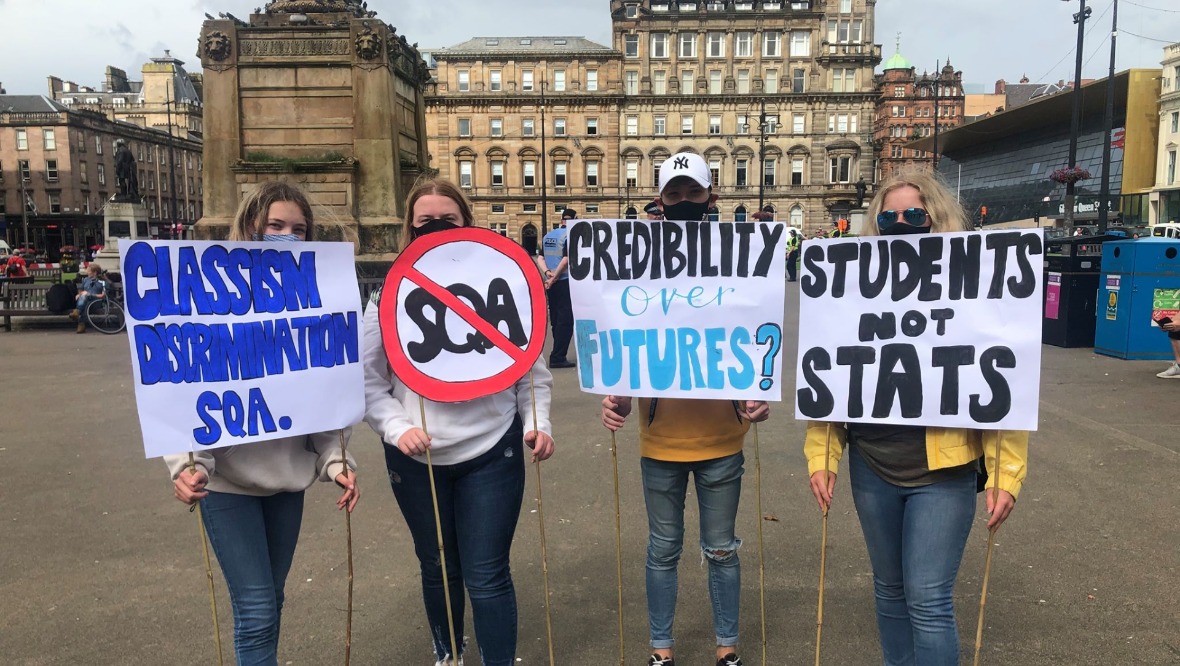 Among those speaking at the event were Labour MSP Neil Findlay and Scottish Greens co-leader Patrick Harvie.
The Scottish Qualification Authority (SQA) moderation process saw the downgrading of 124,564 results – 93.1% of all the moderated grades.
Results were worked out using estimates made by teachers based on the pupil's performance over the school year.
However, the national moderation system meant that many students received lower grades than originally estimated.
Miss Bleakley, a pupil at St Andrew's high school in Carntyne, Glasgow, hopes Friday's protest will highlight how pupils living in areas of high deprivation were disproportionately affected.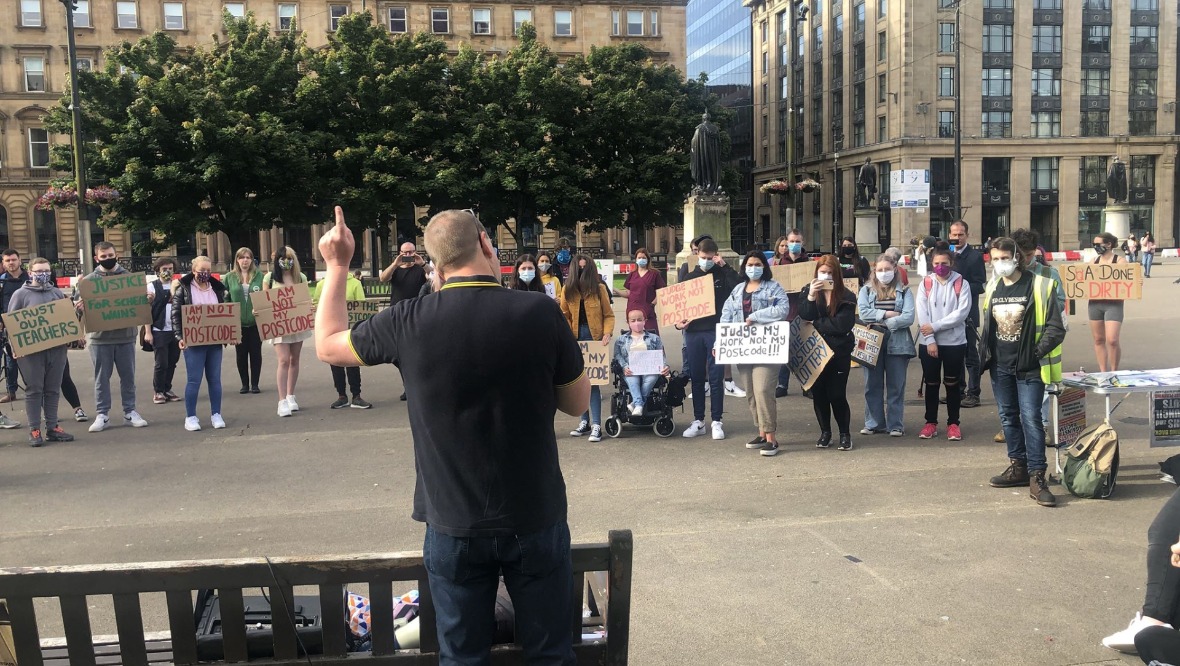 The Higher pass rate of pupils in the most deprived data zones was reduced by 15.2 percentage points from teacher estimates after the exam board's moderation. In contrast, the pass rate for pupils from the most affluent backgrounds dropped by 6.9 percentage points.
Ms Bleakley said: "We deserve the same life chances as young people in affluent areas. How can anyone expect to close the attainment gap when your hard work can be wiped out based on your postcode?
"There needs to be recognition that living somewhere that is termed an area of deprivation should not be something that prevents young people from progressing to further or higher education."
Asked on Thursday whether she would have joined the demonstration as a teenager had her own results been downgraded because of her school's historic standards, First Minister Nicola Sturgeon said it was "very possible".
"If I had been in that position, I would feel aggrieved about that," she said.
"I totally understand, and sympathise and empathise, with any young person who is in the position of having a grade awarded by the SQA that is lower than the teacher estimate for that grade."
But speaking at the Scottish Government's daily briefing, Sturgeon told pupils the moderation was necessary to "command the confidence of colleges and universities and employers".
However, she urged pupils to challenge their results if there has been "genuine individual injustices".
An SQA spokesman previously said: "Our appeals process this year will be based solely on the evidence presented by the school or college, for that individual candidate, on a case-by-case basis.
"The most disadvantaged young people have achieved better results in 2020 compared to both 2019 and the average results for the last four years."
The protest at George Square is expected to continue until 12.30pm.