Liz Truss has resigned as Prime Minister – leaving her as officially the shortest-serving premier in Britain's history.
Her demise spells the end of a rollercoaster six-week reign, which will be remembered for her being accused of gambling the UK's future with a £45bn tax giveaway that sent the pound crashing and financial markets into a tailspin.
In the space of six days, the leader lost two of her most senior ministers, sat in silence as her economic programme was ripped to shreds in parliament, and was ridiculed by the opposition as she tried to defend her position.
Chaos deepened further in the Commons on Wednesday amid confusion over whether the vote on fracking was a confidence vote on her leadership.
Accusations of "manhandling, bullying and shouting" in the lobby rocked the Conservatives following threats to quit from the chief whip and her deputy.
Coming to power in defiance of the so-called "anti-growth coalition", Truss styled herself as a disruptor, promising tax cuts and slashing of red tape to invigorate the UK economy.
She and her first chancellor Kwasi Kwarteng's mini budget represented arguably the biggest shift in economic policy by a government in half a century, condemned as "Thatcherite on Steroids" by Northern Ireland's finance minister.
But she sacked her closest ally after just 38 days in office – the second shortest-reigning chancellor in history after a politician who died of a heart attack – and installed Jeremy Hunt, who scrapped most of their plan within hours.
"It is clear that part of our mini budget went further and faster than the markets were expecting," Truss said after the humiliating U-turn.
Her late admission did little to improve her popularity within her own party – leaving the Conservatives 30 points behind Keir Starmer's Labour in the polls.
She then lost her home secretary Suella Braverman over a security breach – the outgoing minister using her resignation letter to attack the government's "broken promises".
As the pressure mounted from MPs calling for her head, her departure was inevitable by the time she resigned on outside 10 Downing Street on Thursday.
Truss's tenure has been memorable in other ways – she was just two days into her premiership when the Queen died, reading a lesson from the Bible at the state funeral.
Her decade-spanning political journey has also been coloured by switched allegiances; the former Liberal Democrat campaigner marched against Thatcher as a child of left-wing parents, later becoming a Conservative and champion of the free market in her time at Oxford.
The avowed remainer switched to backing Brexit following the vote to leave the EU, justifying her decision by saying "the facts have changed and I've changed my mind".
As she was formally appointed as Prime Minister by the Queen, Truss hit headlines for branding the monarchy "disgraceful" in a clip which resurfaced from a Liberal Democrat conference in 1994. She later said she regretted her position "almost immediately".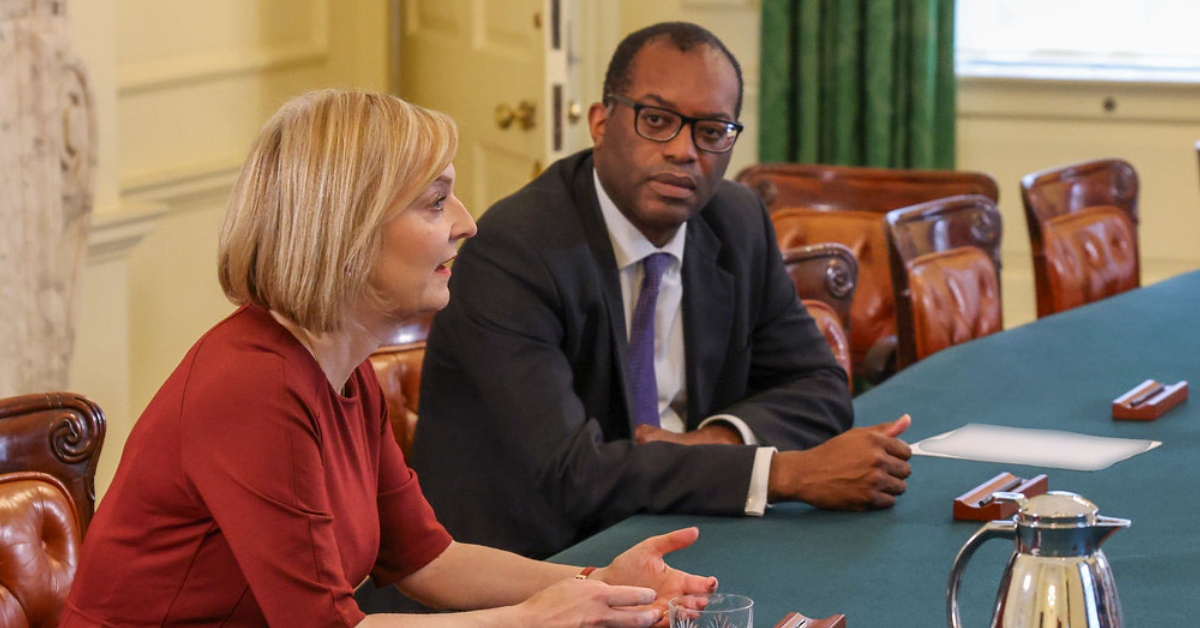 Who is Liz Truss?
Truss was born in Oxford in 1975 and moved to Paisley with her family aged four, attending West Primary School.
In an interview with STV News shortly after becoming PM, Truss said she was "proud" to have lived in Paisley.
Truss said her upbringing had helped her to form her economic policies in government.
"I've seen the boarded-up shops, I've seen people left with no hope, turning to drugs, I've seen families struggling to put food on the table," she said.
"Low growth isn't just numbers on a spreadsheet – low growth means lower wages, fewer opportunities and less money to spend on the things that make life better.
"It means our country falling behind other countries including those who threaten our way of life and it means the parts of our country that I really care about falling even further behind."
Truss's vision of a lean state Britain and plans to "grow the economic pie" by deregulating business, clamping down on trade unions and cutting tax for the wealthy never came to fruition.
Now the mission of restoring calm in the markets and clawing back confidence in the British public in her wake lies with her beleaguered party.