Prime Minister Boris Johnson is in Scotland to emphasise the importance of the union in fighting coronavirus.
Johnson visited the Queen Elizabeth University Hospital, the Lighthouse Laboratory testing centre in Glasgow on Thursday morning.
He also met Army troops setting up a vaccination centre in Castlemilk, bumping elbows with soldiers as he was shown around the venue.
Later, he visited the Valneva factory in Livingston, where a vaccine is being produced, and stressed that being part of the UK was crucial to fighting the virus and supporting the Scottish economy during the pandemic.
First Minister Nicola Sturgeon believes that should the SNP win a majority at the Holyrood election – currently still scheduled for May – that would be grounds for a second independence referendum.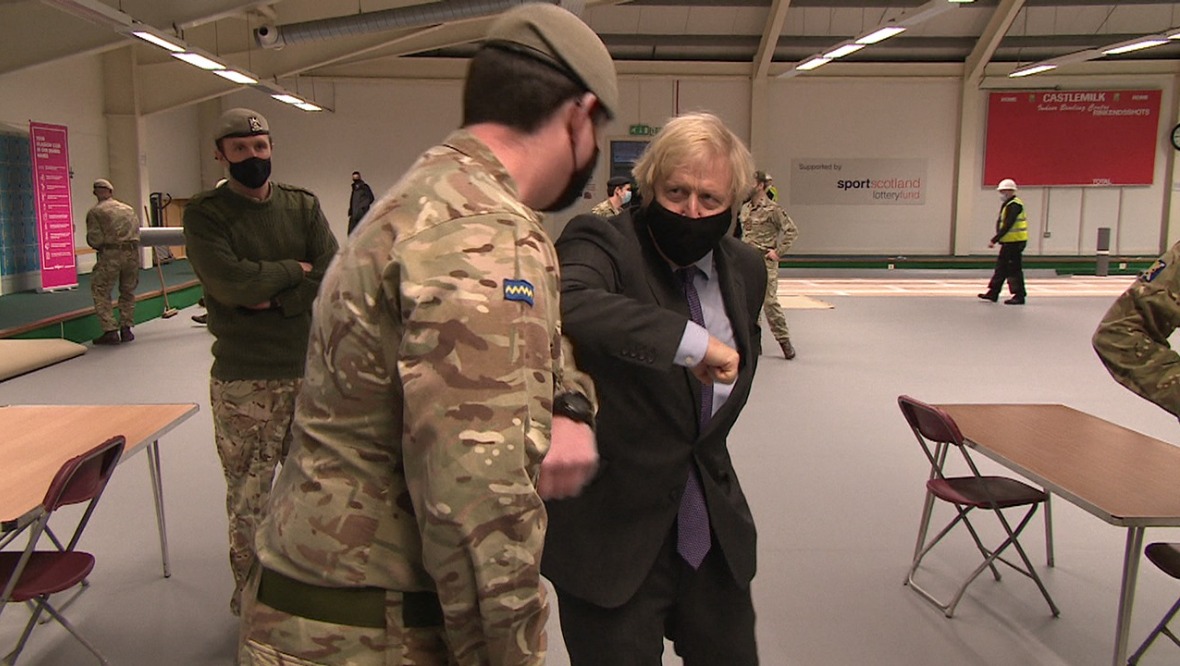 Opinion polls, including those for STV News, have repeatedly suggested there is now majority support for Scotland leaving the UK.
But Johnson said there is no case for a fresh vote, after Scots opted to remain in the union in 2014.
He said: "I don't think that the right thing to do is to talk endlessly about another referendum when I think what the people of the country want, what the people of Scotland want in particular, is for us to fight this pandemic.
"It's great to see everything that Scotland is contributing to the national effort, it's quite amazing. I think what people want to see is us bouncing back more strongly together.
"I don't see the advantage in us getting lost in pointless constitutional wrangling when, after all, we had a referendum not so very long ago."
Sturgeon, who described Johnson's visit to Scotland is "not essential" during the current lockdown, accused the Prime Minister of being "frightened of democracy" in his refusal to back another poll on the union.
Speaking at the Scottish Government's Covid-19 briefing on Wednesday, Sturgeon said: "I am not and never would be saying that Boris Johnson is not welcome in Scotland. He is the Prime Minister of the UK.
"But beyond that, everybody is welcome in Scotland. Well, maybe not a certain ex-president that I kind of suggested earlier on maybe rather didn't come to Scotland, but I won't divert down that road.
"Boris Johnson is not unwelcome in Scotland, even if I had the ability to stop him."
Downing Street defended Johnson's decision to visit Scotland, describing it as "fundamental" to his job.
His official spokesman said: "These are Covid-related visits. You've seen the Prime Minister do a number of them over the past few weeks.
"It is obviously important that he is continuing to meet and see those who are on the front line in terms of those who are providing tests, in terms of those who are working so hard to deliver the vaccination plan."
Johnson also defended the impact of his Brexit trade deal on the fishing sector, saying it would be "very beneficial" in the medium to long term.
Asked whether he would meet with disgruntled fishermen, the Prime Minister said: "I'm always happy to meet representatives of any section of industry in this country and to explain why I think we've done the right thing with Brexit.
"Of course, there are teething problems in lots of areas – that's inevitable because there is a big change.
"We told people there was a big change coming and where people have had problems through no fault of their own, there is a £23m fund to help them through it.
STV News is now on WhatsApp
Get all the latest news from around the country
Follow STV News
Follow STV News on WhatsApp
Scan the QR code on your mobile device for all the latest news from around the country