The Prime Minister's former press secretary Allegra Stratton has resigned after leaked footage showed Downing Street aides joking about a festive gathering.
Boris Johnson said he was "sickened and furious" by the video of senior aides laughing about a Christmas "cheese and wine" night.
In a tearful press conference, Mrs Stratton quit as an advisor to the Prime Minister.
"My remarks seemed to make light of rules, rules that people were doing everything to obey," she said.
"That was never my intention."
At PMQ's on Wednesday, Johnson said he had asked the cabinet secretary to conduct a full investigation into the situation but that no party happened.
He said that disciplinary action would be taken against anyone found to have breached regulations but said no coronavirus rules were broken.
Labour leader Sir Keir Starmer said the Prime Minister could end the investigation right now by admitting what happened.
The opposition leader said: "The Prime Minister spent the week telling the public there was no party.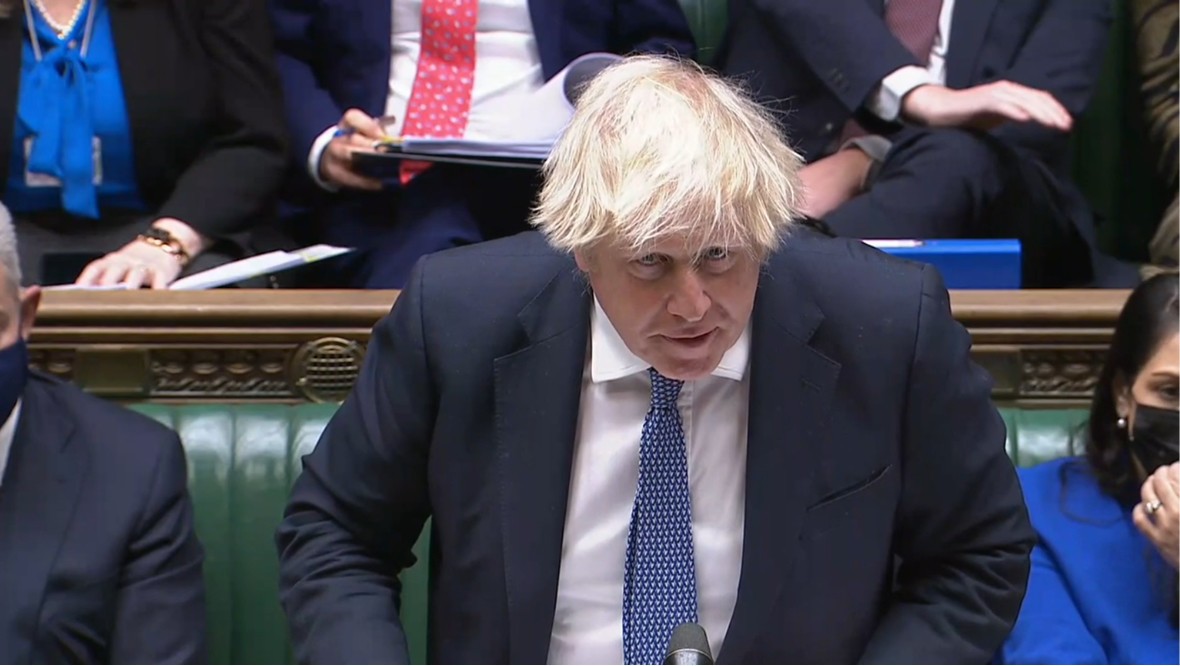 "Millions of people now think the Prime Minister was taking them for fools and they were lied to."
Johnson said: "I understand and share the anger at seeing No 10 staff seeming to make light of lockdown measures.
"I can understand how infuriating it must be.
"I apologise unreservedly for the offence that it has caused up and down the country and I apologise for the impression that it gives.
"I have been repeatedly assured, since these allegations emerged, that there was no party and that no Covid rules were broken."
SNP Westminster leader Ian Blackford called on the Prime Minister to resign.
Baroness Ruth Davidson, former Scottish Conservative leader, said: "None of this is remotely defensible. Not having busy, boozy not-parties while others were sticking to the rules, unable to visit ill or dying loved ones.
"Nor flat-out denying things that are easily provable. Not taking the public for fools."
Some reports claimed the evening on December 18 last year featured alcohol and "secret Santa" present-giving, when London was under strict lockdown conditions.
Johnson faced uncomfortable questions from his own backbenchers, with veteran MP Sir Roger Gale declaring that the situation bore "all the hallmarks of another 'Barnard Castle' moment" – referencing Dominic Cummings, the Prime Minister's former aide, driving 260 miles during lockdown last year.
In footage obtained by ITV News, the Prime Minister's then press secretary Allegra Stratton and adviser Ed Oldfield, along with other aides, were filmed joking about a "fictional" Downing Street party in December 2020.
Oldfield asks Stratton: "I've just seen reports on Twitter that there was a Downing Street Christmas party on Friday night, do you recognise those reports?"
Stratton replies "I went home" before appearing to pause considering what the correct answer should be.
The Metropolitan Police confirmed the leaked video was being reviewed in relation to "alleged breaches" of coronavirus regulations.
Deputy first minister John Swinney said leaked footage showing No 10 staff joking about a party held at Downing Street last year is one of the "most appalling things" he has seen in his political life.
Nicola Sturgeon: If PM misled parliament then he should go
The First Minister said it is right to call on Boris Johnson to resign if he misled parliament.
Nicola Sturgeon told STV News that the timing of the alleged party at No 10 was crucial with the dates "engraved" on her mind.
"I vividly remember 18th, 19th of December last year being one of the most difficult points in a really tough year," she said.
"This seeming inability to be straight and honest with people, I think, is a very, very serious charge lying at the door of the Prime Minister.
"On the face of it, I don't see how the Prime Minister's account can be squared with what is in the public domain.
"I do think there is a very, very serious question mark over the truthfulness of Boris Johnson's statements on this issue."