Boris Johnson has arrived in Orkney for his first visit to Scotland since December's general election.
Ahead of the visit, the Prime Minister hailed the "sheer might" of the union on display in the UK's response to coronavirus.
He touched down at Kirkwall Airport on Orkney shortly before 10am on Thursday before heading to the first of a series of engagements.
A small group of protesters gathered on the road to Stromness, Orkney, where Johnson is expected to meet fishermen at Copland Dock.
The masked protesters held signs with slogans including "Hands off Scotland" and "Our Scotland, our future" while an "Indy Ref Now" placard was seen on the side of a van.
They also flew Saltires and the flag of Orkney.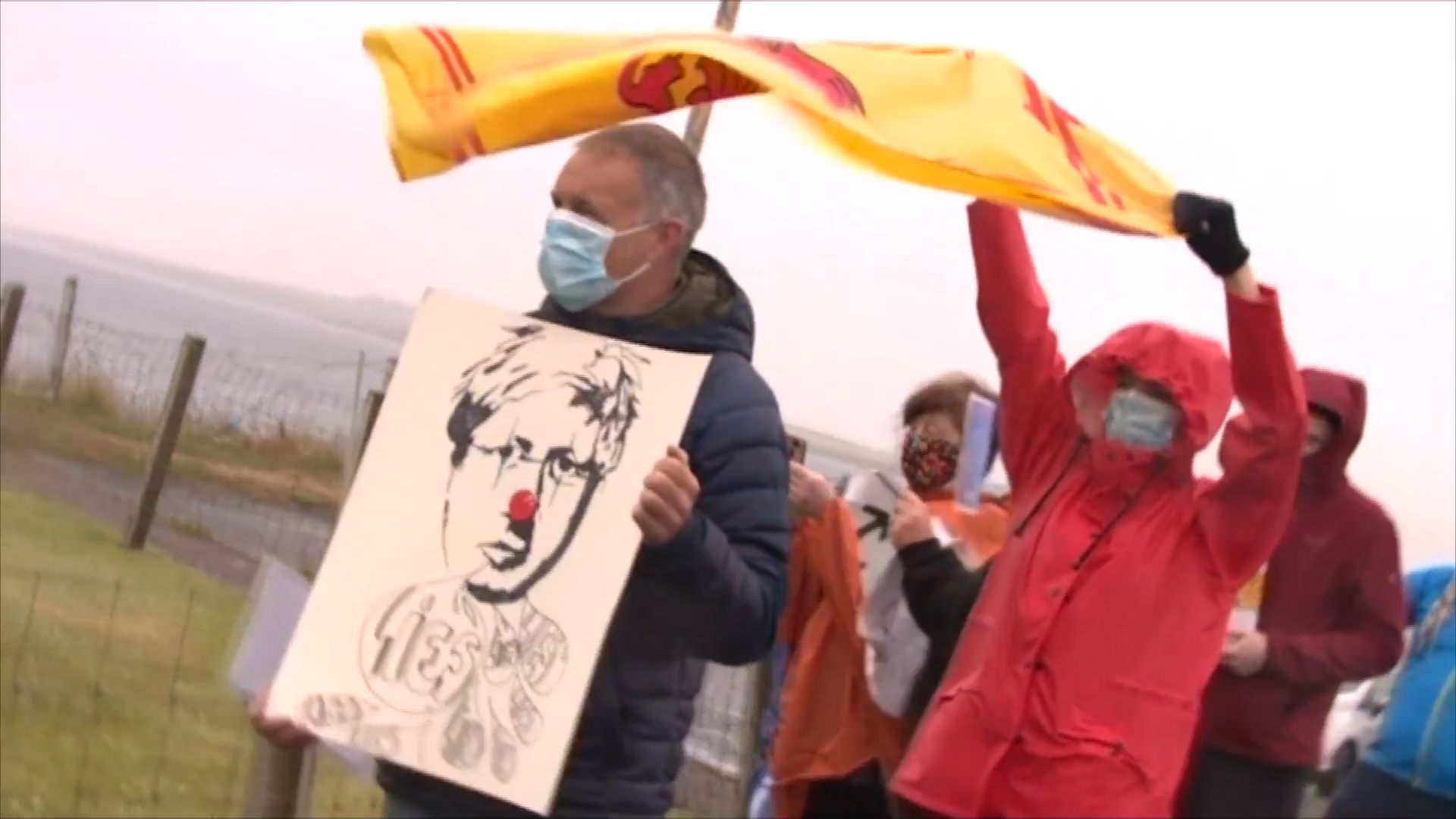 Johnson's visit to Scotland comes ahead of his one-year anniversary as Prime Minister on Friday.
It also follows a recent surge in support for Scottish independence according to polling, with two Panelbase surveys reporting 54% of respondents would like to see Scotland split from the UK.
Speaking in Orkney, the Prime Minister said the 2014 independence vote had been once-in-a-generation, and the six years that have passed since are "not a generation by any computation".
Ahead of his visit, First Minister Nicola Sturgeon said the Prime Minister's Scottish trip would boost the cause of independence.
She said his presence showed how Scotland has "its future decided by politicians we didn't vote for, taking us down a path we haven't chosen".
Later, she criticised him at the Scottish Government's daily coronavirus briefing by suggesting he was on a "campaign visit" focused on thwarting independence rather than focusing on the pandemic.
The UK Government has pledged £50m for Orkney, Shetland and the Western Isles to develop the economy of the islands as part of a growth deal.
The Scottish Government said it will invest the same amount in the islands, meaning every area in Scotland will now receive funding from the joint UK and Scottish government initiatives.
In Stromness on Thursday, the Prime Minister said the £100m of growth deal funding for Scotland's Northern and Western Isles is "a real opportunity for people here to get some funding to increase what they are already doing, amazing new green technology".
He added: "What you have seen throughout this crisis is the union working together with money for supporting people through furlough, the Army working on the testing, moving people around.
"But now what you want to do is build back better together with a green recovery and here in Orkney they are streets ahead on hydrogen technology, on green technology.
"Around Orkney they could supply 25% of the UK's energy needs if they had the infrastructure to go with it so we're looking at ways to support the council here, to support local leaders in their ambitions."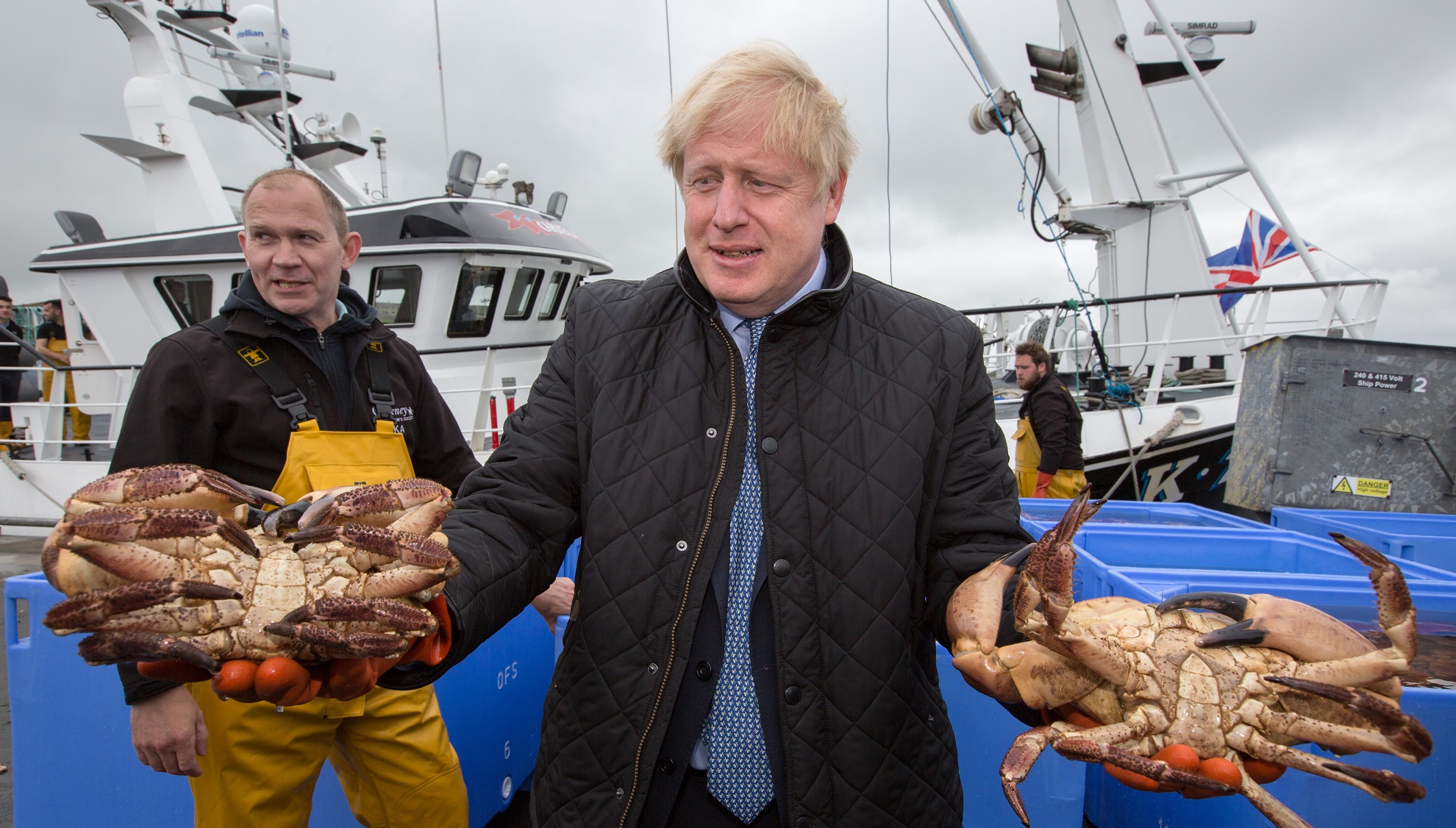 Johnson described the union as "a fantastically strong institution".
He continued: "It's helped our country through thick and thin, it's very, very valuable in terms of the support we've been able to give to everybody throughout all corners of the UK.
"We had a referendum on breaking up the union a few years ago – I think only six years ago.
"That is not a generation by any computation.
"I think what people really want to do is see our whole country coming back stronger together, and that's what we're going to do."
Asked about his remarks at Thursday's Covid-19 briefing, Sturgeon suggested he was "crowing" about the benefits of the union during a pandemic which has claimed nearly 50,000 UK lives.
No one should be "championing and celebrating a pandemic that has taken thousands of lives as some example of the pre-existing political cases we want to make", the FM said.
She added: "Campaigning right now is not my priority.
"Boris Johnson has every right to be on a campaign visit but in his shoes it's not what I would do."
Labour leader Sir Keir Starmer said: "The Prime Minister in Scotland needs to listen not lecture.
"And so he should listen to the communities in Scotland, not go up there delivering lectures for them.
"I think what the coronavirus has shown us is, actually, we shouldn't be pulling apart the United Kingdom.
"In the health response, and particularly on the economic response, it has been very important that Scotland and the rest of the United Kingdom have worked together."
After his Orkney trip, the Prime Minister travelled to the mainland to visit RAF Lossiemouth in Moray where he met service personnel and their families.
Asked by journalists if he was politicising the coronavirus crisis, he answered: "Of course not, no."
STV News is now on WhatsApp
Get all the latest news from around the country
Follow STV News
Follow STV News on WhatsApp
Scan the QR code on your mobile device for all the latest news from around the country