There is no evidence of predatory men seeking to obtain a gender recognition certificate in order to abuse women and girls, MSPs have heard.
Scotland's social justice secretary Shona Robison said there is not a body of evidence pointing to "bad faith actors" trying to use statutory processes to do so.
Robison was giving evidence to the Scottish Parliament's Equalities, Human Rights and Civil Justice Committee over the Gender Recognition Reform (Scotland) Bill.
The Bill would change the process for people to get a gender recognition certificate (GRC).
A GRC is a certificate that legally recognises that a person's gender is not the gender that they were assigned at birth, but is their 'acquired gender'.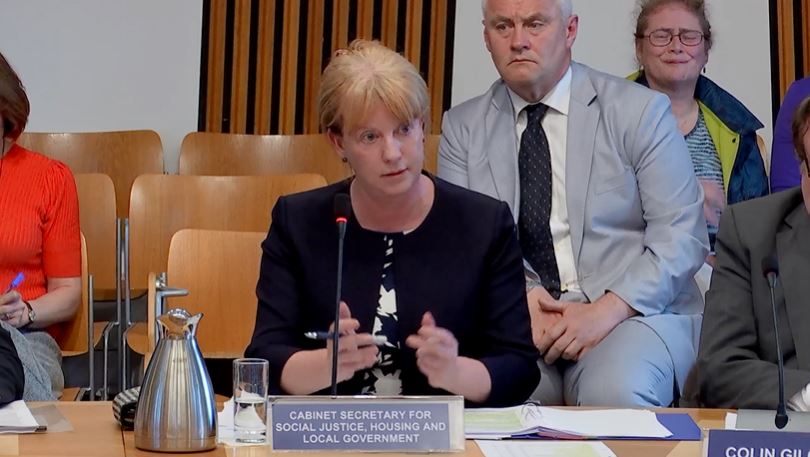 Scottish Conservative MSP Pam Gosal asked Robison about concerns safeguarding of women and girls.
"Cabinet secretary, the committee has heard concerns, obviously you've heard them as well, that the system of self-declaration will open the Bill up to abuse by bad faith actors to invade women's single-sex spaces," she said.
"What is your response to those concerns and will you be considering provisions such as blocking those convicted of sex crimes from obtaining a GRC through self-declaration?
"And if not, can you tell the committee what the Bill does to address the concerns about the safety of women and girls from bad faith actors who may exploit this Bill?"
Robison said there is no evidence of the system being exploited in that way by predatory men.
"The first thing I would say is to point again to the evidence given by the Scottish Human Rights Commission where they were very clear that there is no body of evidence, at least in the countries that have now got a system of statutory declaration, that points to bad faith actors trying to use this process in order to abuse women and girls," she said.
"All of the evidence really points that the abuse of women and girls comes from predatory men who there's no evidence of them using a system of statutory declaration for gender recognition in order to abuse women and girls.
"There's just no evidence of that."
The minister also told MSPs that if there had been issues previously around the use of spaces such as bathrooms and changings rooms, then "we probably would have been aware of it".
"In terms of access to single-sex spaces, as I said in my opening remarks, the Equality Act 2010 does provide for exceptions including for trans people with a gender recognition certification if those exceptions are proportionate," she said.
"So, the example given under the Equality Act is a counselling service rape victims, I think it was.
"That there could be an exception where transgender women would be excluded from that service.
"Now, other spaces like toilets and changing rooms which have had obviously a lot of attention in this discussion in the public domain are areas that have never required, and don't require, a gender recognition certificate.
"So, the trans community going about their daily lives as they have forever will use, or not use those spaces, and have done.
"And I think if that had been an issue, we probably would have been aware of it before the confines of the debate around this Bill."
Robison added: "Where single-sex spaces have a reason to exclude trans people for the reasons that I've outlined, that does not change under this Bill at all, that will remain the same and I think it's important that it does."
Scottish Labour MSP Pam Duncan-Glancy said she was "deeply disappointed" by the public discourse around the debate.
She told the Committee: "This gets to the heart of human rights and is ultimately about the human rights of trans rights.
"And of course, trans people's rights are human rights, not because they're trans, but because they are human.
"And we've heard in a lot of the evidence sessions about the importance of human rights and everyone's human rights that's involved.
"So, I am deeply disappointed in the public discourse around this particular debate where trans people have been able to see – opening papers, watching the news – and seeing their rights be debated.
"And of course, where woman have also experienced the same. And human rights are inalienable, not debatable."