Nicola Sturgeon has given her "full unequivocal support" to Humza Yousaf's independence strategy.
The former First Minister arrived at the SNP conference in Aberdeen on Monday afternoon after missing the first day of the event on Sunday.
Her presence came after the SNP voted overwhelmingly to scrap her de facto referendum strategy.
That plan would have seen every vote for her party treated as a vote for independence.
Watch
Nicola Sturgeon believes she 'gave it all' in independence push
On Sunday, SNP members opted to scrap that in favour of a new strategy announced by Yousaf and Stephen Flynn.
The new approach means the Scottish Government would immediately try to begin independence negotiations with Westminster if the SNP won a majority of Scottish seats at the next general election.
Sturgeon's arrival at the Event Complex in Aberdeen was met with applause by party members.
The former SNP leader told journalists: "One of the reasons I took the decision to step down was that I believed that I had given it my all on moving the country to independence but that I had taken it as far as I could.
"I think under those circumstances it was right and in fact, that was my objective, that the party took the time to consider the way forward it wanted to adopt.
"It did that yesterday, it did that unanimously as far as I could see yesterday, and that position has my full unequivocal support."
Sturgeon denied that her presence – which attracted a large number of reporters and SNP members – risks overshadowing her successor.
"I've been watching from afar," she said. "This is a very different conference experience for me from the ones that I've been used to but I've been watching from afar over the course of yesterday.
"I think Humza is doing a fantastic job as leader of the party and as First Minister and I don't think there's any doubt from what I've seen about who's in charge of this conference and it's Humza Yousaf."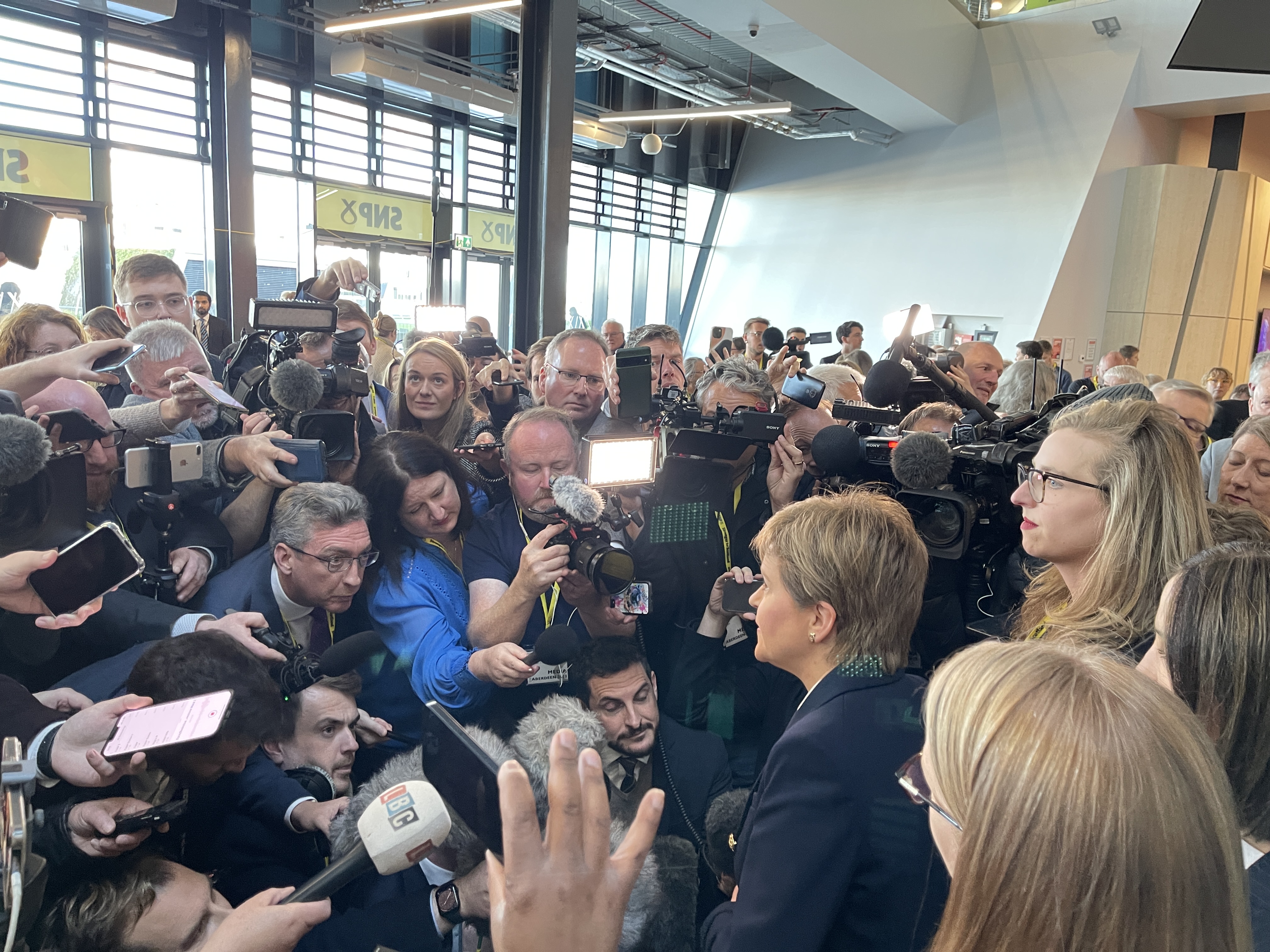 Speaking earlier, Yousaf also denied Sturgeon's presence could upstage him, with the First Minister telling reporters: "I'm delighted. She's a member and has every right to be here.
"Conference will really look forward to seeing her."
During the vote on his independence plans, Yousaf applauded the party for what he said was an honest and open debate.
Asked on Monday about criticism over whether there was enough internal debate under her leadership of the SNP, Sturgeon said: "Look, the SNP is a democracy. Always has been and has always been able and willing to debate the things it wants to debate the things it wants to debate.
"That's always been the case and always will be the case."
She added: "I've always been somebody that takes criticism on board that argues my case and will continue to argue my case.
"My record as SNP leader speaks for itself – it's for other people to judge that of course."
STV News is now on WhatsApp
Get all the latest news from around the country
Follow STV News
Follow STV News on WhatsApp
Scan the QR code on your mobile device for all the latest news from around the country