Nicola Sturgeon has been accused of "hollow words" after pledging that policing is a priority for her government.
It comes as officers in Scotland get set to formally withdraw goodwill in a dispute over pay.
From 5pm on Friday, July 1, officers will not commence their shifts early and will conclude their tours of duty at rostered times, unless expressly directed or authorised to the contrary.
They will also not take any ancillary items of police equipment, such as airwave radios or personal data appliances home with them when they finish work.
The withdrawal of goodwill will apply to all policing activity until further notice.
The announcement was made by the Scottish Police Federation (SPF) on Wednesday.
In a letter to Police Scotland chief constable Iain Livingstone, SPF general secretary Calum Steele described it as the "most overt" demonstration by members in over 100 years.
Police Scotland has said said it remains committed through the Police Negotiating Board to seeking a settlement.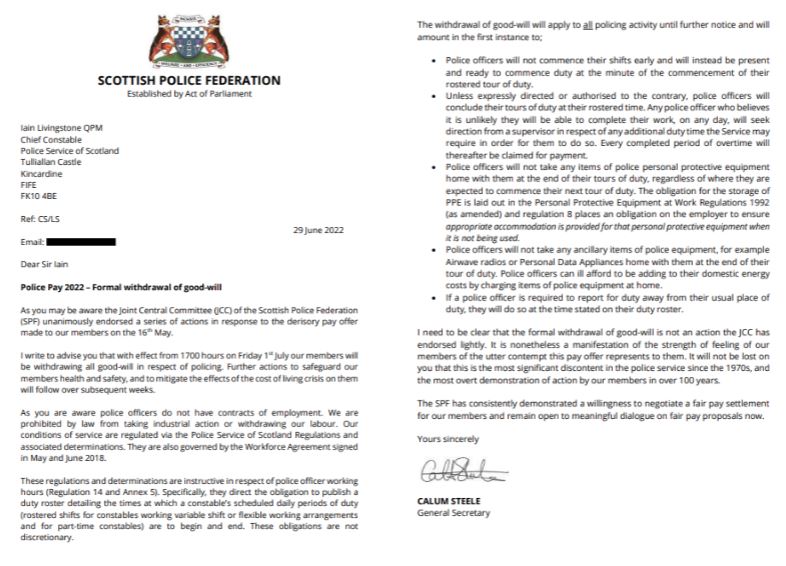 The issue was raised at First Minister's Questions by Scottish Conservative leader Douglas Ross on Thursday.
Addressing the First Minister, Ross quoted chief constable Iain Livingstone who last week suggested that the policing budget is "not a priority" for the Scottish Government.
But, the First Minister defended the Government's record on the issue.
"Policing is very clearly a priority for this government, it has been every day, month, year that this government has been in office," said the SNP leader.
"I think that is demonstrated by the fact that in Scotland we have 32 officers per 10,000 population.
"That compares to the situation in England of course where the Conservatives are currently in government of just 23 police officers per 10,000 population.
"So that speaks, I think, for itself. We are increasing in this financial year the policing budget by £40.5m, that brings the total budget to almost £1.4bn, and that budget maintains our commitment to protect the police resource budget in real-terms."
Sturgeon also argued that Scottish Government budget is "constrained" in being set by Westminster governments.
And she urged the Scottish Conservative leader to ask Prime Minister Boris Johnson about the funding arrangements.
Ross criticised the response of the First Minister and he pointed to the views of officers, who have raised concerns over staffing levels.
"It's not the questions I'm worried about, it's the answers," Ross told MSPs.
"I mean, that is a dire warning from the chief constable of Police Scotland that the First Minister has just ignored and deflect to saying, 'look elsewhere, look at the issues in the rest of the UK'.
"Look at the issues here in Scotland right now. They were hollow words from the First Minister saying policing is a priority when frontline officers are telling a vey different story.
"I spoke with a police constable this morning who is frustrated with the state of policing in Scotland.
"This is what he told me – staffing is horrendous, too many officers are being left single-crewed and covering entire towns on their own."
Ross pressed the First Minister on whether policing is a priority for the Scottish Government.
"Evidence to this Parliament's Justice Committee confirms what we've been told," he continued.
"There is a very strong letter from the Scottish Police Federation. Have you read this First Minister?
"If not, here's what they say. Their members, the men and women who serve our communities, are 'overworked' and 'undervalued'.
"The letter continues, 'they tell us they are carrying more and more risk, they feel unsafe at their work'.
"First Minister, do you accept frontline officers in Scotland don't believe policing is a priority for you and your government?"
Sturgeon said it is the duty of her government to ensure public services are supported to the "fullest" extent possible.
She responded: "I absolutely accept the pressures that frontline police officers are under and I take any views that are expressed by those on the frontline of the police, or indeed any public service, very seriously indeed.
"My duty, the duty of my government, is to make sure we are working with our public services to support them to the fullest possible extent.
"And let me again today take the opportunity to pay tribute to the work of our police officers and indeed the staff who support them up and down the country every single day."