Nurses have branded the Scottish Government temporary pay rise for NHS staff "a disgrace".
Health secretary Jeane Freeman wrote to NHS employees to explain they will be given a 1% rise backdated to December 2020 until negotiations can be concluded.
But campaign group NHS Workers Say No said the move was to cover delaying discussions over pay until after the Holyrood elections on May.
Brenda Eadie, nurse and Glasgow-based organiser, told STV News: "It's a token to say we're still looking at it, but they are delaying doing til after the elections.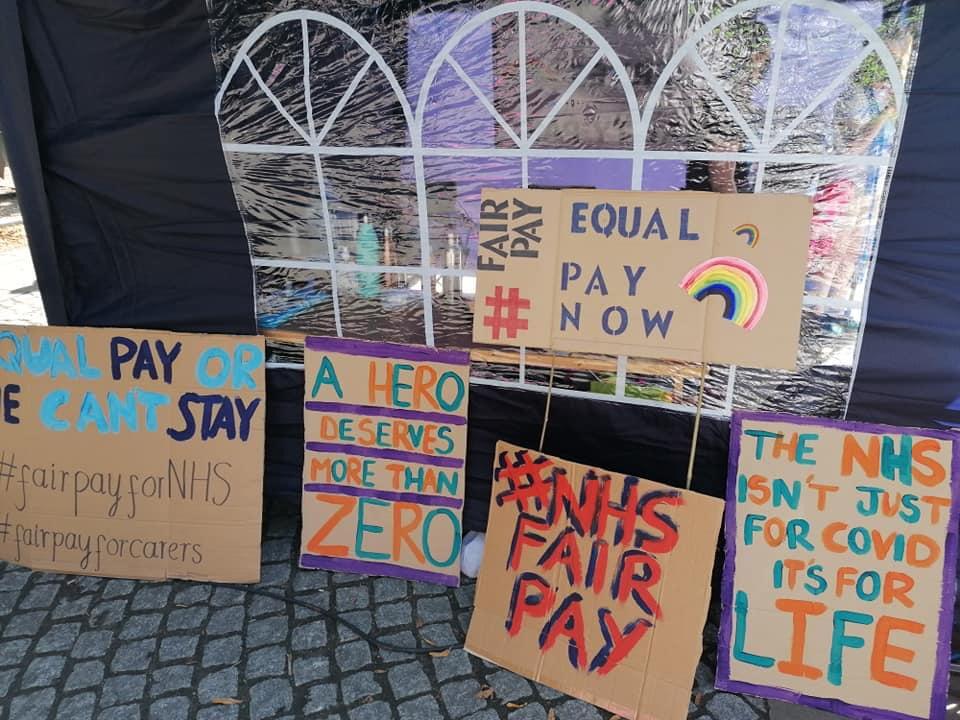 "So we lose all our leverage, and realistically we'll end up with 3.5%. Nothing is going to get better, it's going to get worse."
Staff affected are those directly employed by health boards under the Agenda for Change system – approximately 150,000 NHS workers.
Campaigners and unions say NHS staff have suffered real-term pay cuts over the past decade, with pay not rising in line with inflation.
"We do our jobs until we drop. But right now, most of us have already dropped."

Brenda Eadie, nurse and organiser
Ms Eadie said members campaigning for fair pay have been insulted, with one describing the 1% offer as "another wee slap in the face".
In her letter, Freeman pointed out that Scottish staff are the best paid in the UK and said the government is committed to maintaining the "premium".
Pauline Brady, a mental health nurse and Nurses say No organiser, said: "It's strange how Scottish NHS campaigners are told they should be quiet because we have been offered more than England/Wales.
"I couldn't imagine feeling like that about any part of the NHS. We are all grossly underpaid and the fight is a joint one."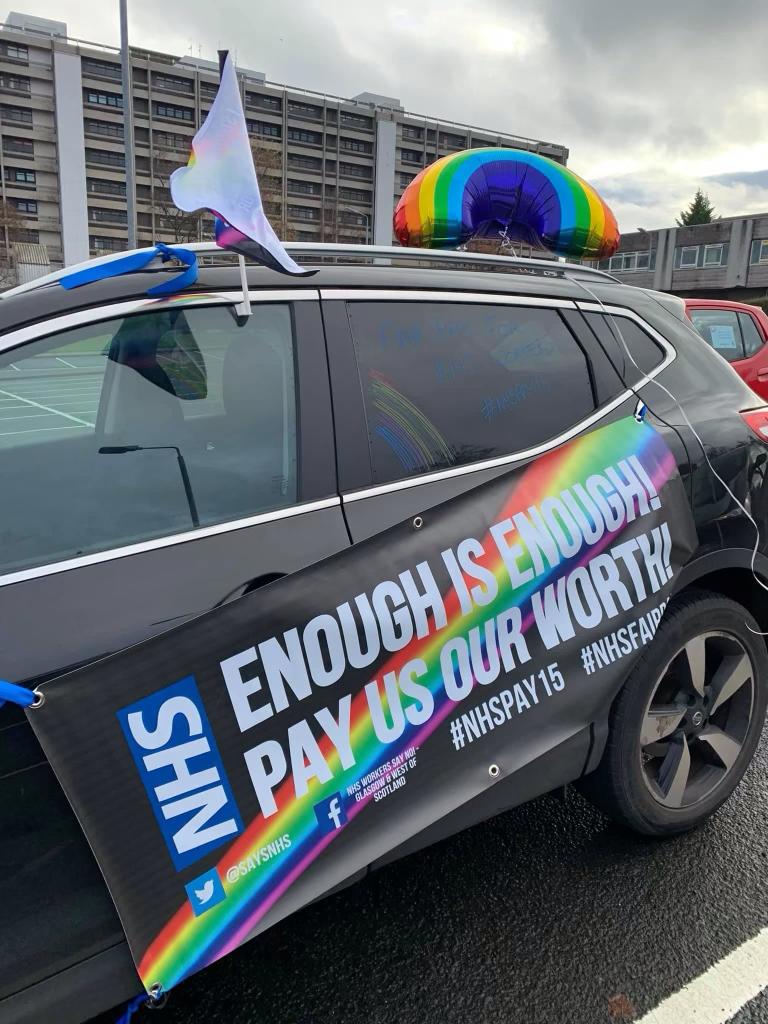 Last year, nurses and other frontline NHS workers staged a number of protests after they were left out of a public sector pay rise.
Doctors and dentists, along with other public sector staff, were given a pay bump of 2.8% but this did not include all NHS workers with nurses, cleaners and porters left out.
Hundreds of protesters gathered on Saturday, August 8, at Glasgow Green, with other demonstrations held across the UK.
A car rally protest toured hospitals in and around Glasgow and Ayrshire on Saturday, November 14.
"NHS workers have never felt so demoralized and they know it's time to fight for our worth."

Brenda Eadie, nurse and organiser
Now, campaigners say, staff are prepared to take unprecedented industrial action.
Ms Eadie said: "They want to strike they are ready to strike, NHS workers have never felt so demoralized and they know it's time to fight for our worth.
"Historically, because of the amount we care, we don't walk away. We do our jobs until we drop.
"But right now, most of us have already dropped, working 60-hour weeks just to make ends meet."
Scottish Labour deputy leader and health spokesperson Jackie Baillie said: "NHS and care staff have been on the frontline of this pandemic, dealing with death every day for the last year.
"We need to see the Scottish Government reward these vital workers with a pay rise that reflects the work that they do and the danger they have been put in.
"It's time for Kate Forbes and Jeane Freeman to get round the table with NHS workers and their unions, and hammer out a pay increase that reflects the vital work our NHS heroes do."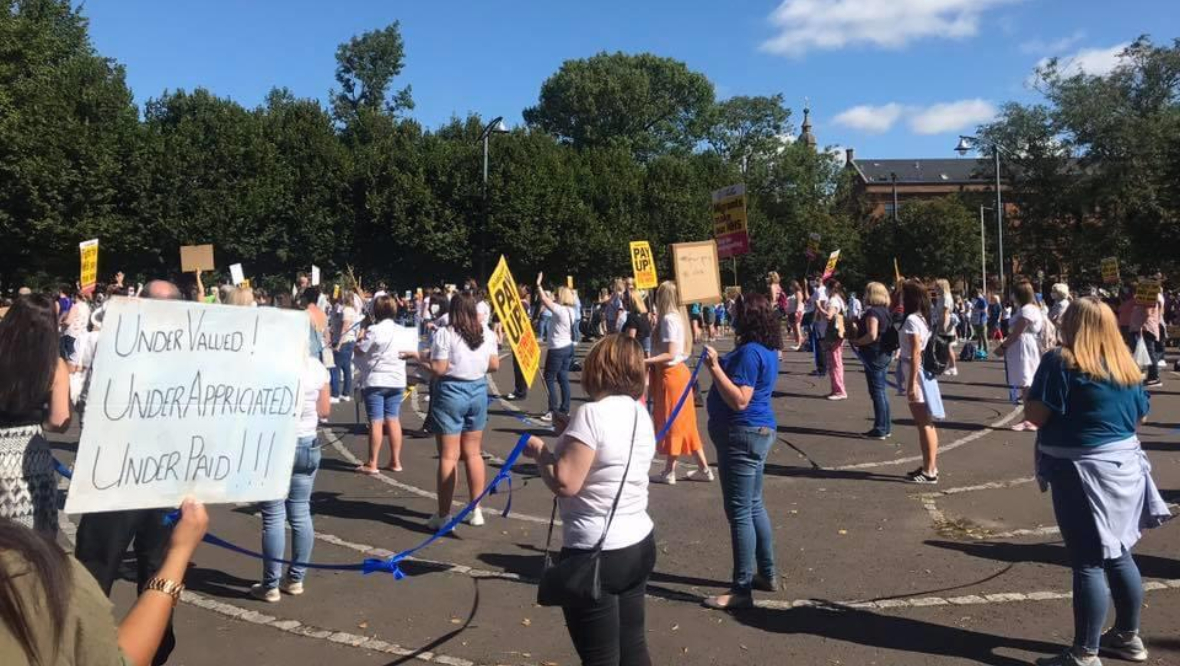 A Scottish Government spokesperson said: "NHS Scotland Agenda for Change staff are already the best paid in the UK, and in recognition of an exceptional year of significant pressure NHS Agenda for Change staff, including nurses, will receive an interim pay increase of 1% which will be backdated to December 1 ahead of the final 2021-22 pay settlement.
"This follows the £500 thank you payment announced earlier.
"While pay increases are usually effective from April 1 both the 1% interim rise and the full pay settlement, once agreed, will be backdated to December 1, 2020.
"Formal negotiations over staff pay have been affected by the cancellation of the UK Government's budget and subsequent impact on the Scottish Spending Review.
"Scotland is the only part of the UK to have provided this interim uplift, and recent reports suggest the UK Government's budget this week will not specify funding for a pay uplift for NHS England staff before the pay review body has completed its work in May."
STV News is now on WhatsApp
Get all the latest news from around the country
Follow STV News
Follow STV News on WhatsApp
Scan the QR code on your mobile device for all the latest news from around the country