Next year's National 5 exams have been cancelled, but Highers and Advanced Highers will go ahead.
Education secretary John Swinney confirmed the move in a speech to MSPs at Holyrood on Wednesday.
National 5 results will now be awarded through coursework and assessment.
Higher and Advanced Higher exams will be held slightly later than usual from May 13.
Swinney said the later date will allow pupils to gain back the two weeks' learning they lost before the summer.
He stated: "Due to the level of disruption already caused by Covid, and due to the likely disruption faced by some or all pupils and students this academic year, a full exam diet is simply too big a risk. It would not be fair."
Results day remains scheduled for August 10.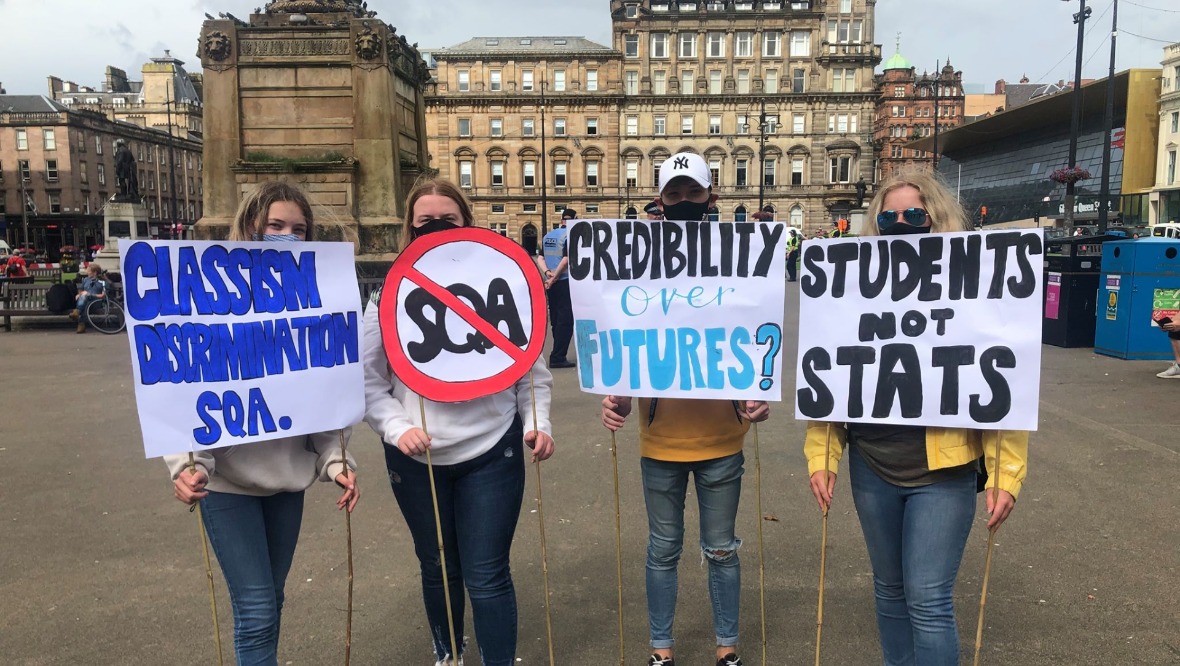 Scotland's school exams were cancelled for the first time ever in 2020, with the country locked down due to the coronavirus pandemic.
In August, Swinney was forced to apologise over the SQA's controversial moderation system.
This year's National 5, Higher and Advanced Higher results were originally based on teacher assessments.
Although pass rates were up, the SQA downgraded 124,564 results – affecting around 75,000 pupils – using criteria including schools' historic performances.
Pupils from the most deprived areas of Scotland had their grades reduced by 15.2% compared with 6.9% in the most affluent parts of the country.
In response, opposition politicians branded the moderation process a "train wreck" as well as "disturbing and grossly unequal".
Despite initially defending the system, Swinney later ordered a U-turn which led to the Scottish Greens backing him in a vote of no confidence at Holyrood.
Students that were downgraded were graded back up, whilst those that received a higher award retained that result.
Swinney said the SQA would now work with schools and colleges throughout the year on quality assurance.
He explained: "Put simply, an A in Aberdeen has to be the same as an A in Annan or anywhere else."
Swinney said next year's awards would not be based on a statistical model or a school's historic performance.
He stated: "First and foremost, awards will not be given or taken away on the basis of a statistical model nor on the basis of a school's past performance. There will be no algorithm.
"Awards will be based on the progress of our young people and their work.
"This work and the judgment of the teacher, supported by appropriate quality assurance to maintain standards, will be the evidence on which grades are based."
Scottish Tory education spokesman Jamie Greene told Swinney he believed a full exam diet could still run next year, although he welcomed the fact a decision had been taken on the matter early.
He added: "I'm not convinced that full justification has been offered in today's statement for the cancellation of National 5s.
"It does feel like the towel has been thrown in already."
Labour education spokesman Iain Gray said the statement was "very, very late", adding: "Teachers are months into teaching courses without knowing exactly what they should be teaching, how pupils will be assessed and what evidence they should have been gathering.
"They were told that exams would go ahead but then that a final decision had not been reached.
"They were told courses would be amended to account for lost time but not how, while days weeks and months passed by."
The Scottish Greens pushed for the scrapping of all exams.
In a statement after Swinney addressed the Scottish Parliament, the party's education spokesman Ross Greer said: "I cannot for the life of me work out why the education secretary hasn't done the same with Highers."