A suggestion that the Conservatives are now 'two parties' has been rejected – despite calls from Holyrood for Boris Johnson to resign.
Amidst fresh reports of parties held at Downing Street during Covid restrictions, Scottish Conservative MSP Craig Hoy insisted there is "absolute unanimity" within the party about keeping Scotland in the UK.
It's despite public division amongst the party's ranks in the fallout from Boris Johnson's admission that he was in attendance at a gathering in the No 10 garden in May, 2020.
Scottish Conservative leader Douglas Ross called on Johnson to resign following the admission, with UK Cabinet minister Jacob Rees-Mogg then describing Ross as a 'lightweight'.
Hoy, an MSP for the South Scotland region, said that Rees-Mogg is "entitled to his view", though he does not agree with it.
And he rejected any suggestion that the Conservatives are now 'two parties', following division on the issue.
"We're not two parties at all," Hoy told the BBC's Good Morning Scotland programme.
"There's absolute unanimity that we believe in Scotland remaining in the UK.
"We want to take the fight to the SNP, we want to hold Nicola Sturgeon to account for her failures in office."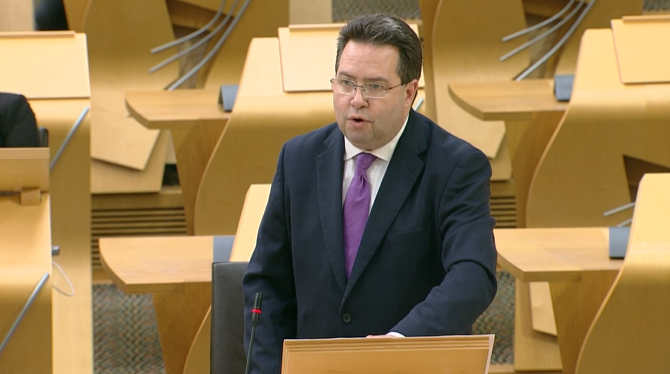 Hoy pointed to senior figures including Scottish secretary Alister Jack in disagreeing with Rees-Mogg.
He said: "Jacob Rees-Mogg is entitled to his view and it is no surprise to you that I disagree with him.
"I think if you look across the Cabinet there was no support for what Jacob Rees-Mogg said.
"Many MPs and also members of the cabinet, including (Scottish secretary) Alister Jack, disagreed with him."
Hoy also rejected suggestions that the remarks were damaging for the Scottish Conservatives and in making the argument to keep Scotland as part of the United Kingdom.
"No, I don't think they were damaging for the union at all," said Hoy.
"The Scottish Conservative and Unionist Party's credentials on the union are absolutely firm.
"Unlike the Labour Party at the weekend that flip flops all over the place, we are absolutely clear in our commitment to the union.
"I understand that Jacob Rees-Mogg expresses himself in a particular way, he's entitled to do that, but he does not speak for the Scottish Conservatives or for my colleagues at Westminster."
The MSP added that he does not support the party splitting as he insisted there is no disagreement about the direction of travel for the Scottish Conservative Party.
He said: "I am not in favour of the party splitting, I think we are strong as one Conservative and Unionist Party across the United Kingdom.
"In London, there is a steadfast commitment to Scotland remaining in the UK and that's what Alister Jack is doing day in, day out as a member of the UK Cabinet.
"Here in Scotland, there is a similar commitment to that amongst Scottish Conservatives.
"There's no disagreement about the direction of travel of the Scottish Conservative Party."