More than 14,500 coronavirus tests have been completed in Scotland over the past 24 hours.
The total is the second highest number of tests in a single day since the pandemic began.
Tests carried out at home and in care homes are now included in Scottish Government statistics.
The results of 14,656 tests for Covid-19 were reported to Scottish public health officials on Friday morning, covering a 24-hour period.
The figure of 17,573 recorded on July 10 came shortly after home and care home tests began being counted, with a backlog of older test results from these sources added into the daily tallies.
Scotland has a capacity for 15,500 Covid tests per day, comprising NHS and community testing along with drive-through testing sites managed by the UK Government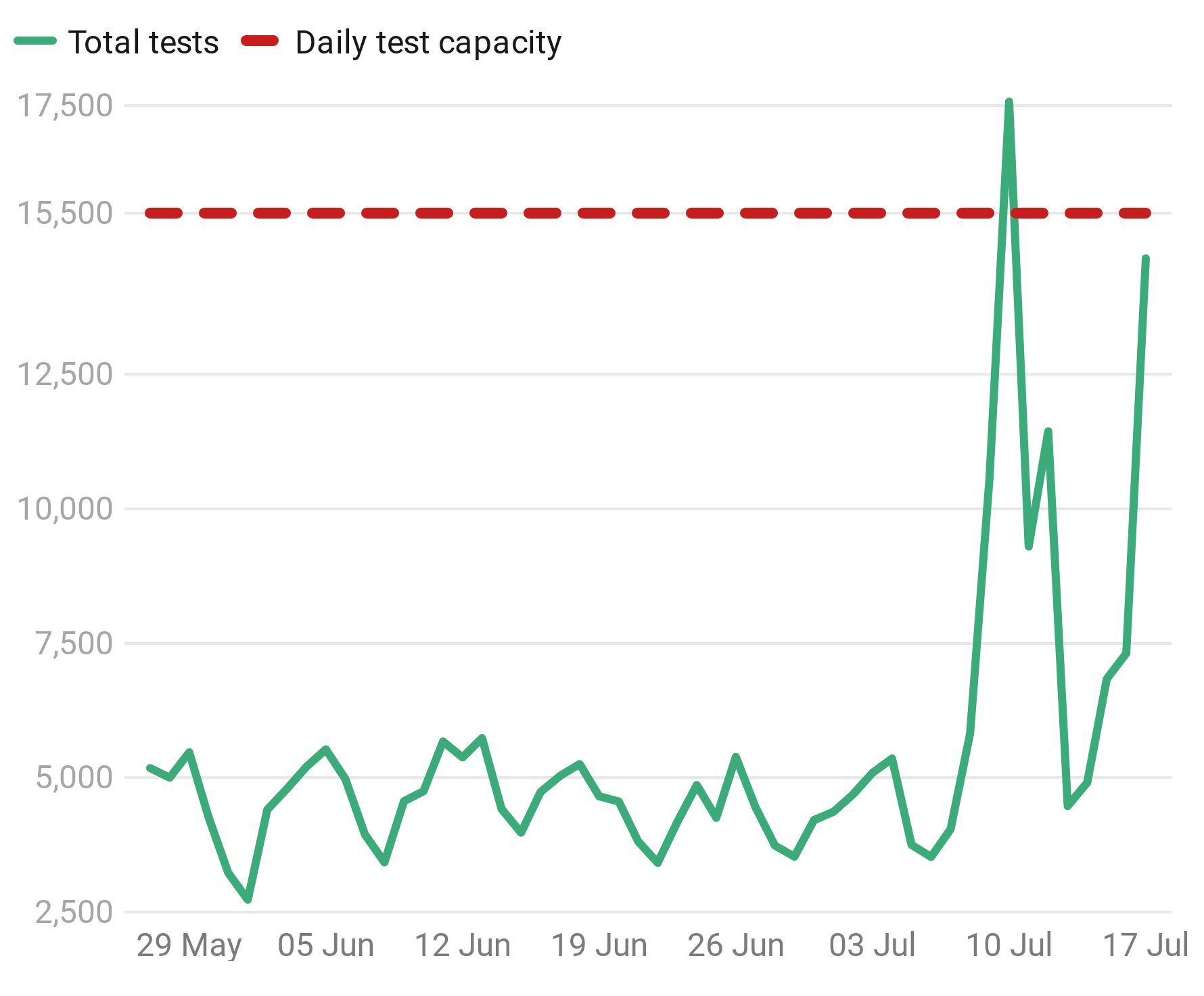 Until the inclusion of the new data, the country had consistently been falling far short of meeting that capacity, and the figures still vary greatly day-to-day.
For the previous three days, 4908, 6838 and 7311 tests were completed in Scotland respectively.
It comes as 17 new positive cases of the virus have been confirmed in the last 24 hours in Scotland, bringing the country's total over the course of the pandemic to 18,401.
However, no deaths of confirmed Covid-19 cases were recorded, with only one in the last nine days.
A total of 13 people died last week with confirmed or suspected coronavirus, according to separate figures from National Records of Scotland.
There are currently 664 people in hospital with Covid or Covid symptoms, a rise of 34 on the day before.
Of those, nine patients are being treated in intensive care, up three.
Friday marks the first weekday since the pandemic began that First Minister Nicola Sturgeon has not held a briefing on the pandemic.
The staple briefings held at the Scottish Government's St Andrew's House headquarters will take place Tuesday to Thursday for the time being.
Responding to the figures, the FM tweeted: "Another day yesterday with no deaths registered of people with confirmed #COVID.
"My thanks to everyone across (Scotland) – our collective sacrifices have helped get this virus under control. Please keep it up. Let's not drop our guard now."
Before the inclusion of new testing data last week, tests had been counted when they were carried out rather than when they were completed, meaning void results were included in the totals.
From the 14,656 tests carried out in the last 24-hour period, a total of 4254 Scots were tested.
Sturgeon has repeatedly emphasised daily test numbers will vary and capacity will not always be met based on demand.
The number of people tested in a day will also rarely match the number of tests conducted because many people are tested multiple times, she has said.