Women desperate to have their mesh implants fully removed are facing huge delays for life-changing surgery, according to campaigners.
The Scottish Government has promised to fund their treatment overseas or by specialists in England, but patients have been told they must first wait up to two years for an NHS consultation.
Many of the women – who had implants fitted to treat pelvic or urinary problems – are suffering from severe daily pain and have "lost faith" with surgeons at home.
Instead, they want to travel to America to have the operation carried out by the renowned expert Dr Dionysios Veronikis.
But unless they are willing to wait to be referred to him through the health service, they face having to foot the £20,000-plus bill themselves.
'I'd sooner go through childbirth'
A demonstration is being held outside the New Victoria Hospital in Glasgow on Wednesday by campaigners, who describe themselves as "human guinea pigs".
One of the organisers, Nancy Honeyball, 52, told STV News that she was suffering from pain worse than "childbirth without gas and air or drugs".
Ms Honeyball, from Dunoon, has undergone two unsuccessful operations to fully remove mesh she first had implanted 11 years ago and is among those who want to see Dr Veronikis.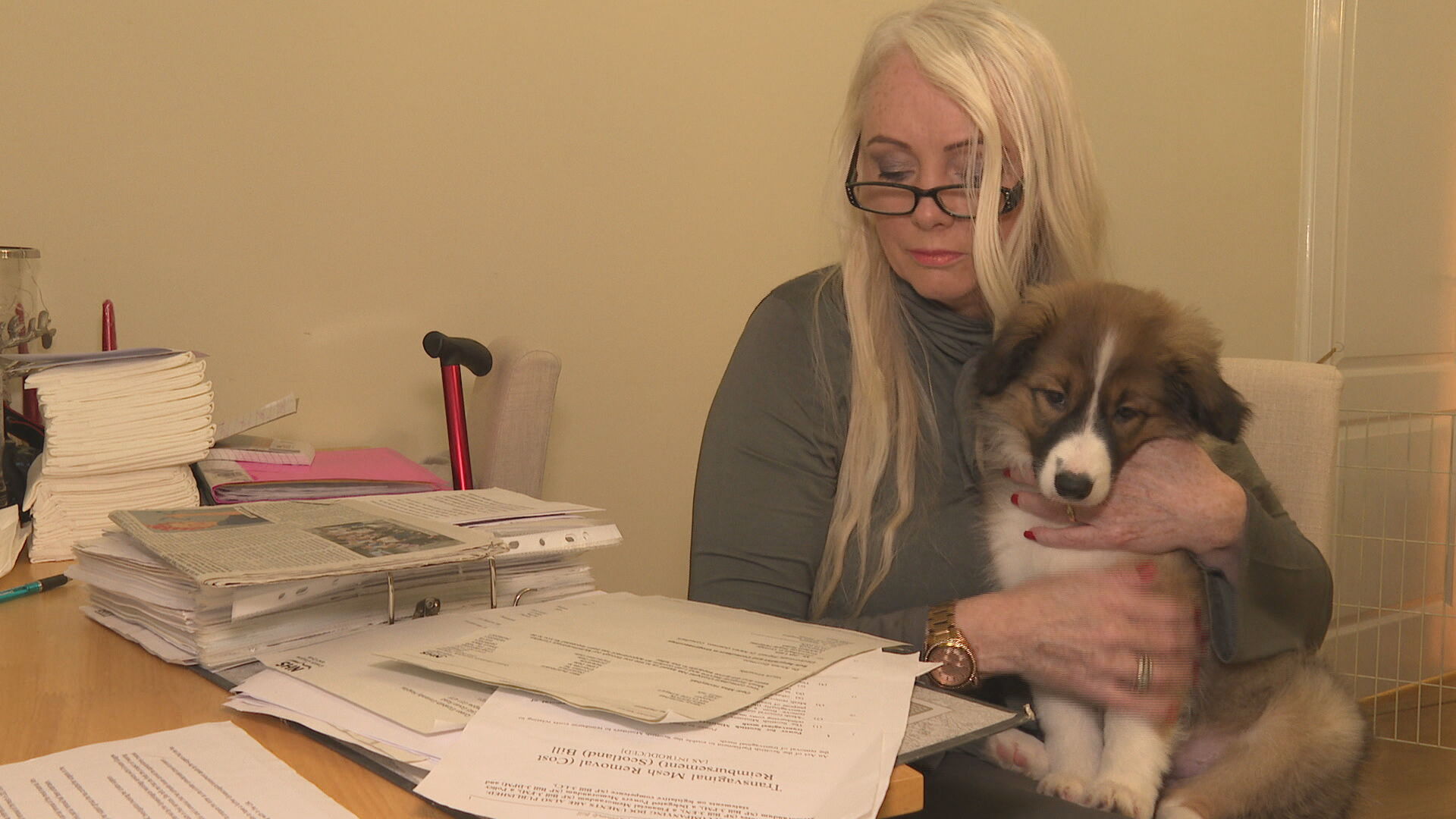 She said: "It feels like you're getting sliced and I would sooner go through childbirth again with no gas and air and no drugs. The pain is chronic, it's there all the time and you can't switch off, it exhausts me.
"Some days I don't get out of bed. I've got to use walking sticks and I have a chair, and when I get up I'm off balance.
"It's like a stabbing, like a hot poker inside you that's getting twisted around."
'It's a nightmare'
Health secretary Humza Yousaf announced in July that mesh patients would receive funding to get the surgery from Dr Veronikis in Missouri or from Spire Health Care in Bristol, which are both close to signing Scottish Government contracts.
Dr Veronikis previously offered to travel to Scotland to perform the complex removal operations, but later withdrew the offer, claiming his "goodwill had been abused".
Campaigners are angry about the latest delays and intend to make their point during Wednesday's demonstration.
Ms Honeyball said: "If I don't keep fighting and hoping I'm going to get to America, then what is the point?
"A lot of women have lost their marriages, their jobs, their homes, or their kids don't talk to them because they say 'you're crazy, you only talk about mesh'.
"But if you're living that experience, it's a nightmare. The only people who understand are other 'meshes'."
"The sooner I can get this poison out of my system, the sooner I can get back to trying to live."
What is the government saying?
A Scottish Government spokesperson said: "Any woman who has suffered pain and life-changing complications caused by mesh implants should have access to the best possible care, and we recognise the serious distress that may have led women to using their own funds to seek mesh removal surgery privately.
"This legislation aims to help those who have undergone private treatment by allowing these past costs to be refunded.
"We know some women feel let down by the NHS when they presented with complications. We are working to build confidence in our Scottish services, and the national specialist mesh removal centre in Glasgow has offered mesh removal surgery to over 30 women, together with important wraparound care.
"Nonetheless, alternative options will be available to those who feel unable to be treated in Scotland, achieving the ultimate objective of ensuring all people get the treatment and care that they need.
"The NHS National Services Scotland procurement exercise for mesh removal services outside of the NHS has identified two preferred bidders: Spire Healthcare in Bristol and Dr Veronikis, in Missouri, USA. It is hoped that contracts can be finalised shortly."
STV News is now on WhatsApp
Get all the latest news from around the country
Follow STV News
Follow STV News on WhatsApp
Scan the QR code on your mobile device for all the latest news from around the country