New measures are being considered to tackle the "staggering" amount of alcohol advertising in Scotland.
Public health minister Maree Todd outlined the Scottish Government's intention to address the issue as she gave evidence to MSPs on Tuesday.
Todd said she is "determined" to cut down the level of adverts and promotions for alcohol being seen by children and young people in the country.
And she told MSPs that she found the link between advertising and children's consumption of alcohol leading to heath problems later in life as "deeply troubling".
The minister was speaking at the Scottish Parliament's Health, Social Care and Sport Committee as they took evidence on alcohol harms in Scotland.
"Our chief medical officer has said that a healthier population could be one of our nation's most important assets and must be our ambition," said Todd.
"To achieve this, we must focus on addressing health inequalities and their detrimental effects.
"The negative effects of poverty, trauma and discrimination on an individual's mental and physical health can't be ignored.
"And it's for all these reasons that we have increased funding in tackling problematic alcohol and drug use.
"It's also why we need to consult on potential restrictions on alcohol advertising and review the level of minimum unit price."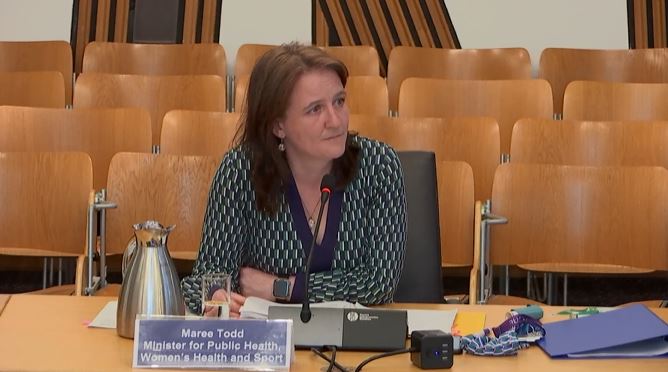 Todd also suggested that minimum unit pricing – currently set at 50p per unit – could be raised further.
However, she indicated that it is still too early to determine whether such a change should be made.
She said: "Minimum unit price was introduced in 2018 and we're in the final year of our five-year evaluation period.
"Twelve months after minimum unit price was introduced, we saw a decrease of 2% in alcohol sales in the off-trade.
"We also saw a decrease in alcohol-specific deaths of 10% – the largest decrease since 2012.
"Then the pandemic hit and there's evidence to show that some groups who were already drinking at dangerous levels were drinking more, despite alcohol sales falling overall."
The minister continued: "We do not yet know if the increased deaths reported in 2020 will be echoed in 2021.
"We can't pre-judge what evaluation of minimum unit price will say, we're not yet in a position to indicate whether the current level of 50p per unit should be changed, and if it does, what that change would be.
"Any price must be supported by robust evidence."
Todd described the level of alcohol advertising and promotion seen by children and young people as "staggering".
"It's important that we review the attractiveness of alcohol," the minister told MSPs.
"Attractiveness is one of the World Health Organisation's (WHO) three 'Best Buys' for countries to prevent and reduce alcohol-related harms.
"We know that children and young people in Scotland are seeing a staggering amount of alcohol advertising and promotion in a variety of ways.
"A survey in 2018 of over 3000 young people aged 11 to 19 found that half of those surveyed had seen at least 32 incidences of alcohol marketing within a month.
"That's at least one instance a day, and I'm sure we would all agree that that is simply too high."
Todd explained that views will be sought as part of a consultation over whether new legislation is needed.
She said: "Seeing alcohol advertising and promotion can influence the attitudes that children and young people have towards alcohol, especially when this is cast as fun, sociable or cool.
"We know that there is a direct link between exposure to alcohol marketing and children and young people starting to drink alcohol, and this can increase the likelihood that they will be drink in ways that can be risky or harmful in later life.
"I personally found this deeply troubling and am determined to cut down on the volume of alcohol advertising and promotion that young people see, and to reduce the appeal that alcohol has to them.
"And that's why we're planning on consulting on a range of new measures to restrict alcohol advertising and promotion in Scotland in the autumn.
"This consultation will be vital in helping us to consider whether new legislation is needed."