Martin Lewis has told MPs that members of the Government "cast aspersions" over his trustworthiness due to his public remarks not aligning with the interests of the candidate they were promoting to become their party leader.
The broadcaster, who founded the MoneySavingExpert website, was giving evidence at Westminster's Digital, Culture, Media and Sport sub-committee on misinformation and trusted voices.
Lewis has been a prominent figure in the UK amid the cost of living crisis and the rise in energy prices.
The financial expert claimed that he had experienced senior figures in government casting doubt over the extent to which he can be trusted.
Lewis set out advice to members of the public amid the announcement of the energy price guarantee and the support being made available.
Labour MP Clive Efford asked Lewis whether he had ever experienced anyone attempting to imply that he is not a trusted source.
"Yes, I have had people in senior levels, members of government, cast aspersions over the level that I can be trusted," said Lewis.
Asked what the motive would be, he said: "The motive on this one was pretty clear because they thought that what I was saying was not in the interests of the person they were promoting for a leadership campaign."
Conservative former minister Damian Green questioned Lewis over his indication that he has a bias in favour of consumers.
"I'm fascinated by the slight dichotomy that you said, I think, in answer to the first question that you're biased and that you accept that you have biases, that we all have biases," he said.
"And yet, being interviewed, even when you're being interviewed as a campaigner, you are treated as an oracle by programmes – on the Today programme I've heard you being interviewed – and they don't challenge you in a way they would challenge any of us, or even more, a government minister.
"Does that, in an odd way, worry you that everything you say is taken as, sort of, tablets of stone, even when you are expressing a bias?"
Lewis said he is declared as speaking from the perspective of consumers.
He responded: "I'm not sure I agree with the premise that I'm not challenged and I have felt challenged on many occasions when I've given interviews.
"However, remember – my bias is declared and open, and I am introduced as somebody who comes from a consumer perspective.
"So, if you take it within that perspective, people know what I'm arguing."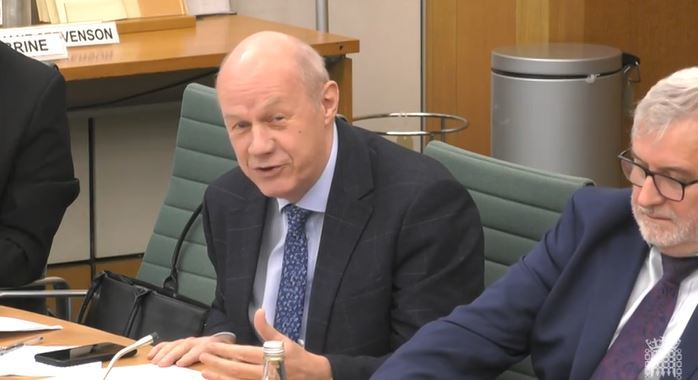 Lewis told MPs that he is coming from a "very specific and declared agenda" in speaking on behalf of members of the public.
"I'm not sure where the challenge would necessarily come from," he said.
"I'm not a politician, they don't have to push the other side with me. I am coming from a consumer perspective.
"If they want to argue what the impact on business is, I would happily answer that."
He continued: "My definition of bias is bias on a pro-consumer basis. So, I'm coming from a very specific and declared agenda-based.
"So, I'm not sure what the challenge necessarily is on that, apart from to say, 'well, you're not representing business and the economy'.
"Well, I'm not. I'm not suggesting I would. So, I'm slightly struggling with what you're saying."