A recall petition opened for signing in the constituency of Covid rulebreaker Margaret Ferrier on Tuesday morning.
If 10% of the Rutherglen and Hamilton West electorate choose to sign it – some 8,113 people out of 81,124 – then a by-election will be triggered.
The petition was launched after Ferrier, then an SNP MP, breached strict coronavirus rules in 2020 when she travelled by train from London to Scotland after testing positive for the virus.
Ferrier had the SNP whip removed when the allegations emerged but remains an MP despite intense pressure to resign her seat.
Last month, she lost an appeal against her suspension from the UK Parliament after the Westminster standards watchdog recommended a 30-day suspension from all Commons activity.
Ferrier now faces being forced out in a by-election under parliamentary rules that state MPs who are suspended for ten sitting days or more are liable to face a by-election – but only if 10% of their constituents sign a recall petition.
There has never been a recall petition in Scotland since the procedure was introduced in 2015.
How does the recall petition work?
South Lanarkshire Council has organised the recall petition in line with statutory requirements.
It will be open for signing in the Rutherglen and Hamilton West constituency from June 20 to July 31.
The petition officer will arrange for the petition to be open for six weeks. Electors may sign in person at a signing station, by post, or by proxy.
There will be seven signing places across the constituency, with the petition closing at 5pm on Monday July 31.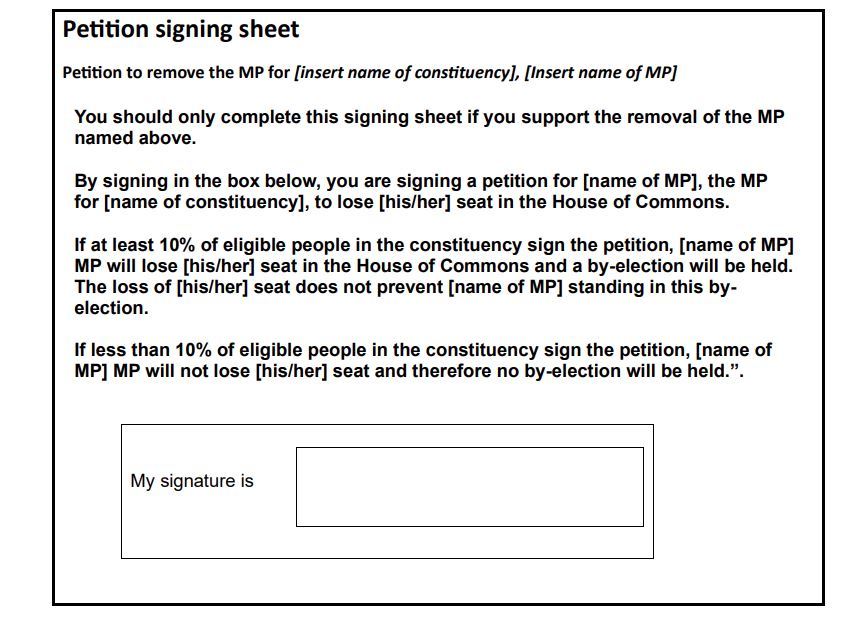 For a recall petition to be successful, 10% of eligible registered voters need to sign the petition.
If the 10% threshold is reached, the petition officer informs the Speaker of the House of Commons. On the giving of that notice, the seat becomes vacant and a by-election is then required.
The timing of a UK Parliamentary by-election is determined by custom of the House of Commons: the party that previously held the seat will usually decide when to trigger the by-election.
The recalled MP may stand as a candidate.
Alternatively, if the 10% threshold is not reached, the recall fails and the MP retains their seat.
There have been three recall petitions in total across the UK. Two out of the three were successful in triggering a by-election for the MP in question.
What ID can people use?
Accepted forms of ID include:
passports
driving licences
Older or Disabled Person's bus passes
Scottish National Entitlement Card
Who is standing?
Earlier this month, Katy Loudon was announced as the SNP's candidate if there were to be a by-election. She is a South Lanarkshire Council member, representing Cambuslang East, which is in the constituency she hopes to represent.
Ahead of the petition opening, she said: "Constituents in Rutherglen and Hamilton West have the opportunity to hold a by-election and elect an SNP MP who will stand up for them against this rotten Tory government. The first step in that process will be to sign the recall petition.
"In the face of Tory economic incompetence and a Labour Party looking more and more like a Tory tribute act, the people of Rutherglen and Hamilton West need a strong SNP voice to stand up for them."
A by-election in the seat would be the first electoral test for Humza Yousaf as SNP leader, and also of Sir Keir Starmer's Labour party who are keen for an electoral victory to bolster signs of a revival of fortunes north of the border.
Labour's candidate Michael Shanks has said people in the area "deserve so much better than a rule-breaking MP".
Why was Ferrier suspended?
Ferrier travelled from Scotland to Westminster after testing for Covid in September 2020 and went on to speak in the House of Commons while waiting for the results.
Later, after the test confirmed she was positive for the virus, she took the train back to Scotland.
She has already been ordered to complete a 270-hour community payback order by a court after admitting culpably and recklessly exposing the public "to the risk of infection, illness and death" as a result of her behaviour.
What is Ferrier saying about the petition?
In a statement posted on her website earlier this week, Ferrier urged her constituents not to sign the petition.
She said: "The most important thing is that they are able to access the right support when they need it, and can be confident that their views are represented. My record speaks for itself in this respect.
"I do not have any desire or need to play into party politics, which inevitably distracts from constituency issues and the needs of local residents. While parties have already spent months arguing about their candidates for a by-election that has not even been confirmed, they have disregarded the very real issues faced by many in our community.
"That is why so many constituents have expressed to me that they do not want a by-election.
"Some constituents have told me they feel the instructions provided by the local authority are unclear. If you wish to see me continue as your MP, then do not sign the petition paper.
"It is ultimately up to the people of Rutherglen and Hamilton West to decide what happens next – not Westminster, not Holyrood, and certainly not any political party HQs."