Kaukab Stewart will become the first woman of colour to serve as an MSP at Holyrood after winning the Glasgow Kelvin seat.
Stewart held the Scottish Parliament seat for the SNP with 14,535 votes, succeeding Sandra White.
Stewart was also the first woman of colour to stand in the 1999 Scottish Parliament election, but lost out to Donald Dewar in Glasgow Anniesland.
Speaking to STV News after her historic win on Saturday, she said: "This is the first time that a woman of colour has been elected to the Scottish Parliament.
"I mean, it shouldn't have taken this long because it was actually me that stood for the SNP in 1999. So I didn't actually think it would be me, but here we are.
"It's important, I think, the message out there is don't give up, there are many, many barriers that people like myself have to go through, but at the end of the day our voice in the Scottish Parliament is just as important because actually we care about loads of issues, not just sort of like traditional issues that you might connect with minority communities."
Stewart said it had taken more than two decades to get elected due to the "double whammy" of racism and sexism.
She explained: "You've got the double whammy because you've got the racism that you face and then you've got the sexism and the misogyny that you have to face as well, so when you put those two together it's a heady mix that sort of like puts extra additional barriers.
"And I'm a teacher. I've dedicated my life, 30 years, to education as well, so I don't have the type of job that, you know, allows you to go. I've taken leave obviously for campaigning, but, you know, as a hard-working teacher you don't have the time to do what maybe some other politicians can do."
Stewart said she now hopes to tackle the poverty-related attainment gap.
She added: "I hope I get that opportunity. I do think that after 30 years I can provide some kind of, you know, insight into the complexities of it.
"On the election trail you hear lots of soundbites about 'oh, education is awful', but I think you're doing our children and the staff in schools a great disservice there because they're working incredibly hard and it's a complex issue that is as much concerned with poverty as it is with education.
"So, we're not going to be able to make any progress there unless we deal with poverty."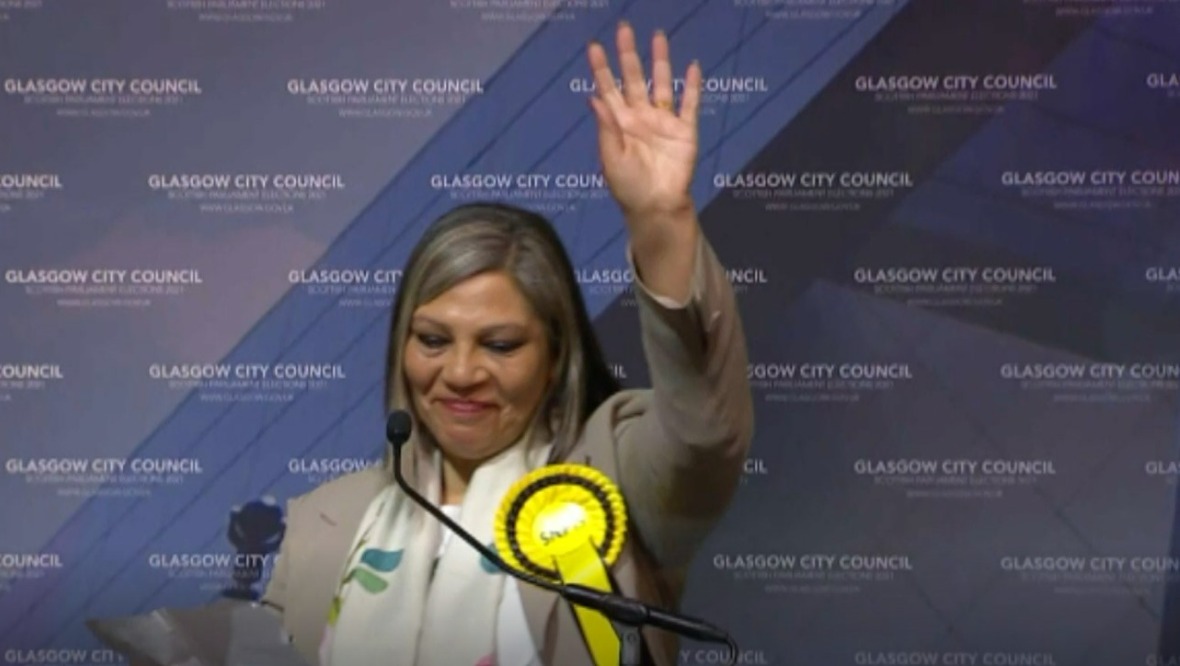 Scottish Green Party co-leader Patrick Harvie finished second in Glasgow Kelvin with 9077 votes. Scottish Labour picked up 8605 votes, the Scottish Conservatives 2850 and the Scottish Liberal Democrats 977.
In her acceptance speech, Stewart said: "To the voters of Glasgow Kelvin, I cannot thank you enough for putting your trust in me.
"We are lucky to have one of the most diverse, vibrant communities in Kelvin and it is without doubt an honour to be elected as the first woman of colour to the Scottish Parliament.
"It has taken too long but to all the women and girls of colour out there, the Scottish Parliament belongs to you too, so whilst I may be the first, I will not be the last."
Following Stewart's win, Nicola Sturgeon tweeted: "Party politics aside, this is a special and important moment. It has taken far too long, but Kaukab Stewart is the first woman of colour to be elected to the Scottish Parliament.
"I could not be prouder right now."
STV News is now on WhatsApp
Get all the latest news from around the country
Follow STV News
Follow STV News on WhatsApp
Scan the QR code on your mobile device for all the latest news from around the country