People found in possession of Class A drugs for personal use can now be issued with a recorded police warning instead of facing automatic prosecution, following a review of guidance by the Lord Advocate.
Dorothy Bain QC, who was appointed Scotland's most senior law officer in June, told MSPs on Wednesday that she had decided to implement an extension of recorded police warning guidelines.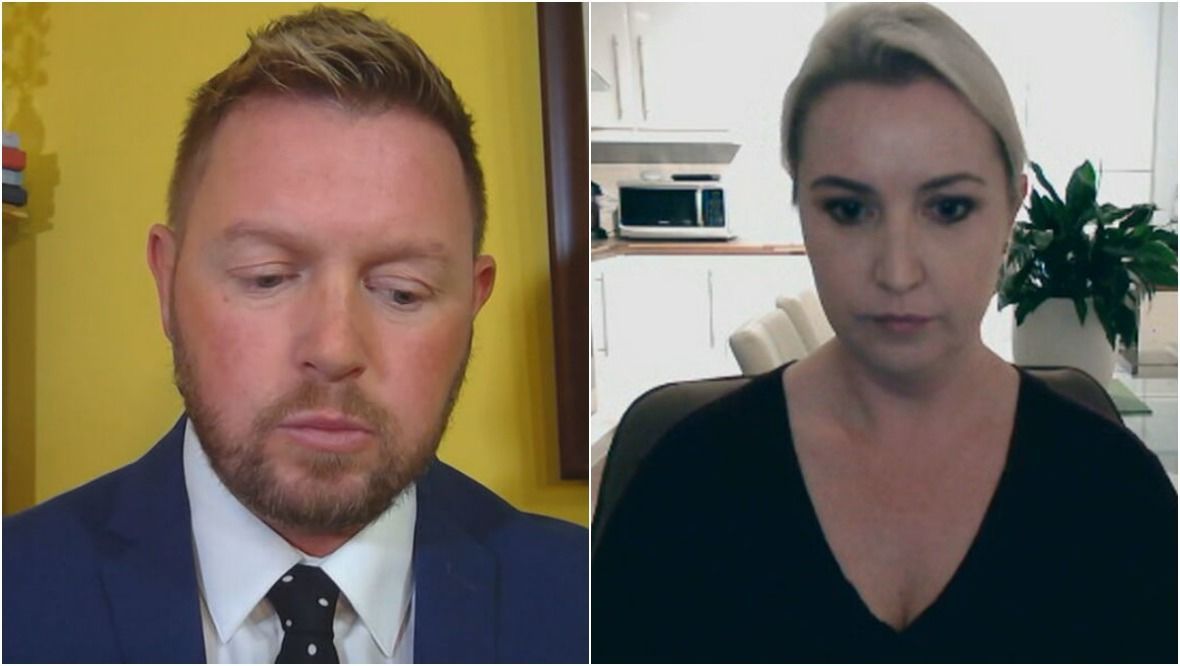 Kristen Horsburgh from the Scottish Drugs Forum and the Scottish Conservative justice spokesperson Jamie Greene appeared on STV current affairs show Scotland Tonight to discuss how effective the new legislation will be.
Here's what they had to say:
ST: As a principal, do you think this policy to issue warnings rather than prosecutions makes sense?
KH: Yeah, so this is one of a number of measures that are long overdue. I mean we wonder why we have such high rates of drug related deaths in Scotland when we continually punish people who experienced drug problems, people who have often experienced unimaginable trauma, so our current drug laws cause extensive and unjustifiable harms to individuals and to communities and long-term they can exclude people from job opportunities and expose people to a lifetime of discrimination and stigma and that can kill because it prevents people from actually accessing the help and support that they need, so until there is a complete overhaul of the outdated UK Misuse of Drugs Act Scotland needs to capitalise on every potential opportunity to reduce harms, and [Wednesday's] announcement was a step in the right direction.
ST: Jamie, the Scottish Conservatives are against this – why?
JG:  Well, I mean our position on the decriminalisation of drugs has been consistent and clear and I also think that it's a bit of a red herring because what we are talking about when we talk about the criminal aspects of the drug policy is diverting away from the real issue, and that's that of treatment and rehabilitation, which as we know is failing in Scotland. Now it's worth bearing in mind that Scotland is part of the same legislative regime as the rest of the UK. Now we have a drug death rate which is three times higher. That's a public health failure on the part of the current government, not a criminal justice matter so you know I think there are a number of issues why I don't think the announcement will fully get to the root cause of why there's so many people dying of drugs in Scotland, and if anything, this whole debate around it is diverting much-needed attention from the real issue and that's that we have to treat these people properly. And it's simply not happening there are far too many drug users entering the system who are not getting the support they need. And frankly, that's what the government should be focusing its attention on right now.
ST: But Jamie, don't think this policy would help at all?
JG: I mean what we're talking about here are Class A drugs, we're talking about heroin, we're talking about crack cocaine, we're talking about LSD and meth. What we are saying now is giving off the entirely wrong message to the criminal fraternity that if you get stopped with these in your possession on our high streets in our communities, you might just get off of a warning. There's been no justification for how that will help improve how we tackle drugs in this country. If anything, I'm actually worried about the effect it has. And more importantly, I think if we had a full and frank discussion about this policy, then all of this would have come out in the wash. I want to hear what Police Scotland have to think and I want to hear what drug users in the third sector have to say about it.
ST: What about this idea that it's sending out the wrong message. And could it perhaps encourage people to take drugs, knowing that they weren't going to be prosecuted?
KH: Removing prosecution of personal possession of a class A drug is not in opposition or instead of improving access to treatment. Continual enforcement and criminalisation completely undermines a public health approach. And this will not encourage people to use drugs, this policy is aimed at people who are most vulnerable, most marginalised, who are experiencing significant drug problems, and it will absolutely help. We've seen that in other countries like Portugal where they have moved towards, actually moved further into decriminalisation model, but it's also part of a much bigger picture, so this is not a standalone thing, it's part of a number of things that need to be done. We always keep repeating these stories about it's 'no one size fits all', it is not one solution, we know that. We need to throw absolutely everything at this crisis. There are so many things that we need to be doing and there's so many things that we are late to do, and this is one of those. We cannot continue to criminalise people who use drugs, our prisons are full of people with low-level drug offences. We wonder why our prisons are full of drugs when we continually send people who use drugs to prison.
ST: Jamie, what's your response to that – the fact that you know the prisons are full of people that are using drugs and also that this is part of a raft of measures?
JG: Where I absolutely agree with Kirsten is that the policy of diversion itself as a standalone policy is not enough. But the problem is what are you diverting these people to. And my big issue is that if the police are simply issuing warnings to people, they will fall off the radar of the system they will likely go back to dealers who will then issue them with small quantities of drugs that they can then go back out in the streets with, knowing that they're likely just to get a warning. I mean, these are Class A dangerous drugs that are killing people, and they are part of a much wider criminal system. So, you know this apparent decriminalisation, which effectively is what it is doing, is not tackling the root cause of the organised crime that goes on behind. The issue of drugs in our prisons is a very serious one. The way to tackle drugs in prisons is not simply to decriminalise drugs, it's to tackle the drugs that are getting into the prisons in the first place. And I've seen that first-hand in a recent visit to a prison. This is an endemic issue, but I also know that there are very good programmes in our prisons, which are helping people to rehabilitate and get off drugs and alcohol. And in fact one prisoner I met said he was getting better treatment in prison than he was when he was shunted back out into the community, where there is simply nothing in some communities, and years and years of cuts. Financial and resource cuts to drugs and rehabilitation services are the end product of that and that has got to change and be the focus of the government.
ST: What about this idea that it doesn't tackle the problem of drug pushers or the dealers?
KH: I mean, that's not what it's intended to do. I mean it's intended to reduce the harms of the people who are actually experiencing the drug problems. And the fact of the matter is that we shouldn't have so many people in prison in the first place who are going in for these low-level drug offences. Where we do agree absolutely is that our treatment services need to be adequately equipped and resourced to be able to deal with the numbers of people who actually require drug treatment, so the medication assisted treatment standards [introduced in Scotland] absolutely have to be embedded within services. We need to make sure that people have quick access to equitable treatment across the country and that [it] is available for them on the day that they are in contact with the service, and that there is choice, and that people have as much time as they need within those treatment services, so we absolutely need to ensure that our treatments are effective across the country.