There is no reason to doubt David Tydeman when he insists he is looking forward to the challenge of turning around the fortunes of the Ferguson Marine shipyard in Port Glasgow.
The firm is at the centre of a political row over the construction of two ferries, a contract that has become one of Scotland's biggest public procurement disasters.
The vessels are currently due to be delivered five years late, and more than two-and-a-half times over budget.
But on the surface, at least, the new chief executive appears to be relishing the scale of the task ahead.
For him, the role marks a return to the Clyde, having started his career at a Govan shipyard in the 1970s.
Little more than two months since taking it on, he has a blunt assessment of what has gone wrong until now.
He says the ferries have been built out of sequence, which has caused delays. Covid and the process of going in and out of administration have also interrupted the flow of work.
But perhaps understandably, his focus is firmly on what happens from now, and a determination to do things differently.
He believes he can guarantee both ferries will be delivered with no further delays or additional costs.
It is a bold claim, but one delivered in a measured, matter-of-fact manner.
Such a promise runs the risk of making him a hostage to fortune.
But it can also reflect a confidence that work is now on track to complete these ferries by the end of next year.
Tydeman also brushes aside any question that these vessels could be scrapped and work started from scratch.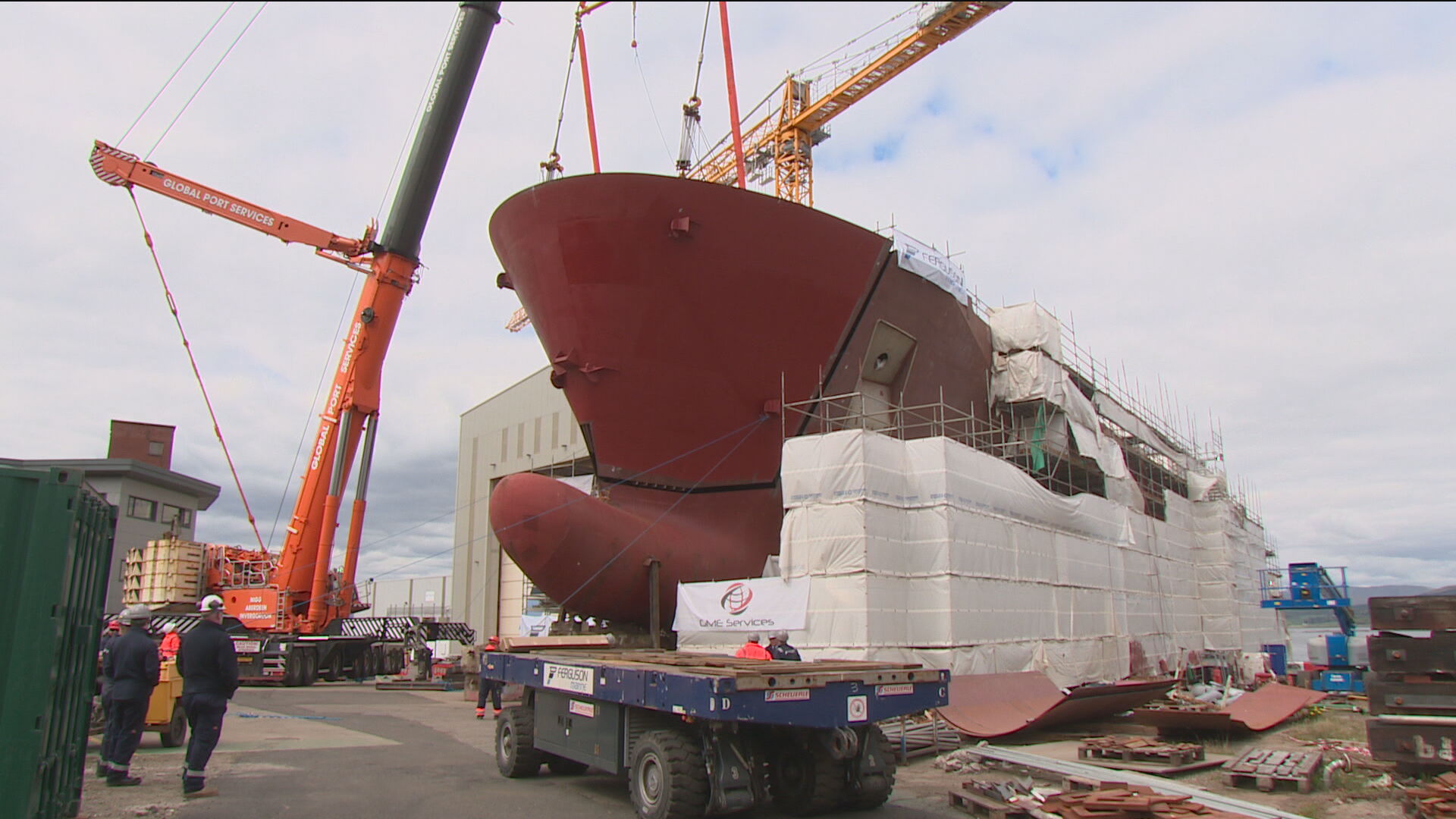 While it will take around £35m to complete Hull 802, he says, it would cost around £60m to buy a new one, which would also cause further delays.
This is a big week for the company with the bow of Hull 802 lifted into position.
The hull will also be fully completed before work begins on the units sitting above the main deck.
Internally, they are calling this vessel "the start of the future".
The new management team sees its smooth completion as a means of restoring confidence in the yard.
It firmly believes it will be in a strong position to bid for seven smaller vessels planned for the operator CalMac, despite not being in the running to build vessels for the Islay route.
When he first arrived, Ferguson Marine said Tydeman "brings a wealth of industry and senior leadership experience covering shipbuilding, offshore projects, capital infrastructure, and mergers, acquisitions and turnaround operations".
He will need every ounce of that experience to prove that he doesn't just talk a good game, but can deliver under intense scrutiny where others have failed.