Humza Yousaf has shared his mother-in-law's "last video" from Gaza amid an order for the evacuation of the north where 1.1 million people live.
Elizabeth El-Nakla, from Dundee, travelled to Gaza with her husband to visit family when violence broke out with Hamas launching an attack on Israel on Saturday.
In retaliation, Israel declared war, sealed off the Gaza Strip and has bombarded the region with airstrikes destroying neighbourhoods.
"This will be my last video," Elizabeth El-Nakla says in the video from Deir al-Balah, south of the Gaza River – the line which Israeli Defence Forces have ordered Palestinians to move beyond.
"Everybody from Gaza is moving towards where we are. One million people, no food, no water, and still they're bombing them as they leave," the retired Ninewells nurse said.
"Where are we going to put them?
"But my thought is, all these people in the hospital cannot be evacuated.
"Where's humanity, where's people's hearts in the world to let this happen in this daty and age. May God help us, goodbye."
The First Minister has called for an end to deaths in Gaza and for the international community to "step up", amid orders for more than one million Palestinians to evacuate.
Yousaf condemned reports from the United Nations that 1.1 million Palestinians were ordered to vacate northern Gaza within 24 hours, by the Israeli military.
The region subject to the order includes Gaza's biggest hospital, which Human Rights Watch has said is dealing with more than 6,000 casualties, and two major refugee camps.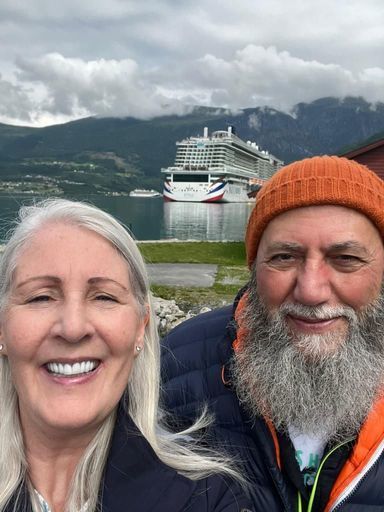 The UN described the military order as "devastating".
Yousaf's in-laws are trapped in Gaza, and his wife Nadia El-Nakla has spoken of her torment at the prospect of her relatives living in a refugee camp with no food or water.
Yousaf said there was "no justification for the death of innocent men, women and children".
This is Elizabeth El-Nakla. She is my mother-in-law. A retired nurse from Dundee, Scotland. She, like the vast majority of people in Gaza, has nothing to do with Hamas. She has been told to leave Gaza but, like the rest of the population, is trapped with nowhere to go. pic.twitter.com/D3ZUtnEmyO

— Humza Yousaf (@HumzaYousaf) October 13, 2023
Posting on Twitter, formerly known as X, he said: "UN has said the order to move 1.1m people in 24 hours will lead to 'devastating humanitarian consequences'.
"The international community must step up and demand an end to collective punishment.
"Enough. There can be no justification for the death of innocent men, women and children."
A UN official says that the United Nations are trying to get clarity from Israeli officials at the senior most political level.
"It's completely unprecedented," the official said, speaking on condition of anonymity because he was not authorised to speak publicly.
Panicked rumours of an evacuation had begun to spread in north Gaza, home to almost half the population of the territory early on Friday morning.
A ground offensive in Gaza, which is ruled by Hamas and where the population is densely packed into a sliver of land only 25 miles long, would likely bring even higher casualties on both sides in brutal house-to-house fighting.
Hamas' assault on Saturday and smaller attacks since have killed more than 1,300 people in Israel, including 247 soldiers — a toll unseen in Israel for decades — and the ensuing Israeli bombardment has killed more than 1,530 people in Gaza, according to authorities on both sides.
Israel says roughly 1,500 Hamas militants were killed inside Israel, and that hundreds of the dead in Gaza are Hamas members. Thousands have been wounded on both sides.
Hamas has called on Palestinians to stay in their homes after Israel issued sweeping evacuation orders in Gaza.
The Hamas Authority for Refugee Affairs called on residents of the north of the territory to "remain steadfast in your homes and to stand firm in the face of this disgusting psychological war waged by the occupation".
STV News is now on WhatsApp
Get all the latest news from around the country
Follow STV News
Follow STV News on WhatsApp
Scan the QR code on your mobile device for all the latest news from around the country