Humza Yousaf has said he is "definitely not" planning on resigning as Scotland's First Minister as his party continues to be the subject of a police investigation while having no auditors.
The SNP leader said being FM is the "biggest honour anybody could have" and said he "wouldn't dream" of giving it up.
He admitted it has been a "tough one" since he won the SNP leadership election at the end of March but vowed to go on.
He told STV News: "This is the biggest honour anybody could have – leading your country.
"For goodness sake, that is something you wouldn't dream of giving up, certainly not in a matter of weeks.
"The job is a tough one, there's no getting away from that, it's been a tough one for the last few weeks.
"But I am determined to do my best, not just by the party, first a foremost by the country and that's why I proposed and articulated a policy prospectus that put equality, opportunity, put community right at the heart of everything government will do."
Yousaf said he would "for sure" be First Minister by Christmas.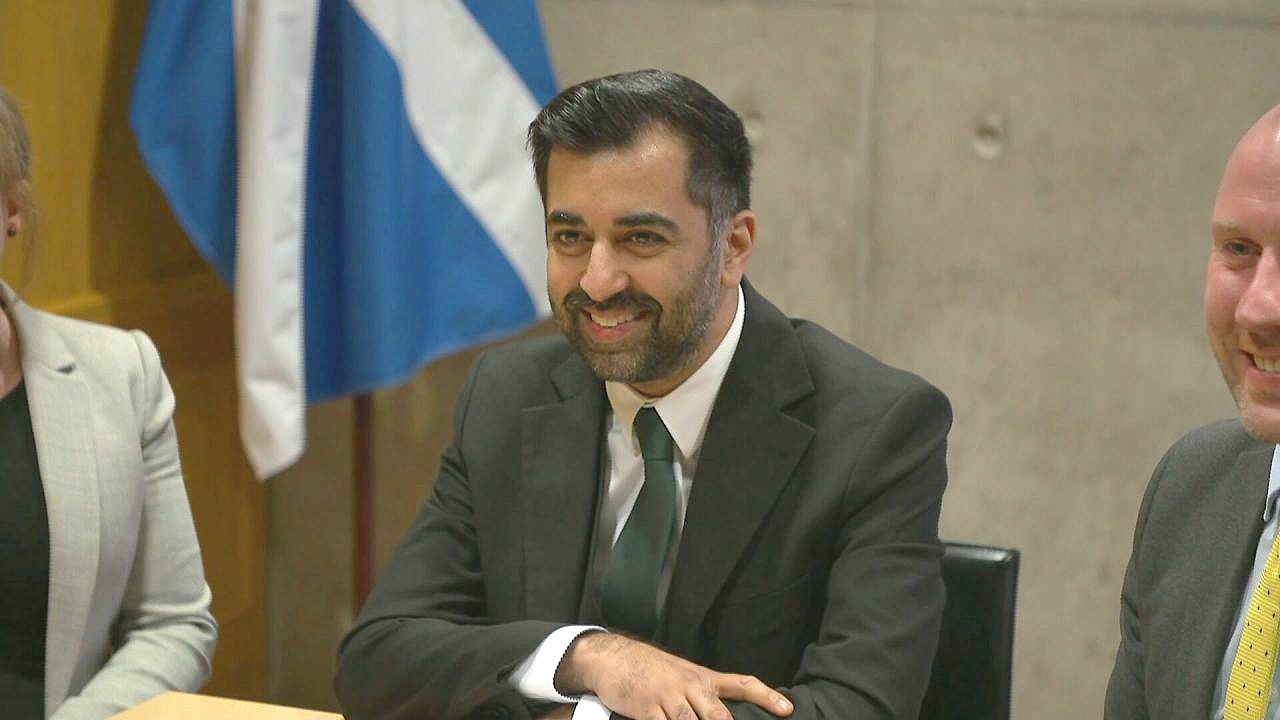 Operation Branchform – the name of the probe into SNP finances – has already seen the arrests of two party officials.
In early April, Peter Murrell – the party's former chief executive since 2001 – was arrested before being released without charge, pending further investigation.
Two weeks later, SNP treasurer Colin Beattie was taken in for questioning by officers, before being released, also pending further investigation.
He later resigned from his role as party treasurer and as a member of Holyrood's Public Audit Committee.
Asked on Monday what he would do if Sturgeon was arrested next, Yousaf said he would not comment on a live police investigation.
But voters, he added, would not want Sturgeon to withdraw the party whip from herself, which would effectively see her expelled from the party.
"I don't think they would," he said. "I think generally the public also believes in natural law.
"I think they believe in people being innocent until being proven guilty. That's my feeling on it."
He added: "I've made clear in the cases of Peter Murrell and Colin Beattie for example, who were released without charge, people are innocent until proven guilty.
"We have to just watch this police investigation unfold."
As the party deals with the fallout of the police probe, it faces the prospect of losing out on £1.2m in public money due to a lack of auditors.
The party's auditors quit in October and its Westminster group has until May 31 to submit its accounts or it faces the loss of "short money" used to employ its parliamentary staff.
SNP Westminster leader Stephen Flynn previously admitted his party is still struggling to find a new firm to check its accounts.
And Yousaf has admitted it will be "challenging" to hire new accountants on time as the broader party faces a separate Electoral Commission deadline for July.
Scottish Conservative chairman Craig Hoy described the row between the two senior SNP figures as "extraordinary".
He said: "The current and former SNP Westminster leaders are all too happy to air their dirty linen in public. The extraordinary row between Ian Blackford and Stephen Flynn is only escalating and it cannot be the case that both of them are telling the truth.
"Two of the most senior figures within the SNP are at loggerheads and fighting like nats in a sack. These claims and counterclaims of who knew what and when are getting increasingly ugly.
"There is clearly no love lost between them following Stephen Flynn's leadership coup last year and it has come to a head during a period where chaos has engulfed the SNP.
"As this duo fight over the situation regarding the party's auditors, the real priorities of Scotland – such as the cost-of-living crisis, the state of our NHS and the economy – are being totally ignored as this war of words intensifies."
Scottish Liberal Democrat MSP Willie Rennie said: "Humza Yousaf might not even last as long as Liz Truss and she was outlived by a lettuce.
"Our current First Minister is more focussed on defending his own leadership than he is on cutting NHS waiting lists, boosting the economy and reforming education."