When people across Scotland head to the polls tomorrow they will cast their vote to elect councillors in a different way to when they elect MSPs and MPs.
The Single Transferable Vote (STV) is used in Scottish local elections, having been introduced in 2007.
STV is a form of proportional representation (PR) – an electoral system in which the distribution of seats corresponds closely with the proportion of the total votes cast for each party.
The Scottish Parliament also uses a form of PR to elect MSPs at Holyrood – the Additional Member System – whereas Westminster uses the first-past-the-post system, where the candidate with the most votes represents the constituency or ward.
At a UK general election, voters in Scotland put a cross (X) next to their preferred candidate on a ballot paper.
And for Holyrood elections, voters are given two votes on separate ballot papers. One vote is for a constituency member and one vote is for a party list.
So what does the STV system for local elections entail?
Instead of putting an X next to the name of your preferred candidate, you'll be asked to rank the candidates in order of preference.
So for example, for your top preference, you'd write a "1" next to their name on the ballot paper.
Then for your second choice, you would write a "2" next to their name, and so on.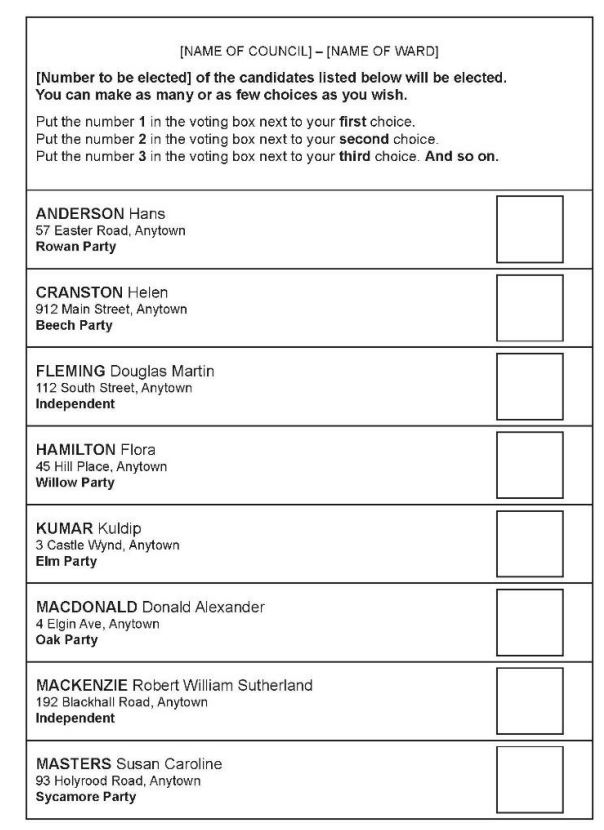 However, you do not need to rank every candidate that is on the ballot paper – you can choose as many as you like, even if that is only the one candidate.
Each candidate needs to reach a quota – the minimum number of votes calculated according to the number of seats and votes cast.
The first preference votes for each candidate are added up and the candidates who achieve this quota are elected.
Under the STV system, your later preferences could then be transferred to other candidates. This will happen if the candidate your vote is with is eliminated from the count for having the fewest votes.
Your vote will then move at its full value to the next preference candidate on your ballot who is still in the count.
For example, if your number "2" preferred candidate is eliminated before your number "1", your vote will move to your number "3" candidate.
Additionally, if the candidate you voted for is elected with more votes than they need, your vote will move with a partial value, known as a "surplus".
This is aimed at ensuring that all votes count in the election, rather than having additional votes for a candidate who had already met the threshold to be elected.
Who am I voting for?
There are 32 Scottish councils across the country with a total of 1227 councillors due to be elected.
They hold responsibility for a range of local public services in your area.
These include education, social care, roads and transport, economic development, housing and planning, environmental protection, waste management, and cultural and leisure services.
Councils also have powers and duties set out to them under the law.