Scotland will remain in phase three of its lockdown exit, but potential dates for reopenings have been revealed.
First Minister Nicola Sturgeon confirmed a pause to shielding from Saturday and return to school from August 11, before revealing a number of indicative dates for the return of various activities.
From August 24, it is hoped live events such as concerts and comedy will be allowed outdoors with physical distancing, enhanced hygiene and restricted numbers – as well as organised outdoor contact sports for people of all ages.
Additionally, it is hoped indoor facilities such as bingo halls and similar venues can reopen with physical distancing, as well as funfairs.
Driving lessons have also been earmarked to return from that date.
Sturgeon said no other changes are expected before September 11, but will keep this "under close review".
Non-essential offices and call centres should expect to remain closed until mid-September – although Sturgeon said "possibly later".
It is hoped sports stadiums will be able reopen from September 14, with limited spectators. Some professional events may have fans before then, with Scottish Government agreement, to test the safety of the move.
Indoors sports courts and soft play facilities could reopen from that date.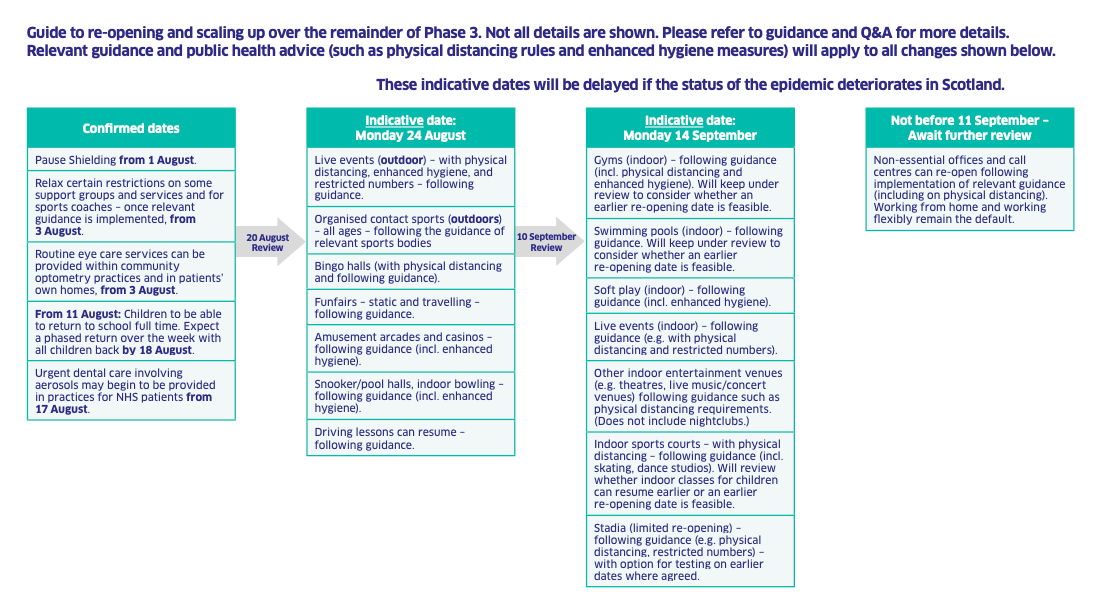 On the topic of gyms and swimming pools, Sturgeon said they required a "particularly cautious approach" but also gave an indicative date of September 14 for the facilities.
However, Sturgeon said she will review this again in three weeks and if it is "judged reasonable to do so" the government will look to accelerate this to the end of August.
From Monday routine eye care services – including regular eye exams – can be carried out. Counselling services, such as drug and alcohol support groups, will also be able to "provide essential services".
And sports coaches will be able to meet with groups of more than four households in a day.
The First Minister said that from August 17 a wider range of dental care can resume, including that which involves aerosol.
Sturgeon said the prevalence of coronavirus was now at "very low levels" – adding it was estimated that last week just 300 people were infectious.
The R number – the average number of other people infected by each person with Covid-19 – remains below one.
But despite this "substantial" progress, the First Minister said the virus was still circulating.
As a result, she confirmed Scotland could not yet move into the fourth and final phase of easing lockdown restrictions.
Sturgeon said: "A move to phase four would require us to be satisfied that the virus is no longer considered a significant threat to public health.
"Unfortunately that is far from the case."
No confirmed coronavirus patients have died in Scotland for the past fortnight, it was announced.
A total of 2491 patients have died in Scotland after testing positive for coronavirus, no change since July 16.
The First Minister said 18,597 people have tested positive for the virus in Scotland, up by 17 the day before.