Greta Thunberg has demanded the UK Government reject plans to extract fossil fuel from a controversial oil field off the coast of Scotland.
The Swedish climate activist joined a protest in London on Friday against what she described as "deliberately destructive" proposals by oil and gas company Equinor.
The Norway-based firm is hoping to get approval from UK officials to open up the Rosebank site, which is near Shetland.
It's the UK's biggest untapped oil field and is expected to produce 500 million barrels of oil if a licence is granted.
Campaigners estimate that burning through that amount of oil would generate more CO2 emissions than 28 low-income countries produce in a year.
In a demonstration outside energy secretary Grant Shapps' offices, Thunberg warned about the impact Rosebank could have on the Earth's climate amid a searing heatwave in parts of Europe.
She said: "How can the British government even consider pressing ahead with new drilling when we can see what the burning of fossil fuels is doing to the climate and to people?"
"The extreme weather events being experienced around the world right now are just a taste of what's to come if we don't get off fossil fuels.
"Given everything that we know and can now see with our own eyes, approving Rosebank would be a deliberately destructive act."
Thunberg also criticised the Norwegian government, which will profit from Rosebank as the major shareholder of the field's operator, Equinor.
"Norway's claim to be a climate leader is absurd while Equinor plans to open up new oil and gas projects, like Rosebank, around the world," she said.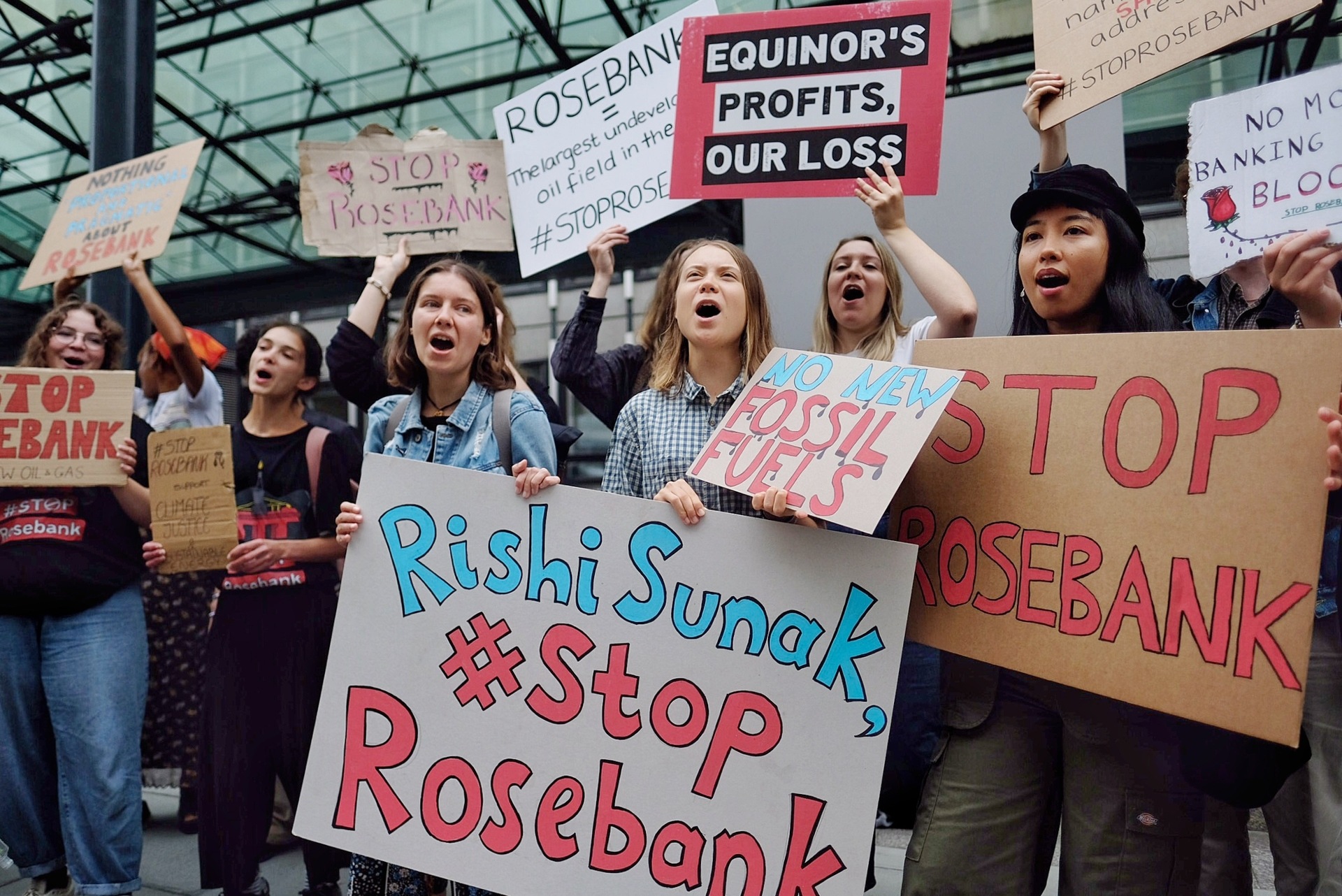 A decision on the site was expected before the Westminster parliamentary recess but that has now been delayed.
Climate activists have urged the Prime Minister to scrap the plans, which they say go against the UK's climate targets.
Lauren MacDonald, from the StopRosebank campaign, said: "There is nothing 'proportionate and pragmatic' about opening up new oil fields, to use Rishi Sunak's words.
"It's an extreme position in the context of the climate crisis. When you add to this that Rosebank won't lower UK fuel bills, as it's mostly oil for export, and the fact that the public is effectively stumping up 90% of the costs of developing the field because of the huge subsidies the industry gets, Rosebank makes zero sense.
"This government's pandering to giant oil companies is holding back the massive expansion we need in cheaper renewables, which is how to lower bills and make sure the UK has an affordable supply of energy that doesn't mess with our climate."
Equinor said Rosebank will have a lower carbon footprint than other fossil fuel projects on the UK Continental Shelf, but its calculations relate only to its operations and exclude emissions from burning the fuel itself.
The company also said that investing in oil and gas will help the UK's energy security and it is unhelpful for Western democracies to stop developing their resources.
A spokesperson for the Department for Energy Security and Net Zero said: "The UK is a trailblazer in its ambitions to reach net zero by 2050 – forging ahead of many other countries and nearly halving emissions since 1990.
"While we respect the right to protest, the transition to non-fossil forms of energy cannot happen overnight and even when we're net zero, we still need some oil and gas – the industry also significantly boosts the Scottish economy estimated to support around 90,000 jobs."