The deal between the SNP and the Scottish Greens represents a 'new way' of doing politics, Nicola Sturgeon has said.
The First Minister, speaking at Holyrood on Tuesday as MSPs returned from summer recess, also said the agreement confirms the Scottish Government's intention to hold an independence referendum.
And the SNP leader, setting out the agreement which was backed by SNP and Green members at the weekend, said she believes that people want to see politicians working collaboratively.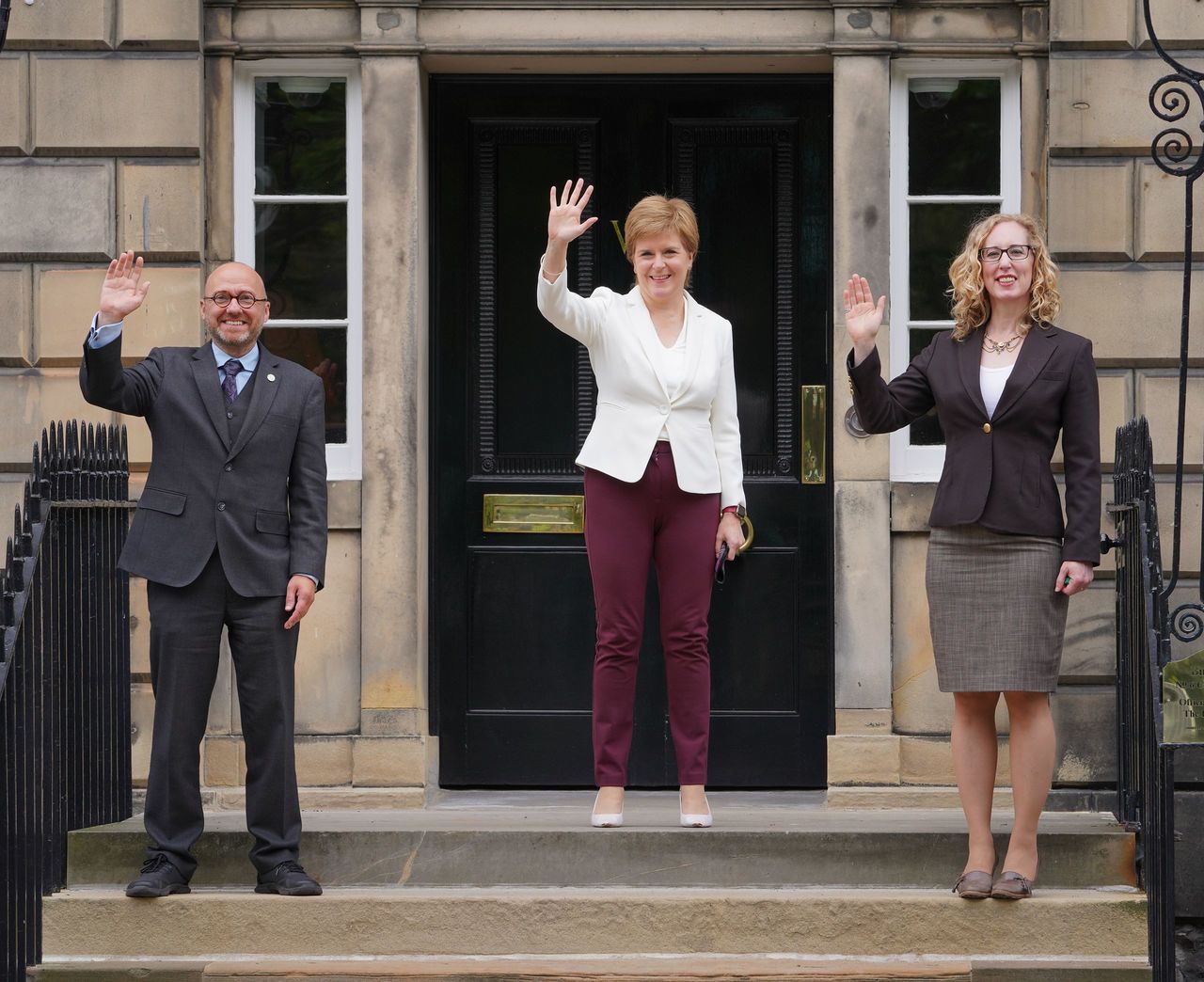 She told MSPs: "In nature, scope and intent, this agreement is genuinely ground-breaking – in both Scottish and UK politics. It represents a new, and I hope, a better way of doing politics.
"Of course, while the agreement is the product of much negotiation and some compromise, it is also a leap of faith for both parties, but one we are taking willingly and for the common good."
Sturgeon said that it has arguably "never been more important" for politicians to work in a spirit of cooperation and consensus building.
"In both my view and in my experience, cooperation and collaboration in place of division and acrimony is what most people want to see much more of from their politicians," she said.
"Of course, that spirit of cooperation and consensus building is also very much in keeping with the founding principles of our Scottish Parliament.
"Arguably, it has never been more important for us, all of us, to live up to these principles and that is the motivation for reaching this agreement."
Sturgeon said that the deal sets out processes of "cooperation and consultation".
"It is not a full coalition, our parties will retain distinct voices and independent identities," she said.
"But it sets out processes of cooperation and consultation that will enable a firm foundation for the delivery of our shared and transformative policy objectives, and indeed for the Scottish Government's wider legislative and policy programme."
The First Minister also said that the mandate for an independence referendum is "undeniable".
She said: "This agreement does confirm our intention to give people in Scotland the choice of independence.
"The mandate for that is undeniable – between us, the SNP and the Greens won 72 of the 129 seats in this parliament, and each one of us was elected on a clear commitment to an independence referendum.
"But just as the mandate is undeniable, the reason for a referendum is even more important.
"As we emerge from the pandemic, the kind of country and society that Scotland is now, and becomes in future and the decisions that will shape our society and economy and our place in the world – must be determined, democratically, here in Scotland and not imposed upon us, so often against our will, by Government at Westminster."
Scottish Conservatives leader Douglas Ross hit out at the deal, describing it as a "nationalist coalition".
He said: "This is a nationalist coalition with one overriding goal – separating Scotland from the rest of the UK.
"Yet again, a divisive referendum has come first as it always does with this government."
Ross added: "This isn't a deal for hard-working Scotland. This coalition will hammer everyone who works hard, everyone who runs a business, everyone who owns a vehicle.
"This is not a deal that works for Scotland, this is a deal that works for Nicola Sturgeon."
Scottish Labour leader Anas Sarwar said: "I'd like to welcome Patrick Harvie and Lorna Slater to their new roles, but I fear that they will very quickly realise that the SNP's rhetoric does not match reality.
"I think they'll also very quickly realise that the divider in chief can only act the great unifier for so long.
"And I think they'll also come to realise that co-operation to Nicola Sturgeon means rolling over and doing what you're told."
He added: "Frankly, this is not a new development or a new period in the governance of our great country.
"This is merely the final confirmation of the same coalition of cuts between the SNP and the Greens that has hammered Scotland's public services for years."
Insight by Colin Mackay, STV News political editor
Everyone remembers their first time. So for the Greens and the SNP today is quite a big deal. This is the first time the Greens have ever been in Government in 22 years of the Scottish Parliament, the first time anywhere in the UK. For the SNP it's the first time they have ever formally shared power in the Scottish Parliament.
This is not a coalition, it's not like the Lib-Dems going into Government with Labour in the first Scottish Parliament in 1999 or with the Conservatives at Westminster in 2010; this is a Cooperation Agreement.
No job as deputy first minister for Patrick Harvie, instead he is a deputy minister (a junior minister with a long job title who looks likely to have to answer his first parliamentary question on net-zero housing targets tomorrow).
So what is in it for both sides?
For the Greens it's their first taste of Government, a big step up. They have worked with the SNP on budgets for the last five years but this goes further and lets them get involved in policymaking from the outset.
For the SNP it means the stability of a majority Government, so they can get more done than in the last session which felt like the least productive parliamentary term since devolution. The added bonus for both is that it takes power away from the Conservatives, Labour and Lib-Dems in opposition: no more constant threats of no-confidence votes in ministers.
What it is not about is independence. Both the SNP and Greens already supported another independence referendum. There has been a majority of MSPs supporting independence after the last three Scottish Parliament elections, this doesn't do anything to change their case for another referendum or change the Prime Minister's mind on rejecting that case.
It almost didn't happen, there was a meeting between the two sides towards the end when it seemed the deal was almost done, when in fact it almost collapsed; but both sides looked at the bigger picture and here we are with Green MSPs becoming minsters in the Scottish Parliament, and that is quite a big deal.
STV News is now on WhatsApp
Get all the latest news from around the country
Follow STV News
Follow STV News on WhatsApp
Scan the QR code on your mobile device for all the latest news from around the country