Nicola Sturgeon says she pities TV presenter Jeremy Clarkson and that he is "distorted by hate" following a newspaper column he wrote about Meghan Markle.
The First Minister – who was also named in the article – told STV News that Clarkson's remarks about the Duchess of Sussex were "vile".
Clarkson's column for The Sun newspaper read: "Meghan, though, is a different story. I hate her. Not like I hate Nicola Sturgeon or Rose West. I hate her on a cellular level.
"At night, I'm unable to sleep as I lie there, grinding my teeth and dreaming of the day when she is made to parade naked through the streets of every town in Britain while the crowds chant, "Shame!" and throw lumps of excrement at her."
Sturgeon was critical of Clarkson when asked about his comments on Monday morning.
She said: "To be perfectly frank, the emotion I feel most strongly for, mainly Jeremy Clarkson is pity.
"That somebody can be so distorted by hate, in this case hate against Meghan Markle, that they write that kind of vile stuff in a newspaper.
"But words have consequences. Again, I'm a passionate believer in free speech, but one person's exercise of what they consider to be free speech, if that impinges on the safety of somebody else, then clearly there is a balance there not being struck.
"So everybody has to exercise the rights we all cherish in our society today with a degree of respect, civility and responsibility."
Amid growing criticism and complaints to the newspaper regulator, Clarkson later said he was "horrified to have caused so much hurt".
He wrote on Twitter: "Oh dear. I've rather put my foot in it. In a column I wrote about Meghan, I made a clumsy reference to a scene in Game of Thrones and this has gone down badly with a great many people.
"I'm horrified to have caused so much hurt and I shall be more careful in future."
Clarkson's comments have sparked a ferocious backlash on social media, with even his own daughter criticising them on Instagram.
"My views are and have always been clear when it comes to misogyny, bullying and the treatment of women by the media.
"I want to make it very clear that I stand against everything that my dad wrote about Meghan Markle and I remain standing in support of those that are targeted with online hatred.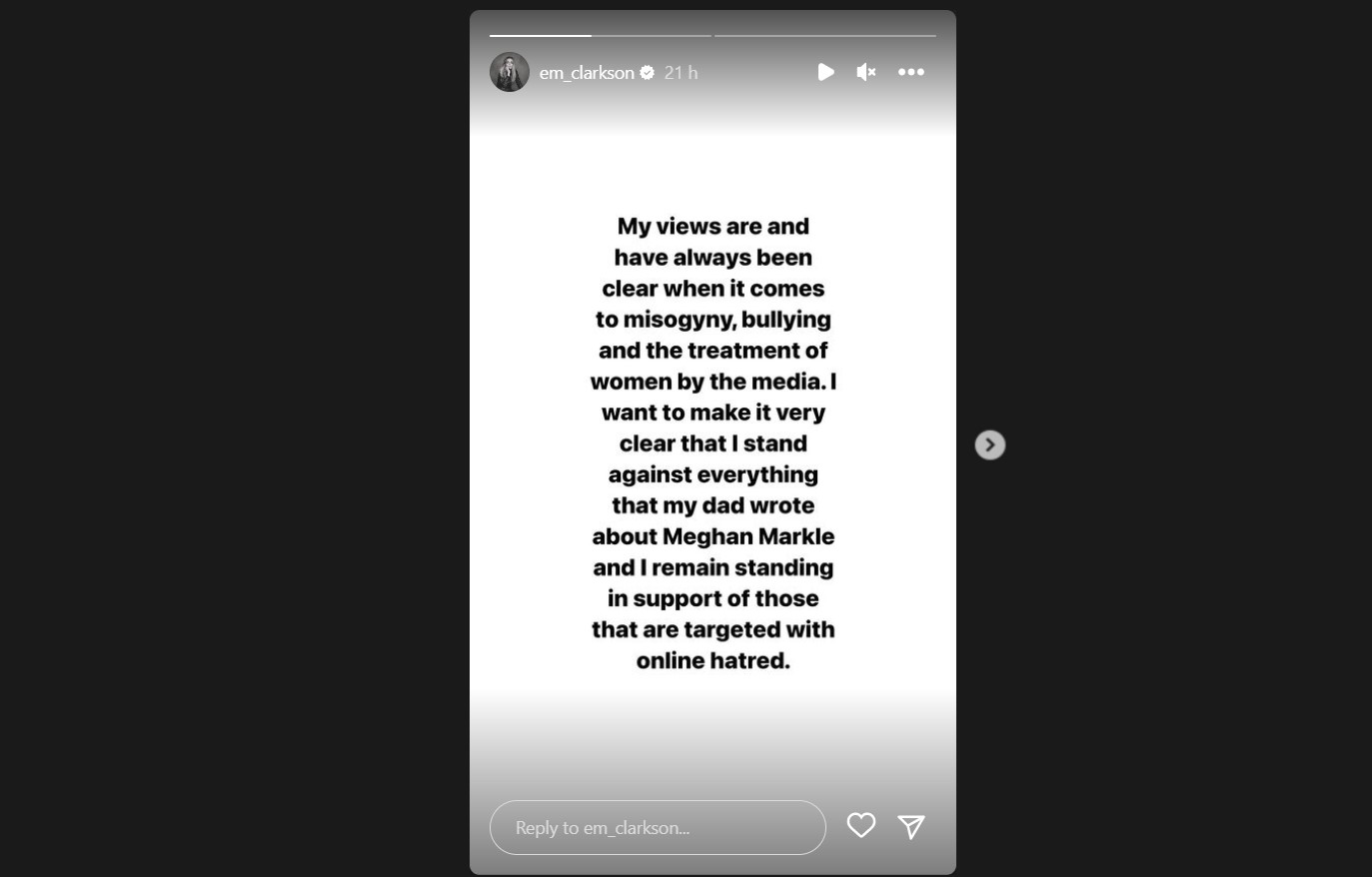 The Duke and Duchess of Sussex have been in the spotlight following the release of their tell-all Netflix documentary series.
In an emotional moment during the fifth episode of the Harry & Meghan Netflix series, Meghan said negative media coverage had made people say they wanted to kill her.
The episode focused on the couple's decision to step back as senior royals, and the influence of the British press over their lives.
Meghan said the media had caused the death threats by creating hate towards her.
Sturgeon continued: "I accept I'm a politician and people get to say all sorts of things about me and that's part of the democratic process."
"I think what he said about Meghan Markle was deeply misogynist and just downright awful and horrible."
What are people saying?
Among the well-known names to respond to Clarkson's column are comedian John Bishop and television presenters Carol Vorderman and Edith Bowman.
News UK, the publishers of The Sun, and Clarkson's representative have both been contacted for comment.
By Monday evening, The Independent Press Standards Organisation (Ipso) had received more than 12,000 complaints over Clarkson's article.
In comparison, the total number of complaints made to Ipso in 2021 was 14,355.
A spokesman for the media watchdog said: "We will follow our usual processes to examine the complaints we have received.
"This will take longer than usual because of the volume of complaints."