MEPs have ratified the Brexit deal struck between Boris Johnson's government and the EU as they said goodbye to their British counterparts.
The European Parliament endorsed the withdrawal agreement by 621 votes to 49, with 13 abstentions, the final step needed for it to become law at 11pm on Friday.
As the terms of the UK's departure from the EU were ratified, MEPs held hands and sang a rendition of 'Auld Lang Syne'.
The European Parliament's Brexit co-ordinator Guy Verhofstadt said Britain's departure was a "sad" moment for the EU.
Opening the debate in Brussels on the withdrawal agreement, Verhofstadt said: "It is sad to see a country leaving that twice liberated us, has twice given its blood to liberate Europe."
But he predicted the UK would eventually rejoin, saying: "In the last couple of days I have received hundreds of mails from British citizens saying they desperately want to stay or return.
"So this vote is not an adieu – this vote, in my opinion, is only an au revoir."
European Commission president Ursula Von Der Leyen told MEPs she wants to "forge a close partnership" with the UK after Brexit.
She said: "The withdrawal agreement is only the first step.
"From now on it's about our new partnership with the United Kingdom. The negotiations are about to start."
"And just to be very clear, I want the European Union and the United Kingdom to stay good friends and good partners."
Brussels' ratification of the withdrawal agreement comes after the Westminster parliament backed the PM's deal earlier this month – although the Scottish, Welsh and Northern Irish legislatures all rejected it.
Holyrood, Cardiff Bay and Stormont's decision to refuse legislative consent to the deal had no legal force, meaning UK ministers could proceed regardless.
Boris Johnson has said he will celebrate the moment of Brexit in a "respectful" way on Friday.
Answering questions from the public on Facebook, the Prime Minister said: "What I will be doing is, in common with everybody else, I will be making a dignified exit from the European Union.
"I will be celebrating in a way that I hope is respectful of the scale of the event, that does justice to the astonishing feat that Britain has accomplished but also is mindful of everybody's feelings about what we are doing.
"It is a great moment for our country, it is a moment of hope and opportunity but it is also, I think, a moment for us to come together in a spirit of confidence."
Analysis from Brussels by STV political correspondent Ewan Petrie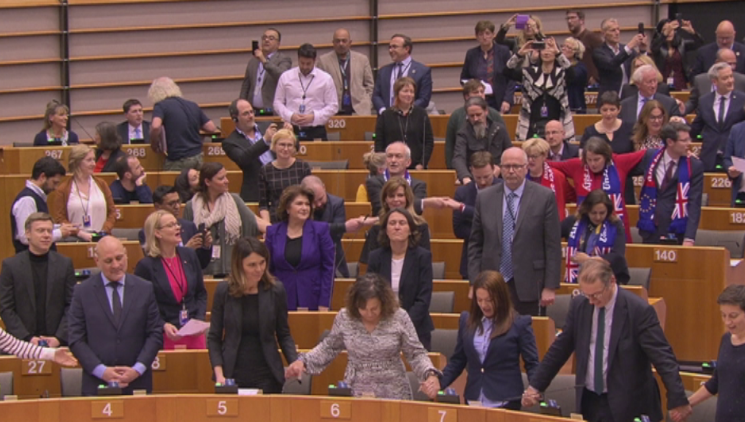 This was always going to be an emotional moment for MEPs on both sides of the Brexit debate.
You could see that in the speeches here this afternoon.
There was the usual colour and bombast from Nigel Farage, who at the end of his speech, stood and raised the union flag along with his Brexit party colleagues.
They were duly reprimanded by the deputy speaker and they all left as one, for one final time.
But there have also been plenty of messages of regret at the UK's departure, and the SNP have spoken of their regret at leaving.
They repeated their message, 'leave the light on', because they want to be back here as an independent nation.
Then, at the end of proceedings, there was a rendition of 'Auld Lang Syne', MEPs serenaded by their colleagues.
Plenty of MEPs today have been wearing scarves with 'Always United' written on them in a show of support.
The vote was never in doubt – it wasn't about the vote. MEPs were always going to ratify Boris Johnson's withdrawal agreement.
Today was about saying farewell to the UK's MEPs – and some of them have made sure they're leaving with a bang.
For more from Ewan Petrie in Brussels, tune into Scotland Tonight on STV at 10.40pm.
STV News is now on WhatsApp
Get all the latest news from around the country
Follow STV News
Follow STV News on WhatsApp
Scan the QR code on your mobile device for all the latest news from around the country