Tens of thousands of school pupils whose exam results were downgraded will have them replaced by teachers' estimates.
In a statement to the Scottish Parliament on Tuesday, education secretary John Swinney apologised to the students for the SQA's controversial moderation system.
He said: "We set out to ensure that the system was fair. We set out to ensure it was credible. But we did not get it right for all young people.
"Before I go any further, I want to apologise for that.
"In speaking directly to the young people affected by the downgrading of awards – the 75,000 pupils whose teacher estimates were higher than their final award – I want to say this: I am sorry."
In response to Swinney's 18-page statement, Jamie Greene, the Scottish Conservatives' education spokesperson, branded it the "longest resignation speech in history, minus the resignation".
MSPs later voted to debate a motion of no confidence over his handling of the exam results on Thursday. The motion was passed unanimously.
The SQA will issue fresh certificates to those affected as soon as possible.
Swinney added: "And, importantly, will inform Ucas and other admission bodies of the new grades as soon as practical in the coming days to allow for applications to college and university to be progressed."
Grades that were moderated up will not be reduced.
The education secretary added that provision would be made to allow for the necessary university and college places in Scotland, so those whose grades have been changed will not be "crowded out".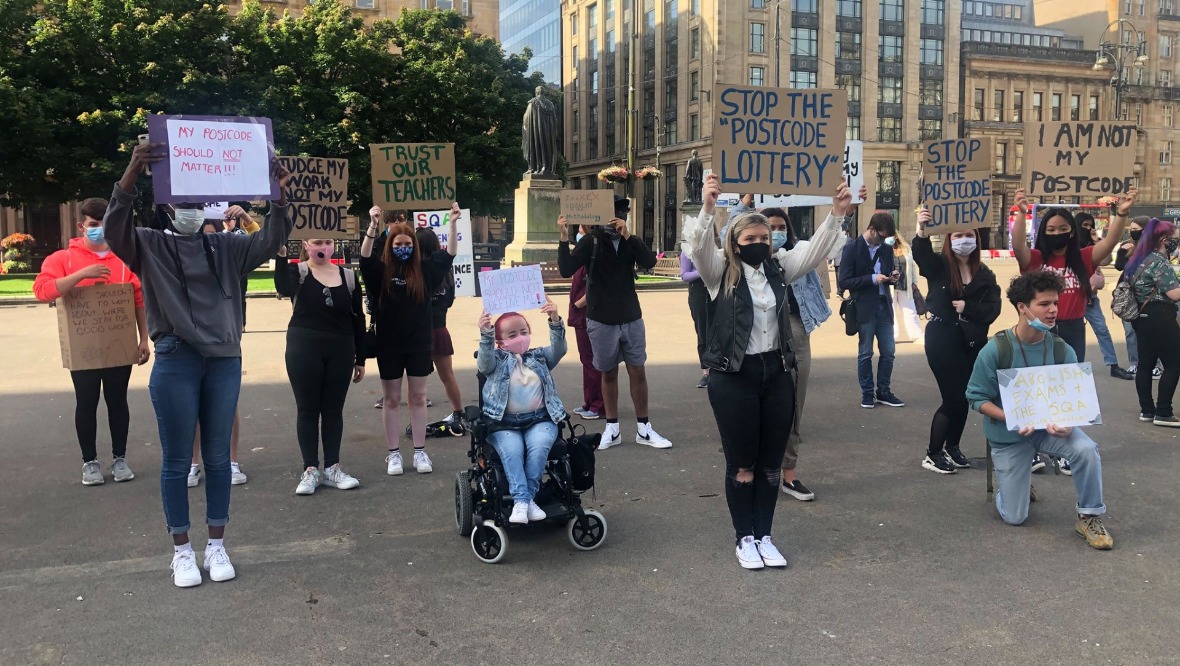 Last Tuesday, around 138,000 school pupils received the results of their National, Higher and Advanced Higher courses after an exam-free year due to the coronavirus pandemic.
Although pass rates were up, the moderation system produced by the Scottish Qualifications Authority (SQA) and approved by the Scottish Government saw 26.2% of grades changed.
The SQA downgraded 124,564 results – 93.1% of all the moderated grades – based on criteria including schools' historic performances.
Pupils from the most deprived areas of Scotland had their grades reduced by 15.2% compared with 6.9% in the most affluent parts of the country.
In response, opposition politicians branded the moderation process a "train wreck" as well as "disturbing and grossly unequal".
On Friday, hundreds of pupils took to Glasgow's George Square to protest the methodology – which was only revealed on results day.
Scottish Labour also tabled a vote of no confidence in Swinney, backed by the Scottish Conservatives.
Initially, Swinney and Nicola Sturgeon defended the system, branding it "credible".
Swinney said without the moderation, the pass rates compared to 2019 would have been "an annual change never been seen in Scottish exam results".
The First Minister claimed had the moderation process not been in place, she would have been announcing that 85% of young people in the most deprived areas had passed Highers this year compared to around 65% last year.
Instead, around 70% of young people from the most deprived areas passed their Highers.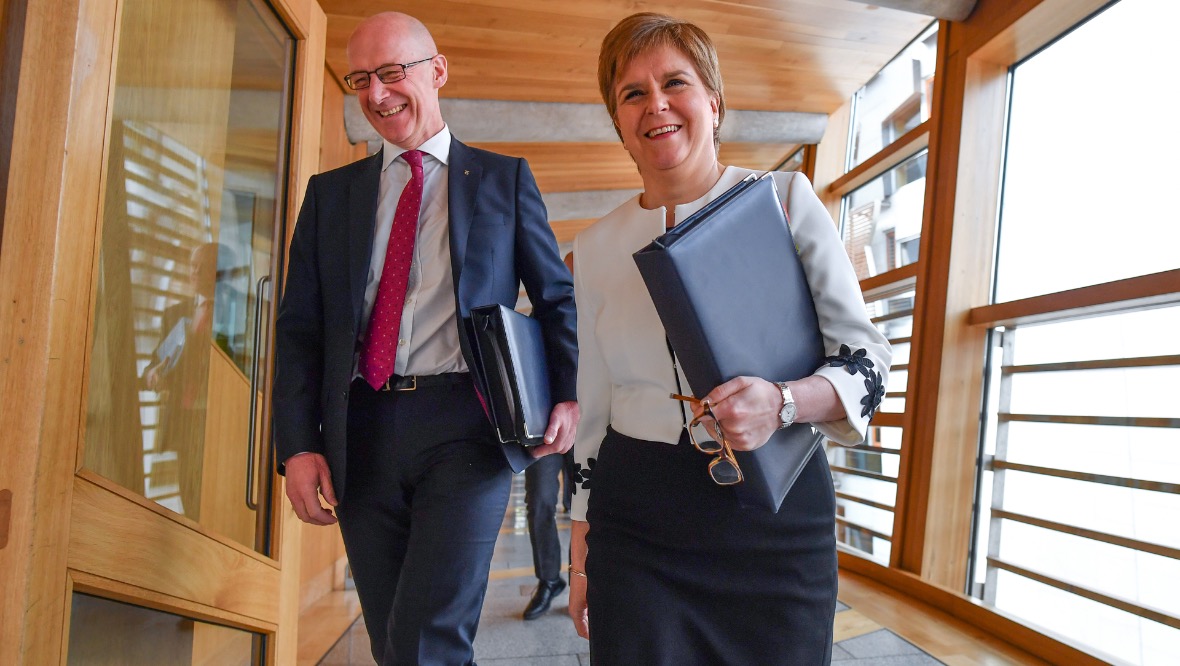 Both Sturgeon and Swinney stressed the appeals process would allow eligible pupils to challenge their results if they were downgraded from teachers' estimates.
However, both the First Minister and her deputy later backtracked.
On Sunday, Swinney said he had "heard the anger of students" and said each of them deserved a grade that reflected the work they had done.
He stated: "These are unprecedented times and as we have said throughout this pandemic, we will not get everything right first time."
The following day, Sturgeon apologised and said too much focus was given to the system rather than the individuals.
She said: "Despite our best intentions, I do acknowledge we did not get this right and I'm sorry for that.
"The most immediate challenge is to resolve the grades awarded to pupils this year.
"We will not expect every student who has been downgraded to appeal."
Former Scottish Tory leaders Ruth Davidson and Jackson Carlaw both called on Swinney to resign following his statement.
Davidson tweeted: "A total U-turn on the position Nicola Sturgeon and John Swinney had doubled down on for days.
"Welcome relief for pupils who've been put through the wringer. But be in no doubt, this is a shambles and an honourable man would have offered his resignation."
Carlaw added: "U-turn on the education bill. U-turn on curriculum choice. U-turn on blended learning. U-turn on shambolic SQA results.
"John Swinney has presided over a shambles in Scottish education, over several years. He must resign."
Scottish Labour leader Richard Leonard claimed the no confidence motion forced Swinney's U-turn.
He stated: "But Swinney has lost all credibility and isn't the one to fix this.
"At 5pm, the Scottish Parliament bureau will propose that motion is heard on Thursday. Blocking motion from debate would be anti-democratic."
The Scottish Greens called for the Scottish Government to hold an urgent review into the fiasco and into the exams system as a whole.
Swinney said that a current review being conducted by the Organisation for Economic Co-operation and Development (OECD) into the Curriculum for Excellence would be expanded to "include recommendations on how to transform the Scottish approach to assessment and qualifications, based on best practice globally".
He also said that an investigation will be undertaken to look at how this year's awards were handed out.
He said: "Coronavirus has not gone away and, while we expect next year's exams to go ahead, we need to put in place the right plans to make sure we don't find ourselves in the same situation again."
Swinney said a "rapid consultation exercise" with teachers will start this week, looking at removing parts of course assessment and adjusting the volume of evidence required in coursework.
He also announced a full independent review chaired by Professor Mark Priestly of Stirling University to look into the circumstances of this year's awards, including the approach taken to estimate pupils' grades, the impact the process had on young people and their families, and the transparency of the process.