Douglas Ross has accused Nicola Sturgeon of abandoning North Sea oil workers, as he claimed her government has 'extreme economic views' at its heart.
The Scottish Conservative leader challenged the First Minister over remarks made by her coalition partners over the future of the sector.
Scottish Green minister Patrick Harvie last week suggested that it is "only the hard right" who deny the reality that new oil and gas extraction is "simply not compatible with preserving our life support system".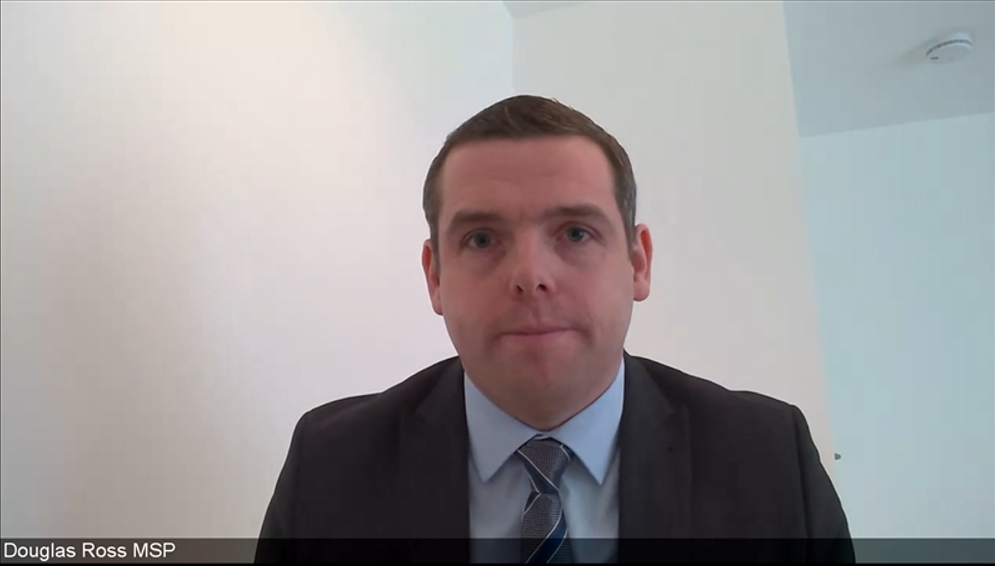 Speaking virtually during FMQs due to self-isolation following a positive Covid test amongst his staff, Ross said the statement was an "insult" to those working in the sector.
He told MSPs: "Last week, when we heard that oil and gas jobs in Scotland could be at risk, the First Minister's coalition partners celebrated.
"They celebrated. Patrick Harvie, one of her ministers, claimed that supporting Scotland's oil and gas industry was a policy of the hard-right.
"Those statements are an insult to every single worker in the North Sea sector and they should be condemned by the First Minister."
Ross continued: "As the Greens keep on boasting, they've forced the SNP into, and I quote, 'a massive change in direction over oil and gas'.
"So can I ask the First Minister, what matters more to her government – jobs for the Scottish Greens or jobs for North East workers?"
Sturgeon urged Ross to demonstrate "a bit less political rhetoric", as she made reference to the controversy this week surrounding claims of a party held at Downing Street last year.
She said: "Well, it's very clear that references to being right-wing are references that Douglas Ross seems to take very personally, I'll leave people to judge why that might be the case.
"Let me also say just as an aside, that what is putting potentially North Sea oil and gas workers jobs at risk right now is the UK Government's failure to invest as a priority in the Acorn carbon capture project in the North East.
"So perhaps a bit less political rhetoric from Douglas Ross and a bit more encouraging his colleagues in the UK Government, if they can find the time from their other pursuits at the moment, to prioritise investments that Scotland badly needs."
The First Minister continued: "For my part, I'll continue to ensure that the Scottish Government is investing.
"We do not do anybody in oil and gas any favours if we pretend that the just transition is not necessary, or if we pretend that it is not necessary for the sake of the future of the planet, to accelerate that just transition.
"But what we must do is ensure no-one is left behind in that transition and we must make sure our energy needs are met in a renewable and low-carbon way."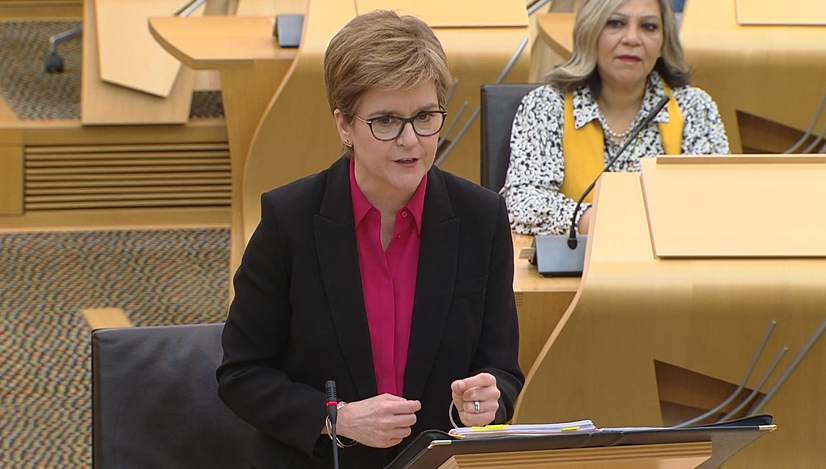 Ross hit out at the response of the SNP leader and suggested it was now a "matter of time" before more Scottish workers are abandoned.
The Scottish Conservative leader said: "I think it's disgusting that the First Minister joked and laughed about a comment from one of her ministers that has been so hurtful to people employed in the North Sea sector."
He continued: "Now, for the first time, we have Scottish Government ministers who want fewer jobs and less investment in Scotland.
"They're against building any new roads, they want to stop people driving even though these people can't get to work without cars, the Greens believe that economic growth is no longer possible and they've also said that governments can't run out of money.
"So now that these extreme economic views are at the heart of her government, isn't it just a matter of time before the First Minister abandons more Scottish workers in the way she's abandoned the oil and gas industry?"
The First Minister warned Ross against making "unfounded accusations" and of trying to cause concern for oil and gas workers.
She said: "We have witnessed and are continuing to witness right now many disgusting things in politics, but none of them are on the part of this Scottish Government.
"And I almost feel a little bit of sympathy for Douglas Ross today because I know he must be deeply mortified by the actions and behaviour of his colleagues in the UK Government.
"But that is no excuse for throwing around unfounded accusations and trying to cause concern on the part of oil and gas workers right now.
"I as First Minister am committed to making sure that we have a just transition away from oil and gas in the same way that we have had that transition away from coal power because the future of our planet demands that.
"And we will make the investments to ensure that that is done justly and fairly, and if the UK Government wanted to work with us around carbon capture, for example, then that transition would be easier.
"I am committed to ensuring that we don't leave people behind, that we don't have fewer jobs, instead we have clean, green jobs for the future."