Senior political figures have reacted to finance secretary Derek Mackay's resignation over hundreds of messages sent to a 16-year-old boy.
First Minister Nicola Sturgeon said in a statement the MSP recognised "his behaviour has failed to meet the standards required" as she accepted his resignation.
It was also confirmed by Sturgeon at Holyrood Mackay has been suspended from the SNP and the party's parliamentary group "pending further investigation".
The decision comes after the Scottish Sun newspaper published a full transcript of a conversation he allegedly had with a 16-year-old boy.
In the social media messages, Mackay apparently described the teenager as "cute" and continued to talk to him after being told the boy's age.
The budget will go ahead as planned on Thursday, with public finance minister Kate Forbes stepping in.
Scottish Conservatives leader Jackson Carlaw believes Mackay should also resign as an MSP.
He described the alleged behaviour as "very detailed" and "totally inappropriate".
Carlaw added: "… by any standard judgement of what constitutes the grooming of a young individual, these would pass that test."
He then said: "I think that it's a huge lapse of judgement."
Mackay's SNP colleague and justice secretary Humza Yousaf believes he made the right decision by resigning from his ministerial position.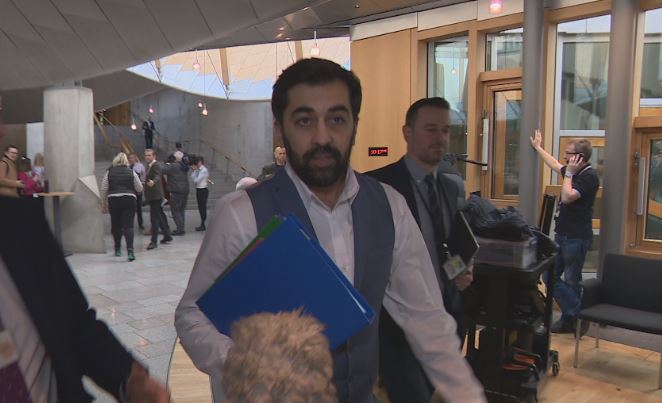 He said: "Derek's done the right thing, having to resign."
Asked by STV if he thought Mackay had groomed the teenager, Yousaf said: "It's not for me to take part in police investigations.
"That's the job of the police to investigate that but Derek has done the right thing."
Asked if there should be a police investigation, Yousaf added: "That'll be for the independence of the chief constable to decide."
Scottish Labour leader Richard Leonard said: "Derek Mackay has acted beyond 'foolishly', his actions are predatory and must be thoroughly investigated. He has abused his position of power with a vulnerable adolescent.
"The thoughts of everyone at Scottish Labour are with the schoolboy involved and his family.
"The nature and the gravity of these allegations demands decisive action."
Scottish Conservatives finance spokesman, Murdo Fraser, described the situation as a huge blow for Sturgeon.
He said: "Derek Mackay acted foolishly and is right to resign from the government.
"Politics aside, I have always enjoyed working with him, and he is popular in his own party and across the parliament. I wish him and his family well in what will be a difficult time.
"This is, however, a huge blow for Nicola Sturgeon to lose such a key member of her governement at such a crucial time – and one tipped as her successor. Big day ahead for Kate Forbes."
Scottish Greens co-leader, Patrick Harvie, said the alleged behaviour was "utterly unacceptable".
He said: "Derek Mackay's behaviour was utterly unacceptable, and his resignation was clearly necessary.
"But we are now just hours from publication of the Scottish budget, in what were already unprecedented circumstances. It's vital now that all parties put the public interest first."
He added: "Kate Forbes now has one brief opportunity to build political agreement over this month and amend the budget if necessary. "
Joanne Cherry, an SNP MP for Edinburgh South West, said: "Grooming behaviour is totally unacceptable and must be condemned without fear or favour.
"The First Minister was right to accept Derek Mackay's resignation and suspend him. The party's disciplinary procedures must now take their course."
"By resigning Derek Mackay has acknowledged that his behaviour was inappropriate."

Mary Glasgow, chief executive of Children 1st
Jess Phillips, a Labour MP, said: "Young people will trust adults, add on top of that respectable positions of power and the trust deepens.
"If, as an elected official you don't recognise that power dynamic or worse if you recognise it and exploit it you are not fit for office."
Mary Glasgow, chief executive of the children's charity Children 1st, added: "By resigning Derek Mackay has acknowledged that his behaviour was inappropriate.
"Children 1st has always been clear that children and young people are vulnerable in situations where there is a significant difference in age, power and status between them and another person.
"Society should recognise by now that it is never acceptable to exploit that vulnerability."