A midnight deadline has passed for producers to sign up for the Scottish Government's deposit return scheme.
The scheme involves shoppers paying an extra 20p when purchasing drinks in a can or bottle, with the deposit returned when they bring back the empty container for recycling.
The initiative is due to start in August but has been embroiled in controversy.
Industry figures argue it would impose potentially fatal costs on their business and create a trade barrier between England and Scotland, but environmental campaigners say it will cut carbon emissions and reduce litter.
Circular economy minister Lorna Slater said small drinks producers may be given a one-year exemption from the planned scheme.
She stressed that its overall implementation should not be delayed.
But Scottish Labour called on Slater to resign, saying she has "lost control of this scheme after failing to do the basics to make it work".
Meanwhile, the Scottish Conservatives have written to the three leadership candidates urging them to pause the scheme and carry out an independent review.
A ministerial statement on the scheme is expected on Wednesday.
What does the scheme involve?
The scheme is due to go live for consumers on August 16, 2023.
A 20p deposit would be added to all single-use drinks containers made of PET plastic, metal or glass. It applies to both alcoholic and soft drinks.
Consumers would then get their money back by returning the container to retailers and hospitality premises that sell such single-use products to take away.
Retailers will accept items over the counter, while larger stores, shopping centres and community hubs will operate automated receiving points known as reverse vending machines (RVMs).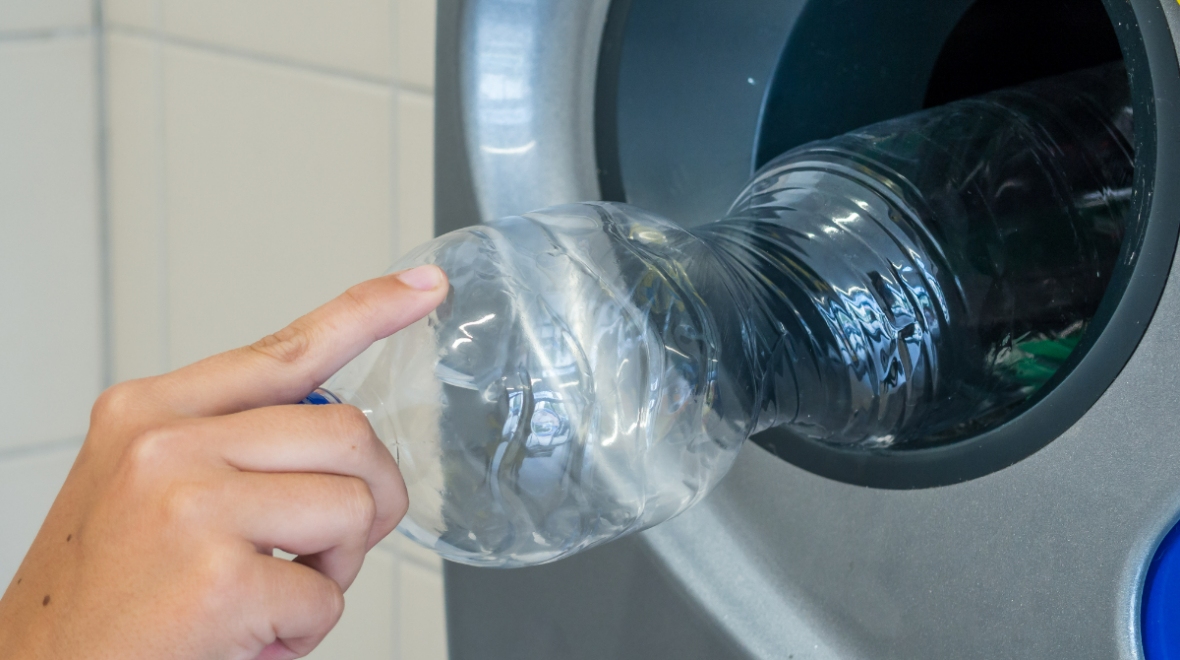 Political fallout over scheme
The row over the scheme comes as the SNP is in the process of choosing its next leader following Nicola Sturgeon's announcement that she is to stand down.
Finance secretary Kate Forbes, one of the candidates running to succeed Sturgeon, has claimed the scheme will result in "economic carnage" for business and has backed calls to pause it.
Ash Regan, another of the candidates for First Minister, has vowed she too would delay its introduction, while third contender Humza Yousaf has said he would give small businesses an exemption from its first year of operation.
Scottish secretary Alister Jack has hinted the UK Government might not agree to a UK Internal Market (UKIM) Act exemption for the scheme.
In a statement posted on Twitter, he said: "No UK Government ministers have received a formal request setting out the scope and rationale for a UKIM exemption for the Scottish Government's DRS.
"Should a request be received, it will be considered by the relevant Whitehall departments. As I have set out, the bar for a UKIM exemption is very high."
First Minister Nicola Sturgeon expressed concern at a potential intervention by the UK Government to block the devolved decisions made at Holyrood.
She said: "Many of us warned the UK Internal Market would be used to undermine devolved decision making – and I fear (hope I'm wrong) that this is coming to pass. Just as with use of s35 (Section 35 of the Scotland Act), regardless of differing views on individual issues, it is now imperative to defend the Scottish Parliament."
Who is overseeing the scheme?
Circularity Scotland Ltd have been approved as the scheme administrator.
But – similar to other deposit return schemes around the world – it will be for individual producers and retailers to meet their responsibilities. One option open to producers is to appoint the scheme administrator to discharge their obligations on their behalf.
Calls for clarity after deadline passes
The Scottish Beer and Pub Association called for clarity ahead of the Tuesday midnight deadline.
A spokesman said: "The beer and pub sector remain committed to a workable DRS, however as a result of the pledges made by leadership candidates we are now in the situation where producers are legally required to sign up to a scheme with key elements now unknown and highly likely to change when a new first minister is appointed.
"This added confusion, alongside the now unknown financial risk they could be exposing their business to, will likely see producers not signing ahead of the deadline tonight. Allowing businesses to fly blind into this is simply not acceptable and puts the whole scheme at risk of failure."
Responding to the comments made by Jack on Tuesday evening, the Scottish Hospitality Group said: "This is getting beyond disastrous, which everyone has raised and now the issue of UKIMA it seems, hasn't been asked for.
"That's like buying a pub without a license. Someone needs to come clean and take ownership for this mess."
STV News is now on WhatsApp
Get all the latest news from around the country
Follow STV News
Follow STV News on WhatsApp
Scan the QR code on your mobile device for all the latest news from around the country