A de facto referendum on Scottish independence is not off the table, Humza Yousaf has said.
The First Minister said all "legal" options will be considered by the SNP when it holds its special independence convention in June.
The idea of a de facto referendum was originally proposed by Nicola Sturgeon when she was First Minister last year.
It would involve counting all votes for the SNP as a vote for independence.
That would be used to kickstart negotiations with the UK Government, the former first minister said.
But there was debate within the party about how it would work and Westminster rejected the idea as a starting point for talks with the Scottish Government.
Yousaf has said he wants to maintain a consistent majority for independence before pushing for a vote.
Before winning the SNP leadership, the SNP leader said he was not "wedded" to the idea of a de facto referendum.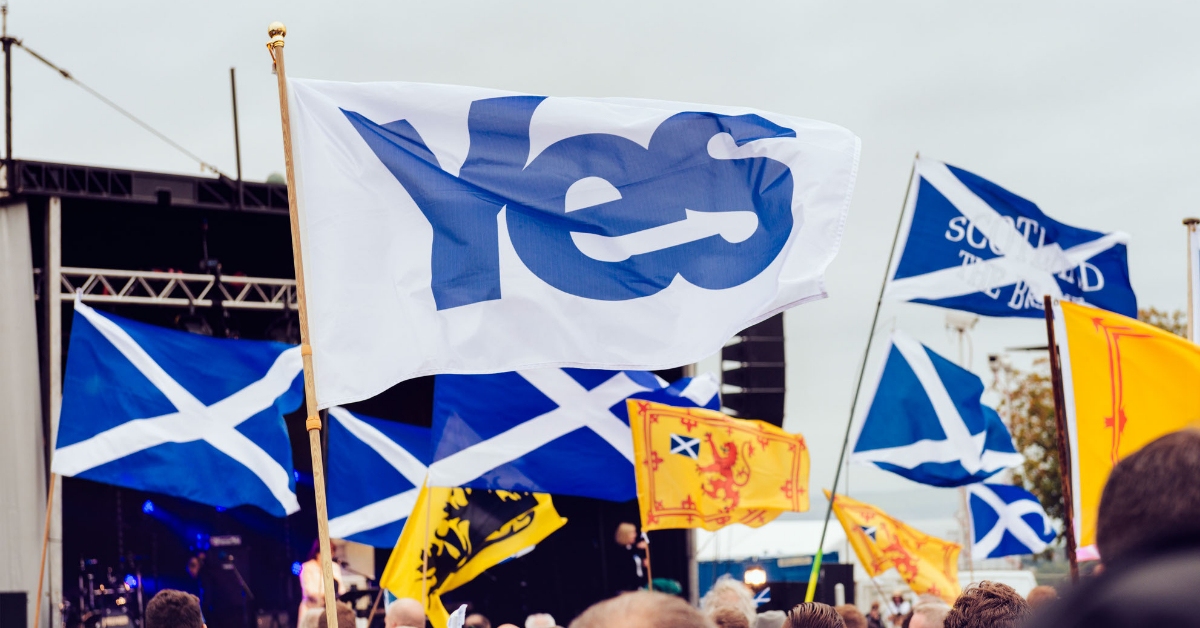 But on Monday, the First Minister told STV News that he wouldn't rule one out.
"No, [a de facto referendum] is not off the table," he said. "What we've said really clearly is that we will explore all options that are within a legal framework.
"I think that's what people would expect. So nobody's talking about doing a wildcat referendum, for example, that's just not an option that's going to be discussed.
"What we will discuss is various options that are very much within a legal framework and using a general election as a de facto referendum is certainly one of those options I'm sure the membership referendum will want to discuss."
The SNP leader's comments echoed those made by his independence minister on Sunday.
Jamie Hepburn confirmed that a de facto referendum will still be part of the discussion at the party's special convention on independence in Dundee next month.
Opposition parties have criticised the conference, with Labour and the Tories accusing the SNP of prioritising independence over issues such as the cost of living crisis.
It comes as Westminster refuses to grant a Section 30 order needed to hold a referendum
"The big problem of course is that the UK Government are denying democracy," Yousaf said.
"They have done so time and time and time again even though the SNP has won election after election on a mandate for an independence referendum.
"That's the problem. The problem is the UK Government will not respect democracy so we now have to find a further path to advance a cause that many people in this country support."
A spokesperson for the UK Government said: "People in Scotland want both their governments to be concentrating on the issues that matter most to them – like halving inflation, tackling the NHS waiting times, ensuring energy security, and growing our economy.

"We want to work constructively with the Scottish Government to tackle our shared challenges.
"That is, rightly, what families and businesses in Scotland expect."
The First Minister was speaking on the same day his government held a meeting with UK officials on an Internal Markets Act exemption for the deposit return scheme (DRS).
The SNP leader accused Number 10 of "playing politics" with the plans, which would introduce a 20p deposit on the price of drinks in cans and bottles to be repaid to the consumer when they are returned to a retailer or reverse vending machine.
He said talks with the UK Government had gone on for months but had not resulted in an agreement.
"If we don't have that exemption then the very viability of the scheme is under threat," he said.
"So we can do everything we can, from a Scottish Government perspective, we've made many tweaks to that scheme, but unless the UK Government grant an exemption by the end of this month the entire scheme is under threat."
He added: "If the UK Government can stop playing politics then we can go ahead with this scheme that other parts of the UK can then follow."
Yousaf said he had spoken to the Prime Minister about an exemption for the scheme, adding that he "hopes" DRS can go ahead as planned.
Asked if the Scottish Government should pay compensation to businesses if the scheme is delayed again or scrapped, Yousaf said: "No, because we are doing everything we possibly can within our power to make sure a scheme is ready for March 1, and that's demonstrated by the number of changes we've made to the scheme already by listening, to particularly small producers, but to industry as a whole.
"The only thing I can see that will hold up the scheme from launching on March 1 next year, is the UK Government's unwillingness to grant an exemption to the Internal Markets Act."
Circular economy minister Lorna Slater, who is overseeing the plans, suggested the UK Government should be the one liable for compensation claims.
A UK Government spokesperson said: "UK Government ministers received a formal request for a UKIM Act exclusion for the Scottish Government's deposit return scheme on March 6, 2023.
"The Scottish Government has since been reviewing and paused the scheme until March 2024 to allow it more time to address concerns raised by businesses.
"It therefore hasn't been possible yet for us to fully assess the impacts of the exclusion request on cross-UK trade, firms and consumers.
"We will continue to engage with the Scottish Government to realise our shared ambition to improve the environment while meeting the needs of consumers and businesses across the UK."