Rates of Covid-19 are higher in the poorest parts of Scotland, according to new analysis.
Official data shows 22.7% of cases were in the most deprived areas of the country, compared to 18.8% in the least deprived.
It comes as new analysis from National Records of Scotland (NRS) suggests Scots living in poorer areas are 2.3 times more likely to die than those in the least deprived parts of the country.
There was also a higher proportion of calls to NHS 24 about Covid-19 from the poorest areas, according to NHS Lothian analysis.
It found 28% of calls to the helpline were from the most deprived areas compared to 14% from the least deprived.
The figures are in a paper by Professor Alison McCallum, director of public health and health policy at NHS Lothian, for a health board meeting on Wednesday.
Weekly NRS statistics show that in terms of deaths per 10,000 of population, the highest mortality rate in Scotland is in Inverclyde – which has the largest share of Scotland's most deprived areas – on 13.2.
Other local authority areas with substantial pockets of poverty – like West Dunbartonshire, Glasgow and Midlothian – have death rates above the national average.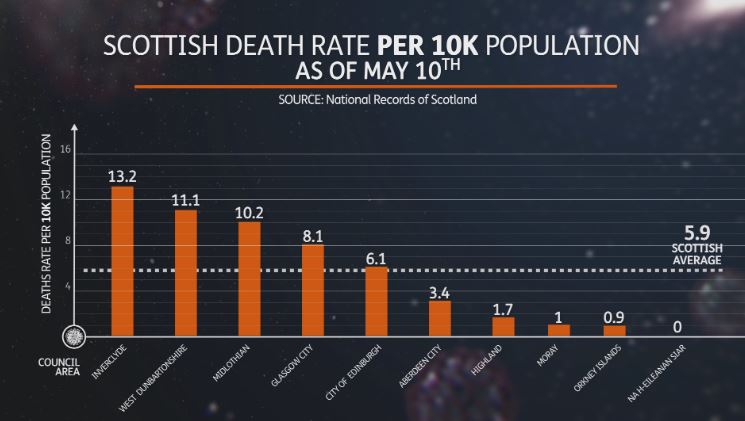 Figures announced by the Scottish Government on Tuesday showed 1912 patients in Scotland have died after testing positive for coronavirus – but counting suspected Covid-19 deaths, the figure is more than 3100.
Meanwhile, a total of 13,763 people have tested positive for the virus in Scotland – a figure believed to be a significant underestimate of the true number of infections.
Commenting on the calls to NHS24, Ms McCallum said: "Many of these callers will not have been tested.
"Without widespread implementation of test, trace, isolate and support, therefore, while this reflects the expected pattern of symptoms in the community it is not clear whether this will be the pattern of true positives that persists throughout the pandemic."
She added: "In Scotland, just under 23% of confirmed cases live in the 20% areas with the highest levels of multiple deprivation, but the preliminary analysis of confirmed cases undertaken to date shows no overall trend by deprivation group.
"This relationship is currently being explored in more detail following the publication of data from the Office for National Statistics that suggests that key workers in roles that involve significant face to face interaction with the public have a higher likelihood of testing positive."
Jim McCormick, associate director in Scotland at the Joseph Rowntree Foundation, said: "It can never be right that someone's life chances are so profoundly affected by where they live or how much money their family has.
"It's crucial that all aspects of the spread of this virus are carefully examined, but we know that people in areas with higher deprivation scores are less likely to have jobs where they can work from home.
"This means they may have to face a very significant drop in income or keep going to work, facing greater risks of catching virus.
"They are also more likely to live in overcrowded homes, increasing the risk for whole families. This just is not right."
STV News is now on WhatsApp
Get all the latest news from around the country
Follow STV News
Follow STV News on WhatsApp
Scan the QR code on your mobile device for all the latest news from around the country