Around 2000 contact tracers will be recruited to support a mass "test, trace and isolate" policy once lockdown begins to ease, Nicola Sturgeon has said.
Outlining the Scottish Government's test, trace, isolate (TTI) strategy, the First Minister said it would aid the lifting of lockdown restrictions.
She said the strategy would only work if the public adheres to it, adding it was not a "quick fix or magic solution" and would need to be done alongside current hygiene guidance.
Speaking at the government's daily press briefing on Monday, Sturgeon said moves were being made to deliver a TTI strategy by the end of May.
However, she added testing capacity would likely have to rise to 15,500 per day to support the approach.
The First Minister revealed on Friday a total capacity in Scotland for more than 8000 tests a day, with plans to raise it to 12,000 by mid-May.
The Scottish Government paper on the TTI strategy can be found here.
Sturgeon raised the possibility of a "proximity app" which, using Bluetooth technology, would inform anyone who has been in contact with a symptomatic person through a mobile phone alert.
Countries like Singapore, South Korea and Norway have had such technology in place for weeks.
The First Minister said the Scottish Government was not building its strategy around the app.
She added the use of the app would need the confidence of the public, both in the use of data and in the ability of the technology to work.
Sturgeon said the TTI strategy was "for the future", asking people to continue to adhere to the current lockdown measures.
She said that she wanted to be delivering a daily briefing "in a few weeks" saying that the measures are being eased.
But the FM added: "My big worry is that if we ease up now then I won't be able to do that."
TTI: How will it work?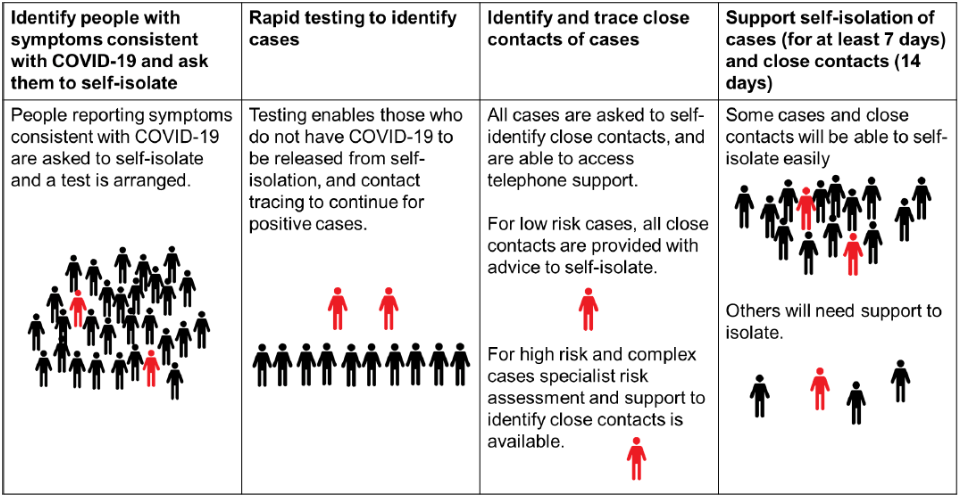 In the future, as new cases begin to fall – as the government hopes – to more manageable levels, TTI is intended to track down those new cases that do appear as quickly as possible.
This is not yet Scottish Government policy – for now, if you develop symptoms consistent with coronavirus, like a new, persistent cough or a high temperature, you are still asked to stay at home for seven days without contacting the NHS (unless your condition doesn't improve after a week, or your condition worsens).
Officials need to continue to ramp up mass testing, hire the contact tracers and build the other necessary infrastructure for TTI before it can fully get going.
They'll also need to be confident that cases are well on their way down, and that Covid-19's reproduction rate (the number of people each infected person infects in turn) is comfortably below one.
But once TTI is fully rolled out – possibly with an accompanying app – you will once again, as you were in early March, be asked to inform the NHS if you suspect you have coronavirus.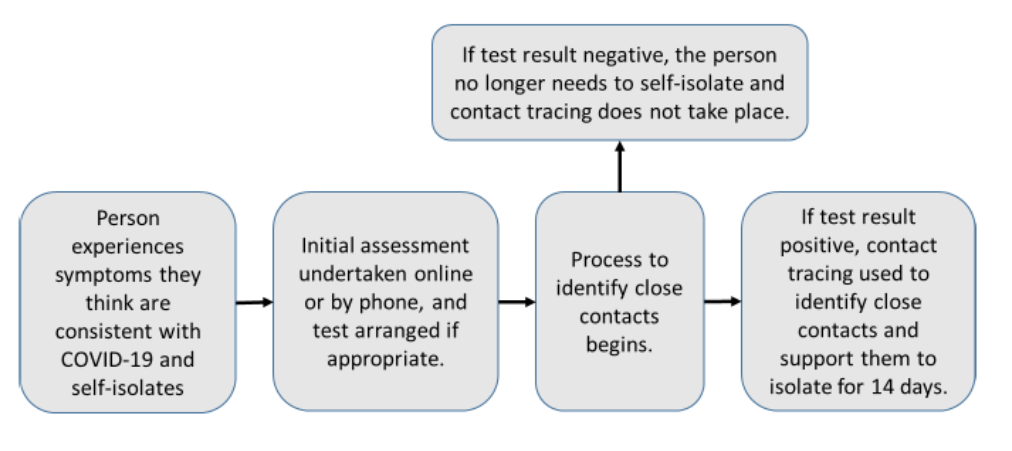 Provided health professionals agree with you after an initial assessment online or over the phone, you will be asked to – and supported to – self-isolate immediately as a test is arranged.
You will be asked to identify all your recent close contacts – people who have been in close proximity to you for a sustained period of time (15 minutes or more). Digital tools like the "proximity app" will aid with this work, identifying contacts you might be strangers to you, for example, someone you might have sat close to on public transport.
The government says it will ensure tests are accessible to all who need it, whether an NHS worker needs to visit you, a drive-through appointment needs to be made or a home testing kit can be delivered to you.
If the test is negative, you will no longer need to be in isolation and contact tracing can be stopped.
If the test is positive, however, you will be asked to stay in self-quarantine for seven days, and all your contacts for 14 days.
If you cannot stay at home, the government says it will support you to find alternative ways to self-isolate, as well as ensure you can access essentials like food and medicine.
STV News is now on WhatsApp
Get all the latest news from around the country
Follow STV News
Follow STV News on WhatsApp
Scan the QR code on your mobile device for all the latest news from around the country