The number of deaths involving coronavirus in Scotland has risen to more than 1000.
As of last Sunday, April 12, total registered deaths where Covid-19 was cited on the death certificate numbered 962.
The weekly figures from the National Records of Scotland (NRS) include suspected and confirmed coronavirus cases as well as those who died in the community.
Health Protection Scotland (HPS) publishes deaths on a daily basis of confirmed Covid-19 cases, and as of Wednesday the official death toll has risen by 133 this week.
It would suggest total deaths involving the virus in Scotland to date number at least 1095, not including suspected coronavirus deaths registered so far this week
One in four deaths linked to Covid-19 in Scotland have occurred in care homes, according to the NRS statistics.
The records run up to Sunday April 12, with daily deaths of confirmed coronavirus cases counted separately by HPS.
Speaking at the Scottish Government press briefing on Wednesday, Nicola Sturgeon said the death toll of confirmed Covid-19 cases stands at 699 – up 84 from the 615 reported on Tuesday.
She said this increase in deaths in larger than in previous days in part due to lower weekend reporting.
The First Minister said there are now 6748 people who have tested positive for the virus in Scotland, a rise of 390 on the day before.
But she highlighted lower numbers of people with suspected or confirmed Covid-19 in hospital as a reason for "very cautious optimism".
There are 1748 patients with the disease in hospital, a decrease of 53, while 195 of those are in intensive care – down by one.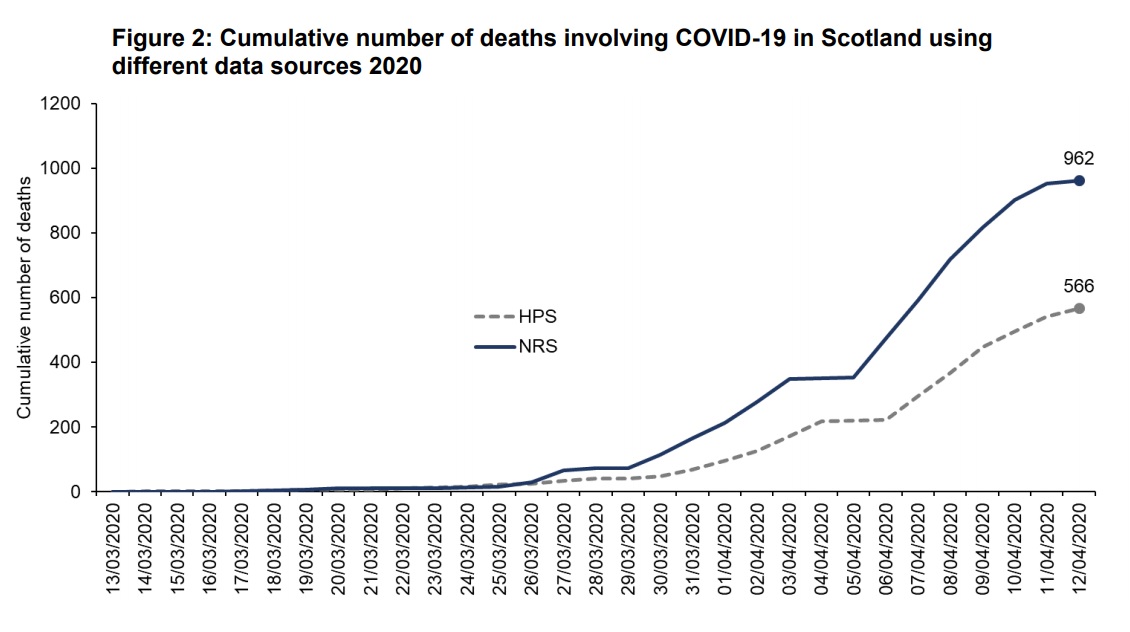 The total of 962 deaths registered with NRS as of Sunday compared to just 566 reported by HPS that day.
It's an increase of more than 600 deaths from the figure of 354 the NRS announced last week.
A total of 62% of deaths were in hospitals, 25% of deaths were in care homes and 13% were at home or in a community setting.
Of all deaths involving Covid-19, 56.5% were male (544) and 43.5% were female (418).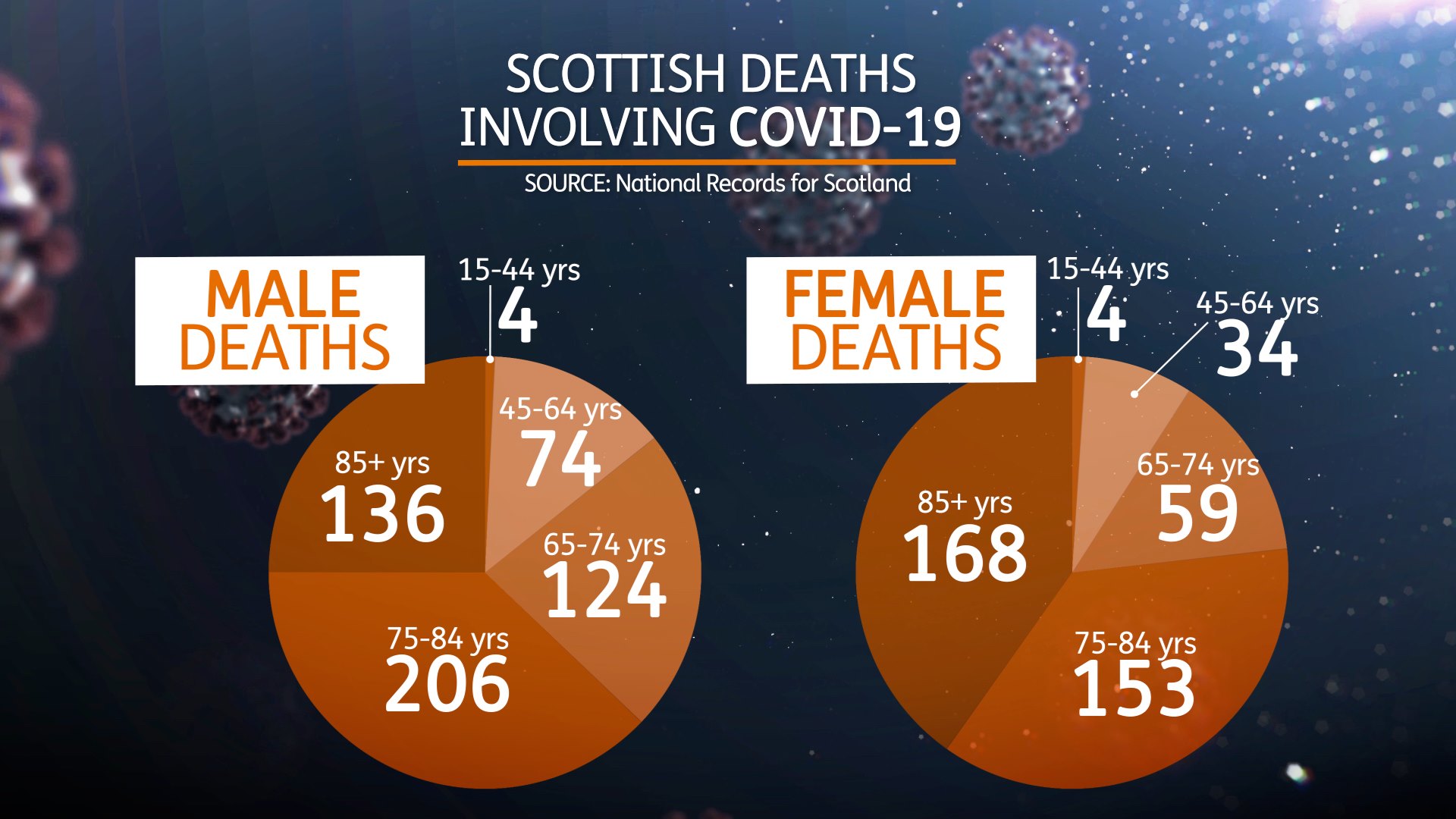 The total number of deaths registered in Scotland from to April 6 to April 12 was 1969.
This compares to an average number of 1100 deaths registered in the same week over the last five years.
Deaths involving Covid-19 accounted for 31% of all deaths registered last week.
A total of 315 coronavirus-linked deaths occurred in the Greater Glasgow and Clyde area.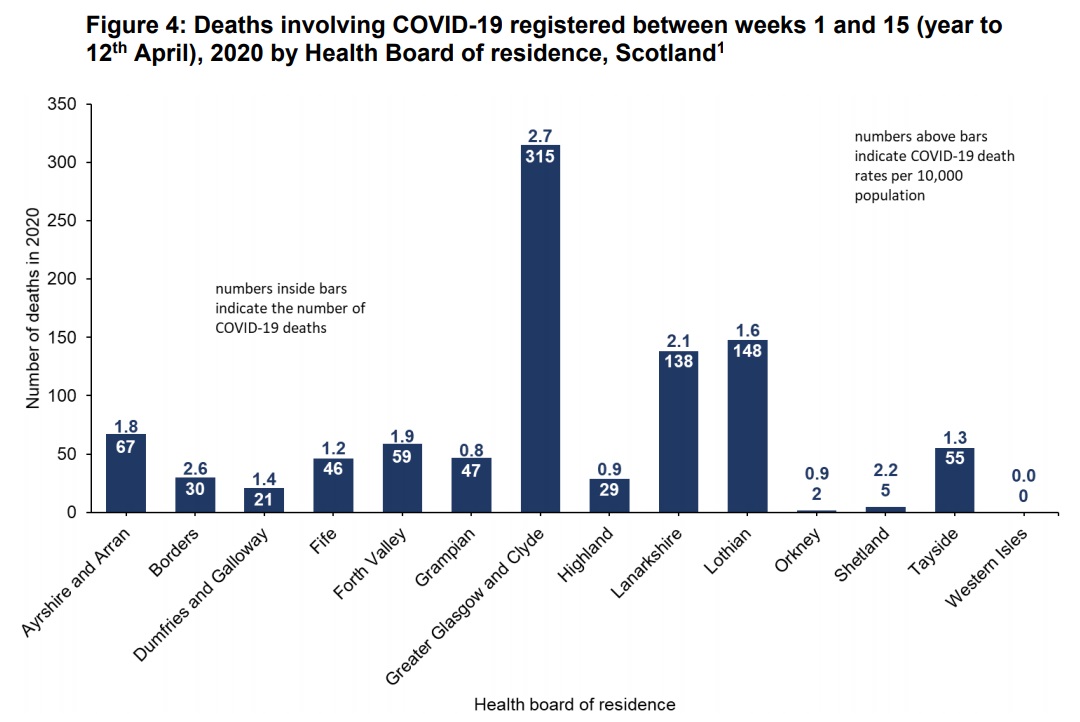 Lothian has become the second health board area after Greater Glasgow and Clyde to exceed 1000 confirmed Covid-19 cases, with 1040 reported as of Wednesday – up by 51 in the last 24 hours.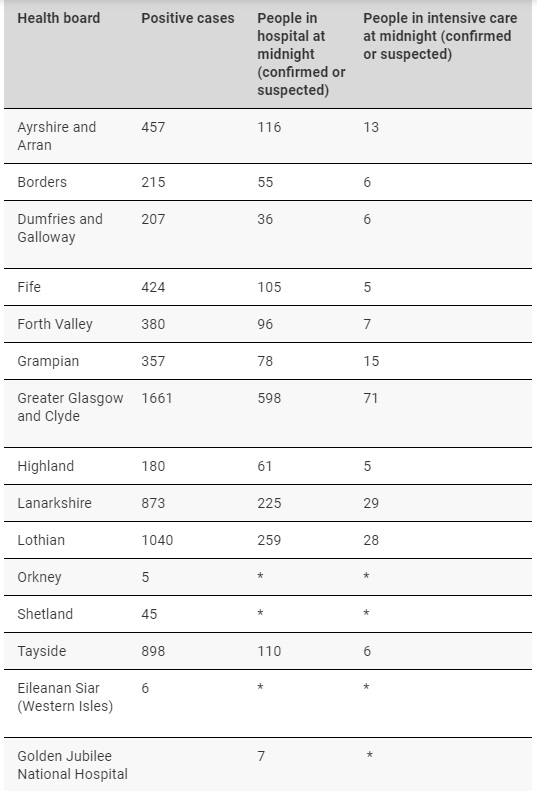 Cases have risen by 86 in Greater Glasgow and Clyde to reach 1661, while in Tayside there are 898 Covid-19 patients, a rise of 72, and in Lanarkshire they are up 51 to stand at 873.
There are more than 400 cases each reported by NHS Ayrshire and Arran and NHS Fife, while Forth Valley and the Grampian regions each have over 300 and cases in the Borders and Dumfries and Galloway exceed 200.