Who knew that the Prime Minister could get quite excited about knots?
Rishi Sunak has plenty of knotty problems to work on, the cost-of-living crisis, the NHS crisis, high inflation and energy bills; to say nothing of the political problems of leading a difficult Conservative government as the third prime minister in record time.
On his first visit to Scotland as PM, Rishi Sunak met members of the Muirton Sea Scouts in Inverness and seemed to get genuinely excited by the knots they were tying. To be fair, they were pretty good, way beyond the basic reef knot, which is about all I can remember. I was more impressed with Scottish secretary Alister Jack, who proved he could tie a perfect bowline.
Earlier, he had met crew at Inverness Search and Rescue. If it had been Boris Johnson, he would have sat in the helicopter posing for pictures, but not Rishi Sunak; he shook hands and talked earnestly.
Then it was on to have a salmon dinner with the First Minister and, both sides say, cordial talks. Now cordial can mean warm and friendly, but a lemon or lime cordial can also be pretty sharp and sour.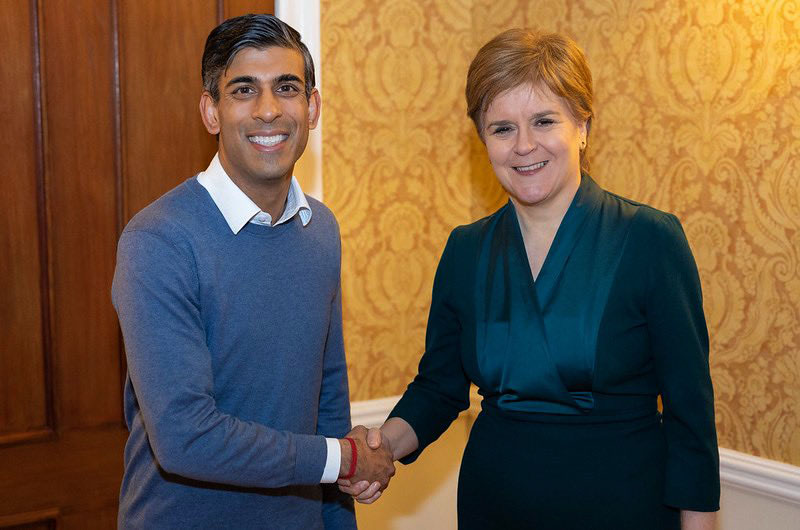 I suspect the meeting was a bit of a mix of all of that. Warm and friendly compared to meetings with Johnson or meetings that never had time to even happen with Liz Truss, but maybe a bit sharper over the NHS crisis, planned anti-strike legislation and Scotland's future.
Today, the Prime Minister spoke to the media at Invergordon. In his interview with me, he dismissed suggestions he put more money in to the NHS pay offer to end strikes in England and avoid them in Scotland, he said the UK Government is still considering whether to block Holyrood's gender recognition reform bill, and when I asked about independence and the union, he assured me that after speaking to people in the Highlands last night and this morning he was sure what they wanted was for both governments to work together.
That may well have been what the earnest conversations with the search and rescue staff were about, it's not what I heard the Inverness Sea Scouts talking about. They wanted to know what Larry the Downing Street cat was like, apparently he can be quite vicious. They also wanted to toast marshmallows, which the PM helped with but notably didn't eat! It may also have been what he talked about in Invergordon, although I suspect most of the conversation at Cromarty Firth Port Authority this morning was about the area getting freeport status.
As far as my questions went, he avoided many of them as skilfully as some of his predecessors, and much better than he did before he was Prime Minister, but what was notable was he was much more open to media access than some of his predecessors, and that really is progress.