Political parties in Scotland are calling on Boris Johnson to resign over a lockdown-busting Downing Street drinks party allegedly attended by the Prime Minister and his wife Carrie.
The Scottish National Party, Scottish Labour, the Scottish Liberal Democrats and the Scottish Greens all said on Tuesday that Johnson's position is untenable.
It comes after Martin Reynolds, the Prime Minister's principal private secretary, sent an email to more than 100 Downing Street employees inviting them to "make the most of the lovely weather" in the garden during the first lockdown.
All four UK nations were under tough coronavirus restrictions banning groups from meeting socially outdoors when the message was sent on May 20, 2020.
SNP Westminster leader Ian Blackford MP said: "Boris Johnson must come clean and admit whether he attended, or was aware of, this Covid rule-breaking party in his own back garden.

"People will find it utterly outrageous that while the rest of us were banned from public gatherings, the most powerful people in the Tory government were boozing up at No 10 Downing Street – proving yet again, that it's one rule for them and another for the rest of us.
"Boris Johnson's Tory government is the most corrupt in decades. If the Prime Minister had a shred of integrity or an ounce of shame, he would have resigned many months ago. He has no moral authority left, and as he won't go – his Tory MPs have a duty to remove him from power.

"Sleaze and corruption are endemic at Westminster. The only lasting solution is for Scotland to become an independent country and escape the broken Westminster system for good."
Scottish Labour leader Anas Sarwar described Johnson as a "liar, corrupt and a joke", adding the "joke's not funny anymore".
Writing on Twitter, he said: Boris Johnson is not fit to be Prime Minister. He must go. We need to unite our country to not just oppose the Tories, but to replace them."
The row comes after an email exclusively shared with ITV News shows evidence of a party on May 20, 2020, when meeting more than one person outdoors was banned.
The email was sent to more than 100 employees in Number 10, including the prime minister's advisors, speechwriters and door staff.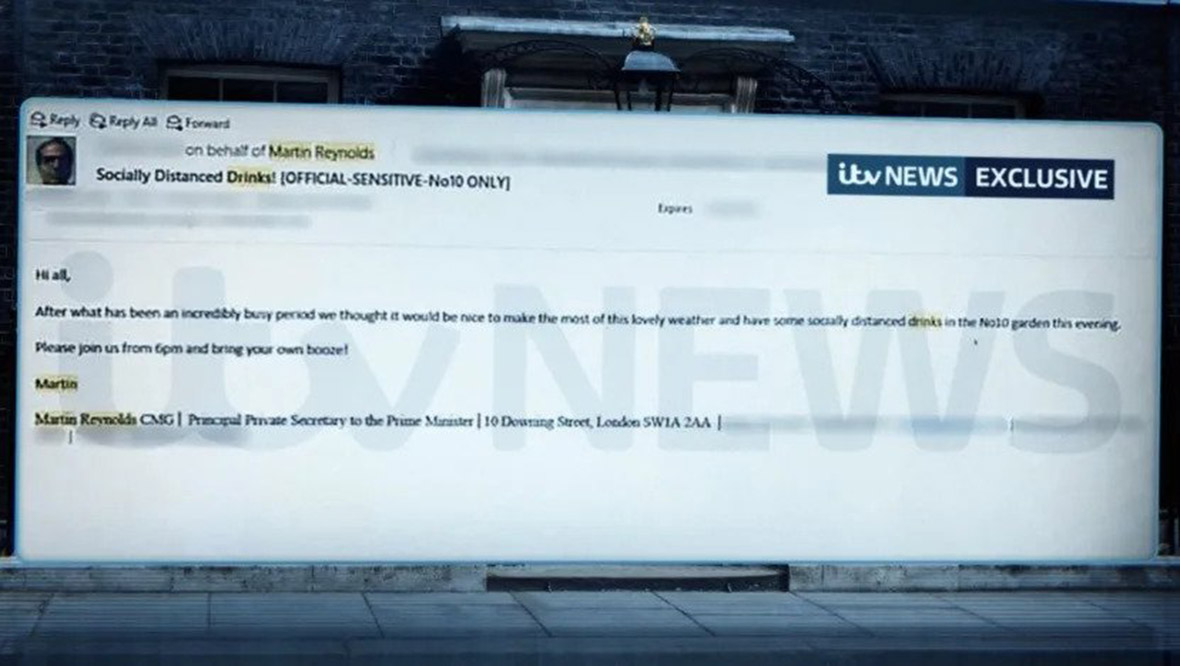 The email said: "Hi all, after what has been an incredibly busy period we thought it would be nice to make the most of the lovely weather and have some socially distanced drinks in the No10 garden this evening. Please join us from 6pm and bring your own booze!"
ITV News understands around 40 staff gathered in the garden that evening, eating picnic food and drinking. Crucially, they included the PM and his wife.
UK health minister Edward Argar told the BBC on Tuesday: "I can entirely understand why people who've lost loved ones, or people who've just had their lives hugely disrupted by these restrictions, are angry and upset by these allegations."
But he refused to be drawn on details of the May, 20, 2020 "socially distanced drinks", insisting that it was a matter for the investigation into Whitehall parties being carried out by senior official Sue Gray.
He said that "appropriate disciplinary action" should be taken if rules were broken – something that could prove incredibly awkward for the Prime Minister if he is found to have attended, as has been claimed by sources including former aide Dominic Cummings.
Johnson refused to say whether he was at the event when questioned by reporters on Monday.
Argar said Gray "can go with this investigation where she needs to, without fear or favour", and said he hoped her findings would be published "swiftly".
But former Scottish Tory leader Baroness Davidson said: "This line won't survive 48 hrs. Nobody needs an official to tell them if they were at a boozy shindig in their own garden.
"People are (rightly) furious. They sacrificed so much – visiting sick or grieving relatives, funerals. What tf were any of these people thinking?"
The Metropolitan Police confirmed it is liaising with the Whitehall department over the latest claims.
Scottish Liberal Democrat leader Alex Cole-Hamilton MSP said: "While my constituents said goodbye to their loved ones via Zoom, Boris Johnson's private secretary was telling staff to bring their own booze for a garden party knees up.
"It's one rule for them and one rule for everyone else.
"Douglas Ross previously said that this was a red line. Now that it is clear that the Prime Minister has repeatedly lied to the public, surely Douglas must be submitting his letter of no confidence and helping to oust this party Prime Minister."
Gillian Mackay, Scottish Greens MSP for Central Scotland, said: "Not only has the Prime Minister and those in his inner circle breached the rules he laid down for the public, but they've done so repeatedly and deliberately, they've tried to cover it up, and some have even been caught laughing about it.
"This is no laughing matter for those of us who have lost a loved one during the pandemic. Mr Johnson is utterly unfit to be Prime Minister and it is time for him to go."
Scottish health secretary, Humza Yousaf, meanwhile, accused the PM of "mocking" those who lost loved ones to the virus, as he called for Johnson to resign, saying he has "no moral authority to lead".
He said: "If you lost a loved one to Covid, know that this PM is mocking you, laughing at you and trying to gaslight you.
"(The) PM has spent a lifetime trying to evade the truth, but he has run out of track. He has no moral authority to lead and, for once, should do the honourable thing and resign."