Boris Johnson can be seen raising a glass at a leaving party in Downing Street at the height of the Covid-19 lockdown in new photos published by ITV News.
The latest photographs highlighted by ITV News come in the wake of the conclusion of the Met Police's investigation into the issue, which resulted in 126 fines being issued for at least eight events.
Meanwhile, discussions over the release in full of Sue Gray's report have been ongoing, with Johnson having met with Gray.
After the revelations of several rule-breaking gatherings being held at No 10 and across Whitehall, Johnson had earlier told MPs that "all guidance was followed completely".
But, in April this year, he was fined along with Chancellor Rishi Sunak by the Metropolitan Police for breaching the same coronavirus regulations that he set out.
He later issued an apology in the House of Commons as he said he acknowledged the "hurt and anger".
And he told Parliament that people had a "right to expect better" of their Prime Minister.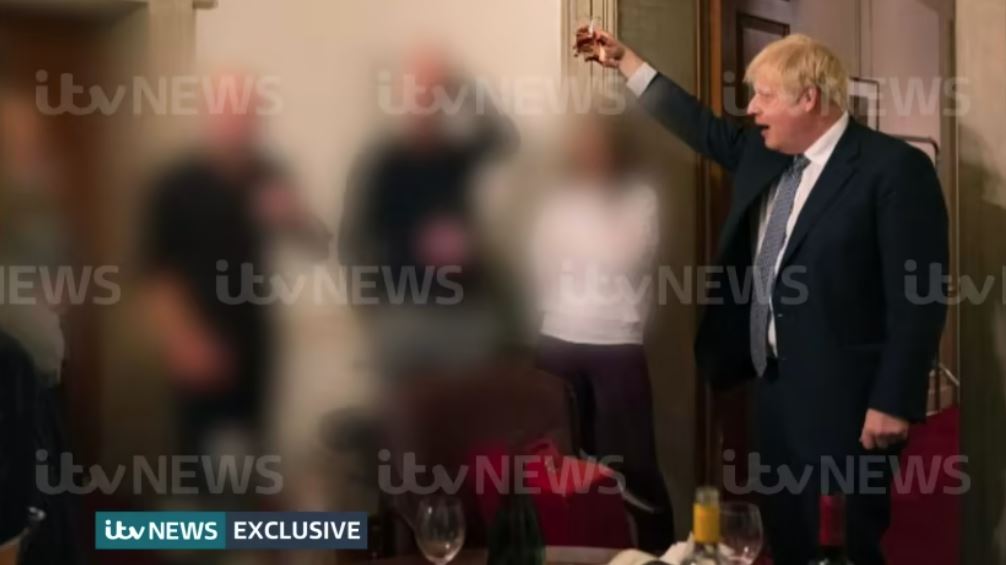 ITV on Monday said that although it cannot reveal the identities of all the participants at the gathering, they deemed that it is in the public interest to publish the photographs.
They show Johnson standing next to aides holding glasses of alcohol, whilst he raises a glass in what appears to be a toast.
An investigation is also set to be carried out by Westminster's Privileges Committee into whether the Prime Minister knowingly misled Parliament in denying that he had knowledge of the parties.
Doing so would be a breach of the ministerial code and is seen as a matter of resignation.
SNP Westminster leader Ian Blackford once again called for Johnson to resign as Prime Minister over his breach of coronavirus rules.
"These pictures clearly show, as the police investigation concluded, that parties did indeed take place at Downing Street during lockdown, and that the Prime Minister was there. It is sickening," he said.
"Boris Johnson told us firstly that no parties took place during lockdown, then he said he wasn't at them and that he was angry about them. He is a serial liar and cannot be allowed to get away with it.
"It is truly a disgrace that Tory MPs are keeping him in Downing Street – he demeans the office that he holds. It is time for them to do the decent thing, for once, and get rid of him.
"This charlatan should be an ex-Prime Minister by now."
Scottish Labour leader Anas Sarwar added: "This proves that Boris Johnson lied to Parliament and lied to the people.
"He has been taking us all for fools.
"No more excuses, no more lies, and no more false equivalences – Boris Johnson has to go."
Scottish Green MSP Gillian Mackay said: "These images are shocking, and they prove that the Prime Minister has lied. They prove that he has lied repeatedly to the public and to Parliament."

"Every day that Boris Johnson remains in office is an insult to the millions of people who made sacrifices and had their lives turned upside down by the pandemic.
"If he had even a shred of dignity or integrity he would have resigned months ago."

"He has lost all credibility and cannot be allowed to drag it out any longer. Nobody who lies so freely is fit to be an MP, let alone a Prime Minister. It is time for him to finally take responsibility and go."
Scottish Liberal Democrat leader Alex Cole-Hamilton added: "These photographs obliterate the Prime Minister's claims that he did not know of any rulebreaking during lockdown and that the rules were followed at all times. While the public made huge sacrifices, he partied in Number 10.
"The public are not stupid. They understood perfectly well that the Prime Minister was lying to them. The only people who fell for it were Conservative parliamentarians.
"This is a key moment for Douglas Ross. He should condemn the lawbreaking and lies of a Prime Minister who is only out for himself and finally resubmit his letter of no confidence.
"If he doesn't do that then he will be proving to the public that he will always put the interests of the Conservative party ahead of the interests of the country.
"Every day Boris Johnson remains in office will do more damage to public trust and to our democracy."
Scottish Conservative leader Douglas Ross said: "These images will rightly make people across the country very angry. 
"The Prime Minister must outline why he believes this behaviour was acceptable. To most, these pictures seem unjustifiable and wrong."