It was, in all honesty, the poorest speech from a Prime Minister to a party conference that I have ever heard. Monotone and leaden, it was long in platitudes and short on detail. 
It was poorly scripted and seemed written to bury any notion of rhetorical flourish to get the delegates to their feet.
In short, it will fuel the case of those who fear the Tories have made a huge mistake in electing Liz Truss as leader and Prime Minister.
Division has been the key feature in Birmingham with ministers and backbench MPs all singing from different hymn sheets.
Did she confront the divisions, lay it on the line that if they continue the party will lose the next election? Did she try and impose discipline and assert authority?
No. She ignored the divisions in a remarkable display of 'fingers in ears' to the dissent that has wrecked this conference.
During the Conservative leadership contest, she was forced to U-turn on her view she wouldn't be presiding over handouts. She had no option but to help struggling households with energy bills, so that mantra was binned.
On Sunday, she insisted the 45p tax rate would be cut, only to change tack the following day. No sooner had she mismanaged that policy when she was put on the backfoot by suggestions benefits would not be uprated by inflation.
The simple truth is that the Prime Minister is now hostage to permanent crisis, some of her own making, some at the hands of internal malcontents and some at the mercy of events beyond her control.
It does not help that she has a 'rabbit in the headlights' persona and a presentational style which is hesitant and effortlessly exudes inarticulacy.
To the speech itself.
It was philosophical in nature, banging the drum for economic growth and lauding enterprise and personal responsibility. It placed the Tories as a low tax, smaller state party.
There were three key pledges which flow from her beliefs. One, she will lower the tax burden. Second, she will keep an 'iron grip' on public spending, and third, she will drive economic reforms by cutting red tape and tapping into the benefits, as she saw it, of Brexit Britain.
What we did not get was detail. The speech was a long attack on sluggish growth. At one point she pointed to her Paisley childhood and boarded up shops and lack of enterprise. I thought, 'silly line, this happened on the watch of a Conservative government led by Margaret Thatcher'.
Indeed, if growth has been so lousy, she must implicitly accept her party is at fault since they have governed for the last 12 years.
What is obvious now is that public spending will be slashed to pay for tax cuts. With the NHS budget beyond cutting and defence spending to hit 3% of GDP by the end of the decade, the huge benefits bill looks set to be cut in real terms. 
She might need to uprate benefits by inflation this year in order to crush another rebellion and, in all probability, a run on her leadership.
In her speech, she re-asserted the independence of the Bank of England and accepted the necessity of higher interest rates.
She told voters that 'we have your back?'. What will that mean when households must find hundreds more for mortgages many will not be able to afford?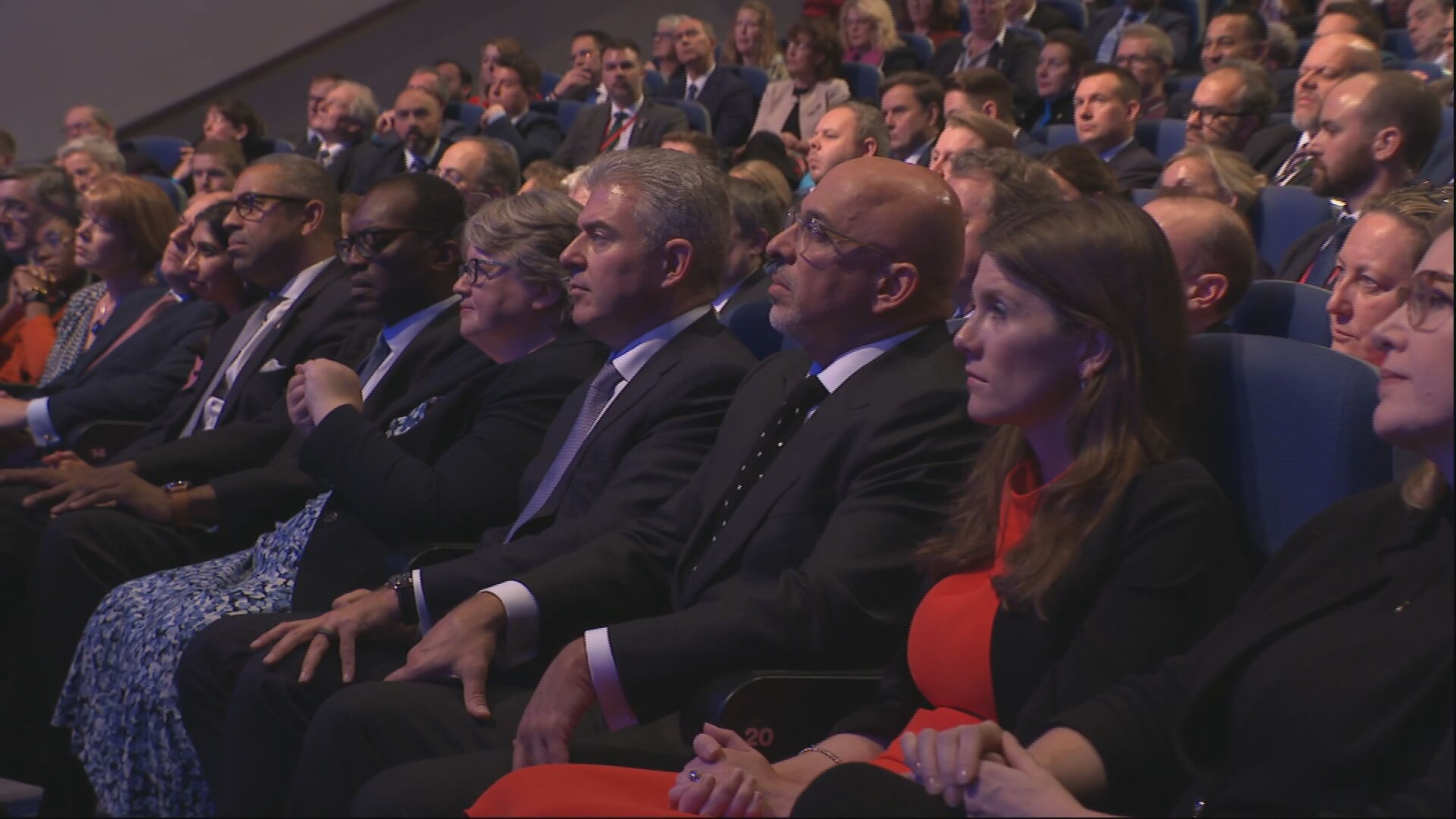 The fact is that the reality of a crisis in household finances demands the kind of action totally at odds with her small state ambitions, which is why many on the right wing of the Conservative party will lose patience quickly with her.
The loudest applause came with an attack on Vladimir Putin and a declaration that Ukraine would win the war. They liked it and roared their approval.
The TV cutaways showed a cabinet nodding their approval, trying to do their bit to salvage the disaster of the last four days.
Greenpeace protestors managed to smuggle a banner into the hall and orchestrate a demonstration, interrupting the speech. Another wobbly moment in a week full of them. 
This conference needed a show of unity, the speech of her life to persuade the country she is a figure of substance who can be trusted to navigate stormy days.
What voters got was policy change fuelled by internal dissent and a speech which just stopped. There was no discernible peroration, no call to arms, no rousing declaration. It just stopped and she stared and smiled.
Many must have been asking, is that it?
That indeed was it. A substance-free address and one that will fuel the view she will not lead her party into the next election. 
STV News is now on WhatsApp
Get all the latest news from around the country
Follow STV News
Follow STV News on WhatsApp
Scan the QR code on your mobile device for all the latest news from around the country