The people of Rutherglen and Hamilton West have "spoken for all of Scotland" as they seek change from "two failing governments", Anas Sarwar has said.
The Scottish Labour leader was buoyed by the recent by-election victory as he gave his keynote speech at the party's conference in Liverpool.
He promised the "best is yet to come" as the party's newest MP marked "just the start" of Labour's rise.
Michael Shanks became Scottish Labour's second MP on Friday after a 20.4% swing at the South Lanarkshire ballot.
He won 17,845 votes – more than double the SNP on 8,399, with a turnout of 37.19%.
Sarwar told Labour members the by-election win had "shaken Scotland to the core".
"On Thursday night we made history and changed the face of Scottish politics," he said. "The tectonic plates have shifted.
"The people of Rutherglen and Hamilton West have spoken for all of Scotland and sent a message to two failing governments: that they want an end to the incompetence, an end to the chaos and an end to the division.
"An end to the politics which pits community against community, pits Scot against Scot and puts the status quo before change.
"They voted for change and for a party that will give Scotland its future back."
Sarwar told the event – likely the last major Labour conference before the next election – that the route to a future Labour government would run through Scotland.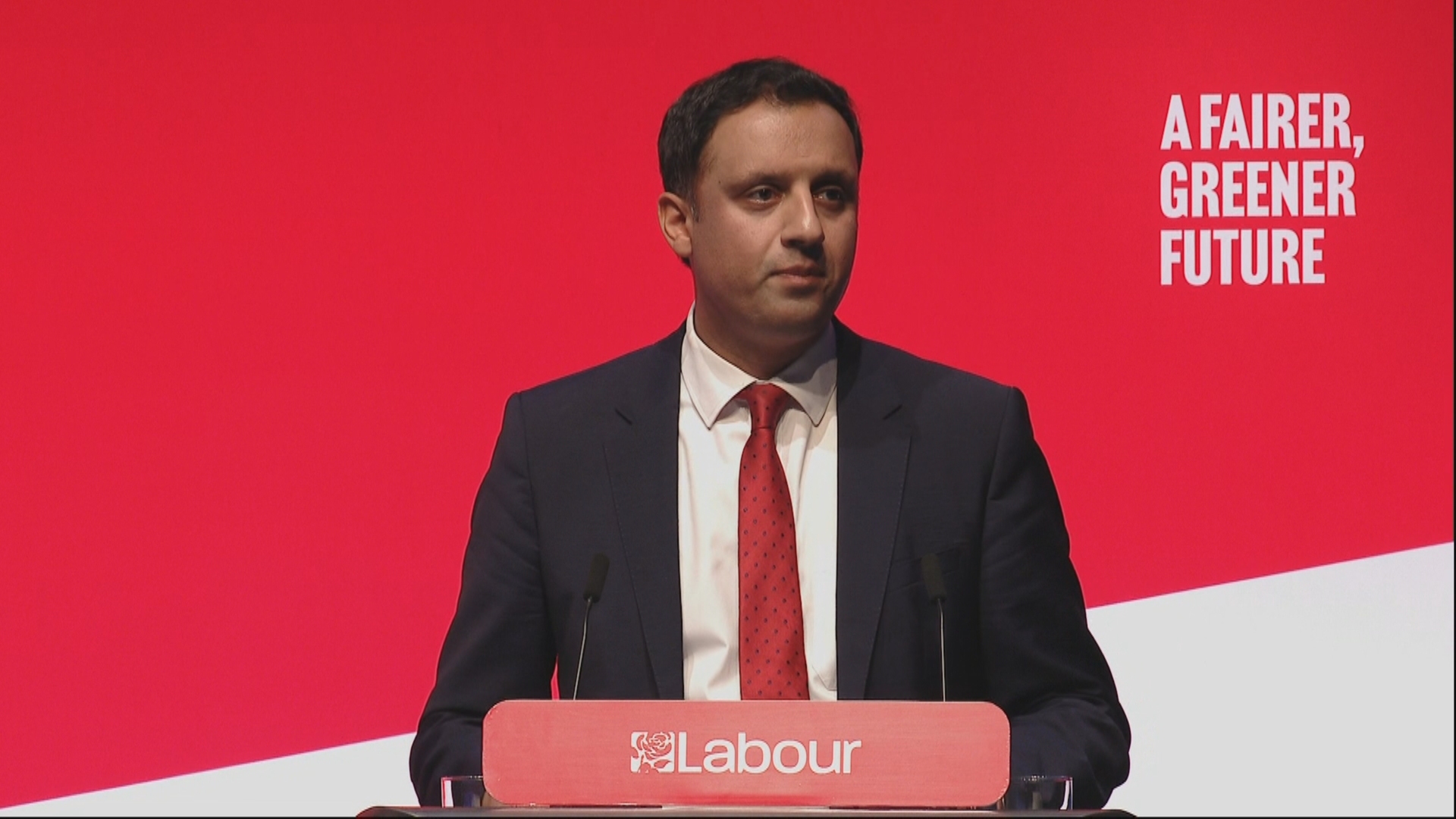 He said: "I reflect back to when I became leader two years ago – Scottish Labour was 32 points behind the SNP in the polls.
"People were talking about Scottish Labour's survival, not its revival.
"But two years on we have gone from 32 points behind the SNP to winning our first parliamentary by-election for over 12 years.
"From a 32% deficit to an over 20% swing to Labour. Proof that Scotland will lead the way in delivering a UK Labour government."
'Labour can rid the UK of a Tory government'
He said the by-election win shows what Labour could achieve at the next general election.
He said: "The change we've seen in Scotland would not have been possible if over the last three years Keir Starmer hadn't worked to change our Labour Party.
"In that time, we've gone from our worst result since the 1930s to now being seen as a force that will finally rid our whole country of this rotten, lying, out of touch, corrupt, far-right crank-fest, conspiracy theorist-ridden Tory government."
Pitching Labour as the party of change, Sarwar accused the SNP and Tories of "forgetting" that politics is about "serving the people of Scotland".
Scots were paying the price for the failure of governments in Holyrood and Westminster, he told the audience in Liverpool.
He said the "tide of change" will sweep "out of touch" politicians away.
'Yes voters are desperate for change'
The Labour leader also made a pitch to Yes voters who he said were "desperate for change".
"I want to speak directly to people outside of this hall," he told the conference. "To people who voted for other parties or who even voted Yes in the past but who are now looking at Labour.

"I understand your frustration. I understand why you are desperate for change.

"I understand why you have wanted to run a million miles away from this morally bankrupt Tory government.
"But I believe that we can work together to boot them out of Downing Street.
"Because the next General Election is an opportunity for change."
He pledged thousands of new, highly-skilled jobs under Labour, powered by a publicly-owned GB Energy company headquartered in Scotland.
He said Labour would provide a new deal for workers and ban zero-hours contracts.
"There is now only one party of change," he said. "Only one party that can transform lives. Only one party that will make every corner of our country flourish.
"Only one party that will stand up for working people. Only one party that will deliver the brighter future we need.
"That party is Labour. Conference, change is coming. Let's go out there and win the future together."
'The same tired slogans shuffled in a different order'
Scottish Conservatives criticised the speech for what it said was a lack of substance – and too much agreement with the SNP.
Craig Hoy MSP said: "Anas Sarwar's speech was the same tired slogans shuffled in a different order.
"Once again, the Scottish Labour leader had nothing new or of substance to say because he has little to no disagreement with how Humza Yousaf is running Scotland.
"Labour voted for the SNP's Gender Reform Bill and support their plans to throw tens of thousands of North Sea oil and gas workers on the scrapheap.
"The Scottish Conservatives are the only party voters can trust to stand up to the SNP at Holyrood and the only party that can beat them in a number of two-way seats at next year's General Election."
SNP deputy leader Keith Brown said: "Labour's Scottish branch office can't be trusted to stand up for the people of Scotland and will only answer to Sir Keir Starmer, who is abandoning all principles to get his hands on the keys to Downing Street.
"Time and time again, we've seen Scottish Labour's pledges crumble as Sir Keir Starmer lurches to the right, with Labour now backing the Tories' cruel two-child limit and rape clause, a hard-Brexit that is devastating Scotland's economy, U-turning on devolving employment law to the Scottish Parliament, rowing back on scrapping zero hour contracts, and abandoning pledges to increase sick pay and parental leave pay.

"By stark contrast, the SNP is making a difference right now to support households through the cost of living crisis, reduce poverty and deliver a Just Transition to net zero.
"Through the SNP's actions in government, an estimated 90,000 children have been lifted out of poverty, underpinned by our transformational Scottish Child Payment.
"The people of Scotland deserve better than Sir Keir Starmer's pathetic pro-austerity, pro-Brexit offering of the Tory status quo."
STV News is now on WhatsApp
Get all the latest news from around the country
Follow STV News
Follow STV News on WhatsApp
Scan the QR code on your mobile device for all the latest news from around the country