Anas Sarwar has called for an immediate ceasefire between Israel and Hamas.
The Scottish Labour leader said the Middle-Eastern country must urgently allow humanitarian aid into Gaza as charities warn food, water and medicine are running out.
He said all hostages taken by the Hamas militants during their attack on Israel earlier this month must be released.
Asked by STV News on Thursday he initially refused to use the word "ceasefire".
But posting on social media on Friday, he said: "We are all so desperate for peace and are desperate to see the end of violence.
"And that is why we need to see the immediate release of hostages, immediate access to humanitarian supplies, food, medicine, electricity, water, into Gaza.
"The immediate cessation of violence, with an end of rocket fire into and out of Gaza.
"And let me be clear, that means a ceasefire right now."
It comes just hours after London Mayor Sadiq Khan called for a ceasefire in the escalating conflict through a video on social media.
Keir Starmer has sought to reassure Muslim MPs and grassroots members in recent days amid anger about previous remarks on the Israel-Hamas conflict as well as his resistance to joining calls for a ceasefire.
The Labour leader has joined Rishi Sunak, the US and most recently the EU in pushing for "humanitarian pauses" but remains firm in his backing for Israel's right to defend itself.
On Friday, Sarwar said a "proper peace process" must get under way to ensure the safety of both Palestinians and Israelis.
"That's the only way we can see a safe, secure and free Palestine and a safe, secure and free Israel," he said.
"Throughout this conflict, I have utterly condemned the actions of Hamas.
" I've made clear there is no justification for the collective punishment of the people of Gaza.
"I've been clear that we must have the maintenance of international law – and withholding those essential supplies is a breach of international law.
"A two-state solution with an end occupation, an end to siege and everyone being able to live with the peace and freedom they deserve."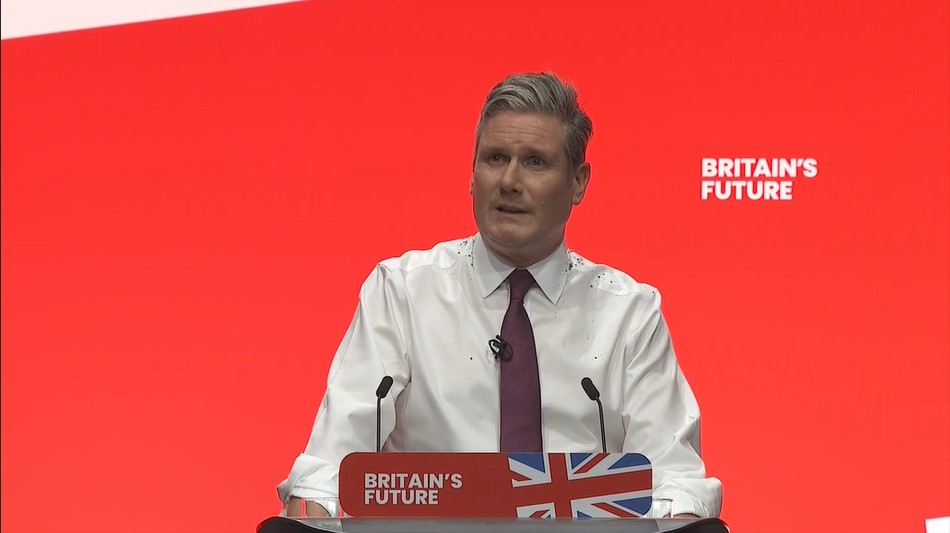 Humza Yousaf – who has family trapped in Gaza – has also called for a ceasefire in the region.
The First Minister has urged the UK Government to pressure its allies in the region to open the border and allow people to leave the territory.
"The border needs to open to let people out and I plead with the UK Government to demand from their allies and friends in Egypt and Israel to open that border and let foreign nationals out and indeed innocent men, women and children in Gaza who want to leave to leave," he previously told STV News.
Israel has only in recent days agreed to allow aid in through the crossing having besieged the Hamas-ruled area, preventing essentials such as water, food and fuel from reaching more than two million Palestinians.
On Friday, Israeli forces backed by fighter jets and drones carried out a second ground raid in Gaza in as many days and struck targets on the outskirts of Gaza City.
The operation comes as the Israeli military prepares for a widely expected ground invasion of the Hamas-ruled territory.
The Palestinian death toll has soared past 7,000 as Israel has carried out waves of devastating air strikes in response to a bloody Hamas incursion into southern Israel on October 7.
The health ministry in Gaza, which tracks the toll, released a detailed list of names and ID numbers on Thursday. The toll includes more than 2,900 minors and more than 1,500 women.
The overall number of deaths far exceeds the combined toll of all four previous wars between Israel and Hamas, estimated at around 4,000.
More than 1,400 people in Israel, mostly civilians, were killed during the initial Hamas attack, according to the Israeli government.
Hamas is holding at least 224 captives inside Gaza, including men, women, children and older adults.
The air strikes have flattened entire neighbourhoods, causing a level of death and destruction unseen in the last four wars between Israel and Hamas.
More than one million people have fled their homes, with many heeding Israeli orders to evacuate to the south, despite continuing Israeli strikes across the sealed-off territory.
STV News is now on WhatsApp
Get all the latest news from around the country
Follow STV News
Follow STV News on WhatsApp
Scan the QR code on your mobile device for all the latest news from around the country