Former first minister Alex Salmond led a crowd of thousands in a chant calling for Scotland to be independent – encouraging them to shout louder for "the benefit of those in Westminster Abbey".
The Alba Party leader was speaking at a rally held by independence campaigners All Under One Banner.
Marchers set off from Kelvingrove Park in the city's west end at around 11.30am – coinciding with the King's coronation ceremony – to a rally at Glasgow Green.
It was one of two large-scale protests across Scotland as anti-monarchy activists also gathered at Edinburgh's Calton Hill.
Salmond told the crowd in Glasgow: "In London, the subjects are required to swear an oath of allegiance to the Crown.
"In Scotland, in Glasgow, the citizens choose to swear an oath of loyalty to Scotland.
"The homage of the people is now to be said silently – which will stop people having to swear at their TV sets."
He said England is a "country moving backwards" and said the march was "one of the greatest in Scotland ever", claiming the independence movement is the "strongest political force in Scotland".
He called for parties backing Scottish independence to stand together at the election in seeking a mandate.
He added: "We want our independence and we want it now."
He then led the crowd in a chant calling for independence, urging them to shout louder "for the benefit of those in Westminster Abbey".
Other speakers included Ash Regan, who lost out in the SNP leadership race to now-first minister Humza Yousaf.
She told urged to crowd to unite, saying "now is not the time for division".
She added: "An independent Scotland can only be built from a foundation of integrity."
Earlier in the week Salmond said Scottish police should have staged a "standoff" outside Edinburgh Castle to prevent the Stone of Destiny from being moved to London for the coronation.
He said such a move could have been used as a bargaining tool in the push for a second independence referendum.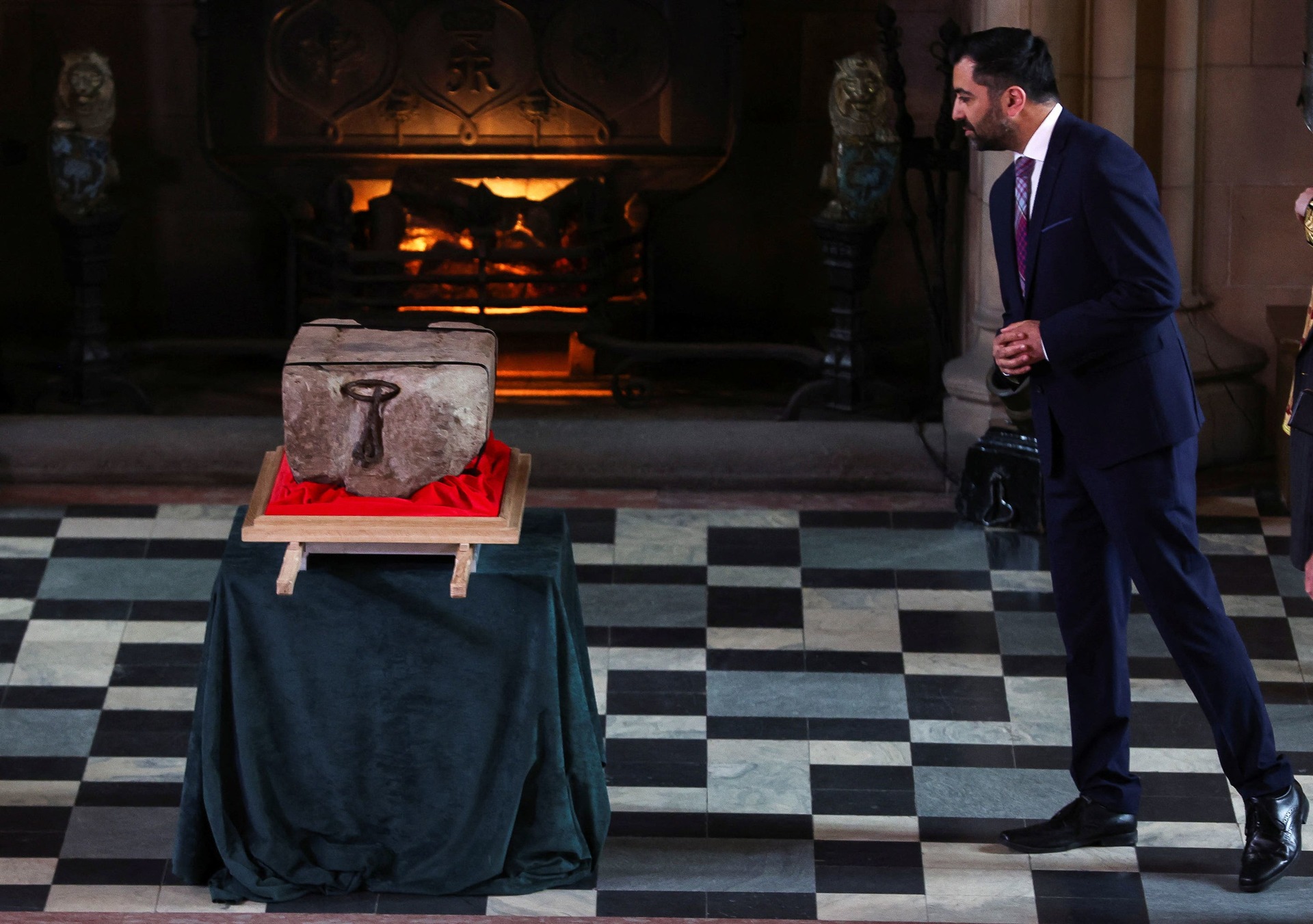 The stone was taken to London last week to be used in the coronation, with First Minister Humza Yousaf attending a ceremony during which it was removed from its resting place at the castle.
The stone has been used to crown monarchs of Scotland – and later the UK – in a tradition dating back centuries.
Yousaf dismissed the suggestion of involving the police, saying it would have "not been the right thing to do".
Our Republic, which campaigns for an elected head of state, protested in Edinburgh as hundreds gathered to watch the ceremony in Princes Street Gardens.
The event on Calton Hill included speeches from Scottish Government minister and Scottish Greens co-leader Lorna Slater, as well as SNP MP Tommy Sheppard and Green MSP Maggie Chapman.
Speaking ahead of her talk, Slater praised the turnout of the event as she criticised the money spent on the coronation.
Slater said: "It's obscene that our head of state can only be a few members of one family who inherit untaxed wealth and who hold unaccountable power in what is supposed to be a democracy."
Asked why the Greens did not attend the independence march in Glasgow led by Salmond and Regan, Slater said: "There are different voices in the independence movement and we don't always agree on why that might be so we're here today on Calton Hill.
"This is how we are showing our vision for what an independent Scotland might look like. We are working towards an independent republic."
Asked if the Greens rejected an invitation to speak at the Glasgow event, she said she did not know the "full details" of the arrangements.
She continued: "I think a lot of people are upset about the spectacle of the coronation.
"The obscenity of spending £100m on gold carriages and jewels and costumes when so many people are struggling just to feed their kids.
"I think the people here want to see a different future, a better future and I would certainly like to have the opportunity in an independent Scotland to write a new condition, to have that conversation about what type of country we want to be.
"Are we the subjects of a sovereign or are we the people sovereign and does our government serve us?"