Aberdeen city has been put back on lockdown following a spike in coronavirus cases.
Indoor and outdoor hospitality venues – including pubs, cafes and restaurants – have been ordered to close.
Hotel restaurants can remain open, but to provide food for residents only.
The restrictions came into force at 5pm on Wednesday.
The five-mile travel restriction has also been resumed for leisure and recreation, and residents have been told not to enter other people's houses.
People have been advised not to travel to Aberdeen, but those who are already there can remain.
The restrictions will be reviewed in a week's time.
NHS Grampian confirmed the number of positive tests arising from an outbreak at The Hawthorn Bar and a range of other venues and clubs now stands at 54, having been 27 at the start of the week.
The health board identified 191 close contacts linked to the cluster, but warned more may be detected.
Visiting in hospitals has been suspended.

The move affects all NHS facilities in the Aberdeen City Council area – including Aberdeen Royal Infirmary, Woodend Hospital, Royal Cornhill Hospital, Royal Aberdeen Children's Hospital, Aberdeen Maternity Hospital and Roxburghe House.
At the Scottish Government's daily Covid-19 briefing on Wednesday, First Minister Nicola Sturgeon announced the city would be placed on lockdown in an effort to "stamp out" the spread of the deadly virus.
She said: "These regulations and the associated guidance and advice will be reviewed in seven days' time, by which time I hope we will be in a better position to judge the scale and the trajectory of this outbreak.
"And at that point if these restrictions can be removed, we will remove them in their entirety or in part.
"But I should also give notice that if it is considered necessary, we may extend them beyond the initial seven-day period."
At the briefing, Sturgeon also revealed that there have been no coronavirus deaths in Scotland for the 20th day in a row.
Sturgeon said 18,781 people have tested positive for the virus, up by 64 from the day before. She said 36 of the new cases were in the NHS Grampian area.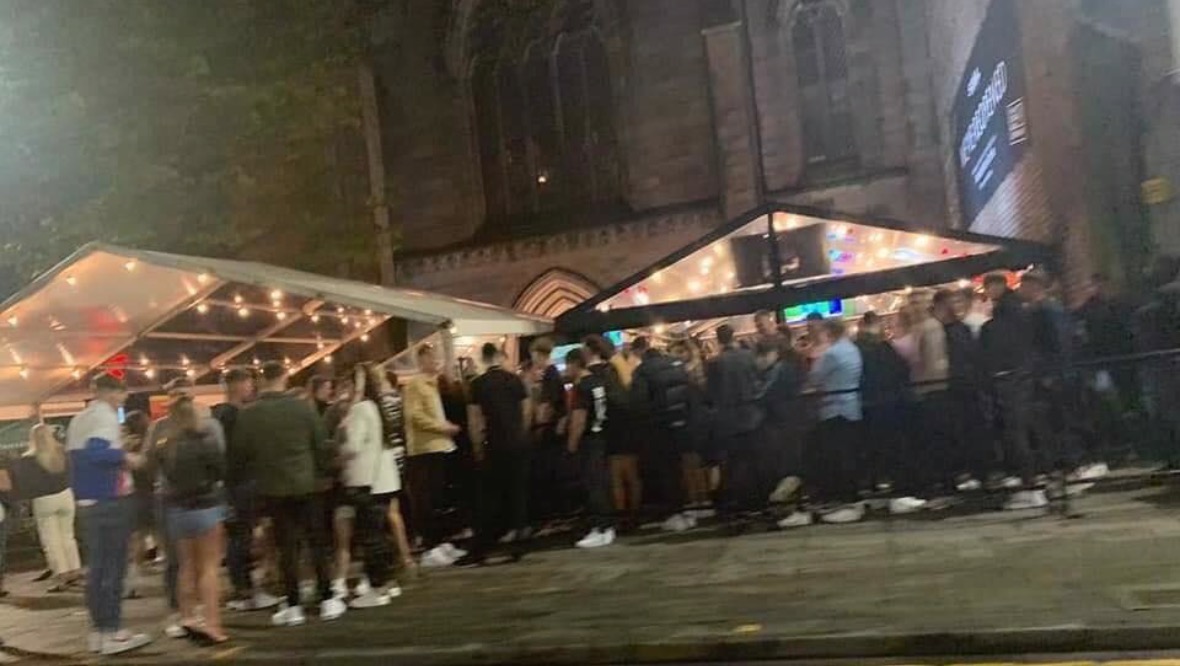 The First Minister previously said the outbreak is "exactly what we feared" when the decision was taken to reopen the hospitality industry.
She said images of mass crowds in bars and restaurants with little or no physical distancing at the weekend 'made her want to cry'.
Owners of The Hawthorn Bar said the outbreak was linked to customers who visited on July 26.
Following a rise in cases, a number of venues – including The Wig, Drummonds and Siberia Bar & Hotel – announced their intention to close.
PB Devco, which owns the city's Soul Bar, said it was shutting all of its venues after discovering someone who had tested positive had visited the premises.
Stuart Clarkson, the bar chain's director, said: "As soon as we heard someone who had tested positive had visited Soul, we immediately sought advice and followed the guidance of the Government, NHS and Track and Trace.
"However, we feel we now need to take the situation into our own hands to help limit the spread of the virus, as these are unprecedented times and things are escalating quickly."
Aboyne Golf Club in Aberdeenshire was also forced to close its clubhouse for a deep clean on Tuesday after it was discovered a visitor on Saturday had since tested positive for Covid-19.
Sturgeon said Aberdeen's restrictions should be the "biggest wake-up call".
She said: "It hasn't gone away. I so wish it had gone away."
Citing the lockdown restrictions reimposed in both Melbourne and the north of England, Sturgeon added: "It can happen here, and it is happening here in Aberdeen.
"So, please, please, take this as the biggest, loudest warning yet that this virus is still out there.
"We've forced it into retreat in the last few weeks, but the battle is not won against it.
"This is a battle for the foreseeable future that we have to fight and re-fight on a daily basis.
"And as I say, all of us are the first line of defence against it."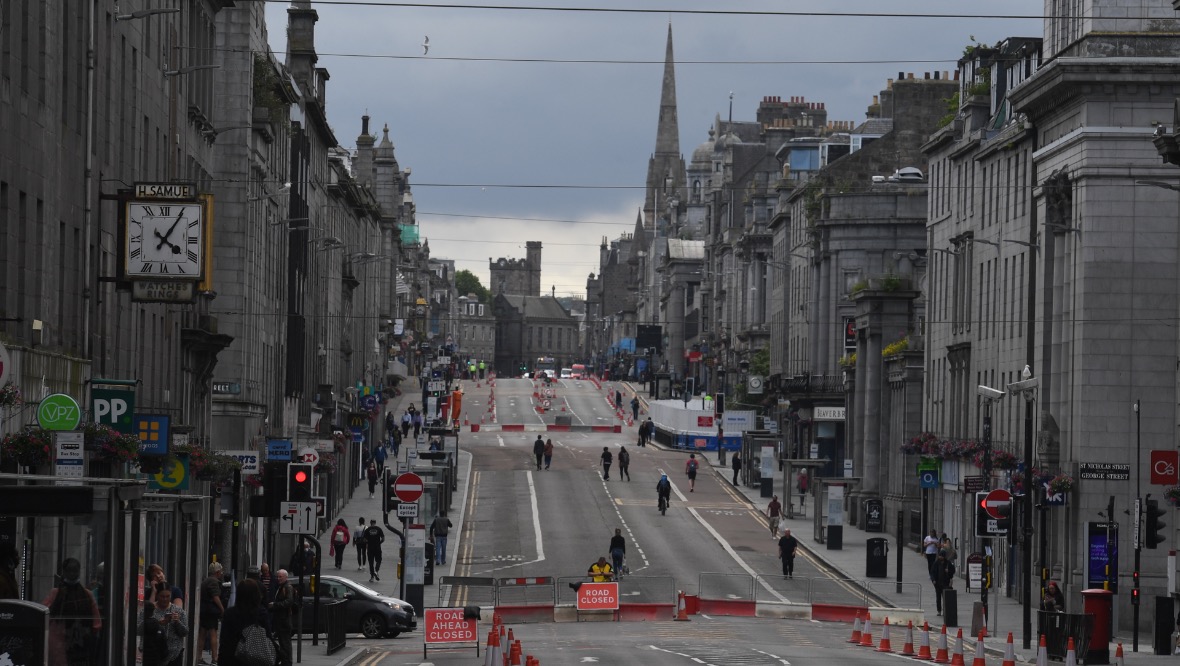 Following the announcement of the restrictions, NHS Grampian revealed all the places linked to the outbreak.
Venues linked to outbreak
Bieldside Inn
Bobbin
Brewdog
Buckie Farm Carvery
Café Andaluz
Café Dag
Café Drummond
The Cock & Bull
College Bar
The Dutch Mill
Dyce Carvery
East End Social Club
Ferryhill House Hotel
The Hawthorn Bar
The Howff
The Justice Mill
The Marine Hotel (Stonehaven)
McGintys's
McNastys
Malmaison
Moonfish Café
No.10 Bar
O'Donoghues
Old Bank Bar
Prohibition
Soul
Spiders Web
The Draft Project
Leisure clubs linked to outbreak
Aboyne Golf Club
Deeside Golf Club
Hazelhead Golf Club
Banks O' Dee Football Club
Dr Emmanuel Okpo, consultant in public health medicine, said: "I know people in the city will be concerned by this news.
"I want to stress that our health protection and Test & Protect teams are working extremely hard to speak to all the detected cases and identify their close contacts. We will be in contact with everyone.
"Right now, we need everyone to be vigilant. This incident highlights Covid-19 is still with us.
"I cannot stress enough that people should only arrange a test, via the NHS Inform website, or the staff testing scheme if you work in health and social care, if they have the recognised symptoms.
"These are a fever, a new continuous cough, and/or a loss of your sense of taste or smell.
"If you are identified as a close contact of a detected case you will have to self-isolate for 14 days.
"Please do not seek a test if you do not have symptoms; getting tested and receiving a 'not detected' result will not remove the requirement to self isolate."
Police Scotland said extra officers will be sent to the city.
Deputy chief constable Will Kerr: "It's really important that people follow the instructions and guidance from the Scottish Government.
"To support that, we will have additional patrols in Aberdeen, where local restrictions have been reintroduced.
"Our approach to these local restrictions will reflect the consistent approach taken by Police Scotland since the outset of this pandemic, and our officers will continue to engage, educate and encourage people to comply, as we all support the public health efforts to stop the spread of the virus."