The Labour party is "not obsessed with constitutional questions" such as Scottish independence and Brexit, Jeremy Corbyn has said.
He claimed his party is focused on people's daily problems and added that "the real divide" in society is between "the many and the few".
Addressing Scottish Labour's spring conference in Dundee on Friday, Corbyn also had a warning for Theresa May, warning the Prime Minister that if her Brexit deal falls again next week, it will be "the end of the road".
He also told delegates that the fact a quarter of Scottish children live in poverty is a "moral outrage".
His remarks on the constitution come the day after Scottish Labour leader Richard Leonard told STV's Scotland Tonight there was "no public support" for a second independence referendum.
Corbyn accused other political parties of being "obsessed" with constitutional issues.
He told conference: "The truth about Labour is we're not obsessed by constitutional questions like the others are.
"We're obsessed – absolutely obsessed – with tackling the problems people face in their daily lives.
"We are obsessed with making our country better, fairer and more just – ending insecurity at work, ending poverty wages, ending the cuts to our public services.
"Because we believe that the real divide in our society is not between people who voted yes or no for independence. It's not between people who voted to remain or to leave the EU.
"The real divide is between the many – who do the work, create the wealth and pay their taxes – and the few, who set the rules, reap the rewards and dodge their taxes."
The Labour leader criticised Theresa May for being irresponsible in her approach to Brexit by refusing to rule out a no-deal scenario.
The Withdrawal Agreement she struck with Brussels is set to face a second so-called "meaningful vote" in the House of Commons next week.
Corbyn warned May: "If she fails again, it will be the end of the road for her deal."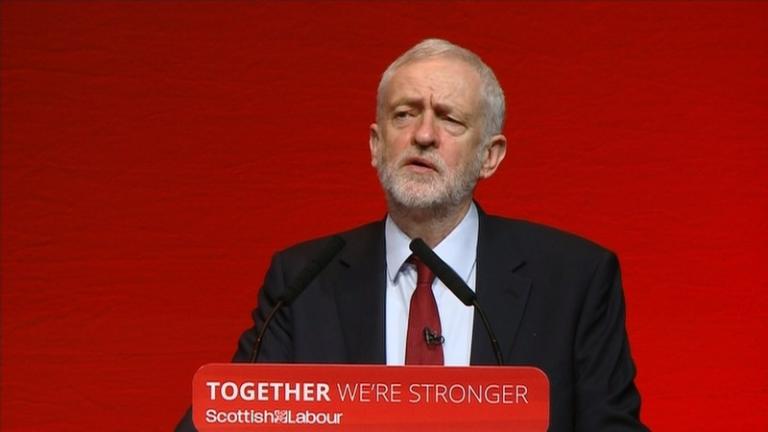 The Labour leader went on to highlight the human cost of austerity, calling it an "economic and social disaster".
"We shouldn't have a situation where a quarter of the children in Scotland are living in poverty," Corbyn said.
"We shouldn't have thousands of young people in Scotland without a home to call their own. We shouldn't have life expectancy in Britain that in some cases is falling.
"What is happening to our country? It's not only an economic and social disaster, it is a moral outrage what is happening to the poorest in this country."
He also said there is "no bigger threat to our collective future" than climate change, adding: "It's working class communities that suffer the worst pollution and the worst air quality.
"It's working class people who will lose their jobs as resources run dry and it's working class people who will be left behind as the rich escape rising sea levels."
Leonard will address conference on Saturday, when delegates will also discuss the problem of antisemitism within the party. Corbyn vowed to "root out" all forms of racism and religious bigotry in Labour.